Diversity and inclusion in hockey: How Chanel Keenan and the Kraken are making waves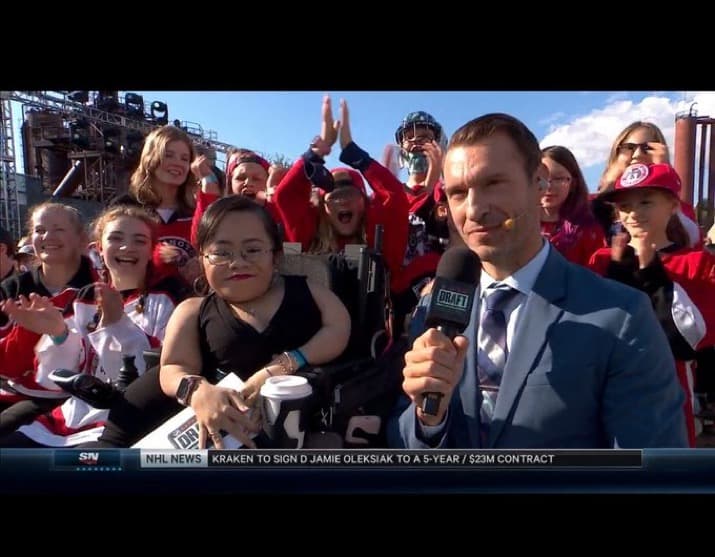 Photo credit:Chanel Keenan
If you're like me, you've been  excitedly watching the Seattle Kraken prepare to join the league officially. One of the most exciting parts of their establishment has been how openly committed they are to inclusion and diversity. So much so, that one of their first hires was a person responsible for just that. We're very lucky to have had a chance to speak with Chanel Keenan about her role with the Kraken, and diversity and inclusion in hockey as a whole.
To start, tell us a little about you and your hockey fan experience.
I grew up around the game at a very young age. I am the youngest and only girl in my family. All of my brothers played hockey. However, due to my interests at the time and me having a physical disability prevented me from playing the game. I come from Dorchester, MA, the hometown of Leafs drafted legend Jimmy Hayes. By living in the Boston area, hockey is one of the bigger sports for us.
And explain for our readers who might not be familiar – what is your role with the Kraken? Can you also explain, beyond just the description, what types of things you've been doing with the organization so far?
My role was one that came together through the help of my boss Becca Elliot and myself. I am the Intersectionality Consultant for the Seattle Kraken. The title can be confusing for most people who do not know what intersectionality is but for me it is the fact that I am a part of many diverse groups. All of which go hand-in-hand in how they affect my life.
I've worked on a lot of amazing projects since I joined the team last October. I have my hand in just about all areas throughout our organization.
How did you come into this position?
I was recruited online via Twitter oddly enough! My boss found me when Black Girl Hockey Club shared one of my self-written articles last summer. Initially, I was asked to only help with the development of our mobile app, however the timeline for that was a little longer than I wished. Due to this, I drafted up a big and scary email, explaining the potential this organization has when it comes to being more inclusive and accessible than any current organization. I have a strong background in social media and a really strong grasp of hockey's culture and history.
Why do you think it's important for hockey teams/organizations to have someone or multiple people in your role?
It is essential for this role to evolve into a team of people. The Seattle Kraken have more consultants than myself when it comes to inclusion and accessibility. For that I am grateful and appreciative because I can only share my experiences.
The league should hire someone—maybe even myself to help recruit this role for all teams. I believe that it's important to have one person in-house that they can go to-for the Kraken, that would be me, while also collaborating with local and national organizations to be more inclusive and accessible in all areas of their organization.
Can you speak to why the Kraken were interested in bringing someone into a role like this?
There was a lot of collaborative discussion between myself and my boss as mentioned earlier. The Seattle Kraken really thrive when it comes to innovation and thoughtfulness. They do their best to practice what they preach. It felt natural for the development of this role for the organization.
Beyond just having someone dedicated to diversity and inclusion, what are other ways you suggest or would like to see teams create and support a more diverse workforce?
Be thoughtful and open about equal access to your jobs. It should be a fluid right for everyone to have equal opportunity when it comes to diversifying the workplace. Be open to hiring qualified disabled people outside accessibility roles. Some of my favorite work has come from working outside of my initial job description. Championing the Black Girl Hockey Club was a huge priority of mine when I got to work.
Where do you think teams that are not yet involved in this space should start?
I would start by reading or listening to many of my media appearances describing my role. It sounds a lot more intimidating than it is. I am simply a passionate fan who is hoping to make this experience, on and off the ice, better and easier for everyone.
There are multiple levels within hockey that continue to feel exclusionary for people of color, LGBTQ people, women, people with disabilities – the fan experience, the players, the front office staff, etc. Do you think there's one key ingredient or one key way teams can start to show that they value diversity and inclusion?
It's tough because I think a lot of our downfall of where we are now, is due to how expensive this sport is, on and off the ice. It is even expensive for someone like me. I think it's essential to share the game, and its team-based nature with everyone we can. I think it is important to highlight and connect with these diverse groups outside of their celebratory months. We fail so many communities by not doing outreach year round. I was frankly disappointed by the league's execution of Pride Month this year, as it was explained as celebrating allies… I feel like I don't even need to elaborate on that one! I do not have my disability solely during the month of July, which if you didn't know, is Disability Pride Month. So with that, it is pretty simple to explain that we should be celebrating each other and our diverse backgrounds year round. It is important to show the youth, and the older generations, just how diverse this sport actually is.
How will growing diversity and inclusion support the continued growth of the game?
If we do not tap into just how diverse hockey fans are, we will never get to the same levels as any other professional sport. I believe the continued missteps have resulted in our cultural and financial struggles. It is also just important to show other fans and young people, that no matter where you come from, what you look like or who you love, you are welcome in this wacky sport.
I have a few mottos when I get down on how slow the progression of this sport is. The first one is: I can't change hockey culture if I leave it. When things get tough I have to remind myself of that fact. I like to follow it up with, I want to leave this space better than what I arrived to. Both of these mottos can apply to pretty much anything. I have nothing but hope to change this game and culture for the betterment of everyone, not just for disabled people.
What are the concrete next steps you'd like to see happen in the NHL in terms of diversity and inclusion?
Develop this role and Hire!! There are so many brilliant diverse hires the league and all the clubs could be making to help us make the space better and be more inclusive.
Thank you Chanel, for all that you do, and for speaking to TLN!
You can find more of Chanel's important thoughts and contributions to the hockey world
HERE.