Do the Washington Capitals have trade targets for the Toronto Maple Leafs?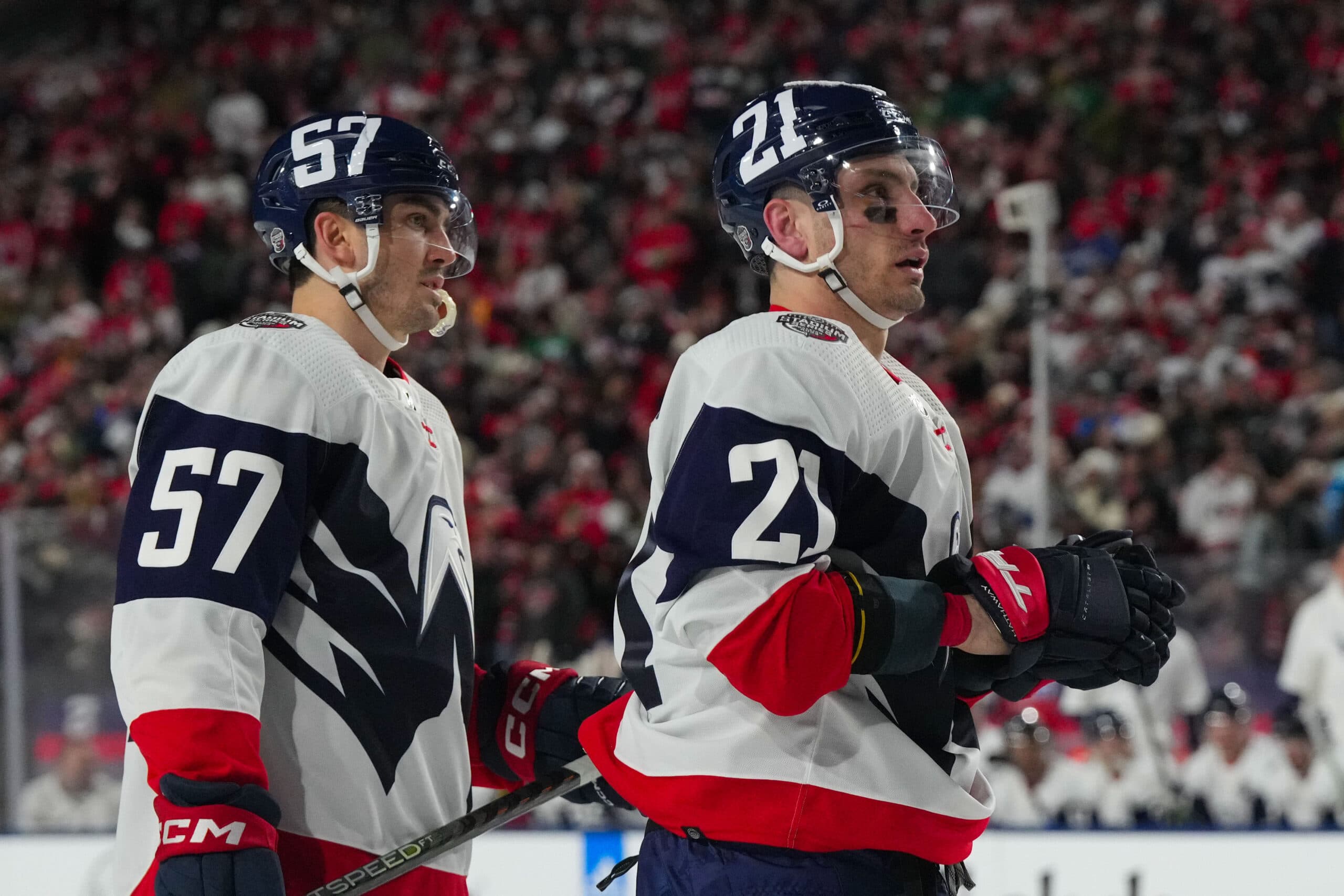 Photo credit:James Guillory-USA TODAY Sports
We're one week removed from Kyle Dubas making his biggest trade as Maple Leafs general manager when he acquired Ryan O'Reilly and Noel Acciari from the St. Louis Blues in a three-team trade in exchange for a 1st-round pick, 2nd-round pick, 3rd-round pick, 4th-round pick, Mikhail Abramov and Adam Gaudette.
After Toronto's big trade, we wondered if there could be another move up Dubas' sleeve that could address the blue line and maybe another one that could add a little more depth on the wing for this team.
By acquiring both O'Reilly and Acciari, it's no secret the Maple Leafs are by far a better team than they were before they made this trade. They added these two players without trading anybody on the current roster or any top prospects, so it's easy to say they're 100 times better, especially down the middle of the ice.
The question now is, what else do they do now with the trade deadline just a week away?
Well, there's one team I wonder about – as do many others too – and it's the Washington Capitals. They are currently on the outside looking in when it comes to the playoff picture, and with them having a ton of pending UFAs, is it time for their general manager to think about Washington's future a little bit?
There are a handful of players currently on the Capitals that I think could be a good fit for the Maple Leafs, so let's take a look at who these players could be.
Before we get into these potential trade targets, the Washington Capitals play tonight against the Anaheim Ducks and their PR department announced two players will be scratched due to trade-related reasons. So let the speculation begin!
1. Nick Jensen – 32 years old – WSH – RD
2022-23 stats: 59 GP – 1 G – 20 A – 21 PTS – 20:52 TOI
Career stats: 466 GP – 14 G – 98 A – 112 PTS – 18:28 TOI
Contract: 1 year x $2.5M
Nick Jensen is someone I was hoping the Maple Leafs could target back during the 2018-19 season when he became available around the trade deadline. While as a member of the Detroit Red Wings before the move to Washington, Jensen wasn't known as the defenseman who would put up the points and rather as a defenseman who is more defensively responsible.
Although the Leafs never acquired him, Jensen would be packaged with a 2019 5th-round pick and shipped to the Washington Capitals in exchange for a 2020 2nd-round pick and defenseman Madison Bowey in February 2019.
Fast forward to the last couple of seasons, and not only has Jensen continued to play the position greatly, but he has also set career highs in goals, assists and points as a member of the Capitals. However, with only one year left on his contract and the Capitals not currently in a playoff spot, could a team like Toronto or anybody, for that matter convince the Capitals to part ways with the 32-year-old pending UFA?
I don't think it'll be cheap whatsoever to acquire a guy like Jensen, but I also don't think it'll be ridiculously expensive either. He has a very low cap hit for what he has been doing on the ice and his $2.5M price tag can fit on probably the majority of the teams around the NHL.
Not only is he great defensively and on pace for a career year offensively (assists and points-wise) he also does the extra stuff that fans and coaches love. He blocks a ton of pucks and isn't afraid to throw his body around.
Jensen has 104 blocks and 85 hits in 59 games this season putting him on pace to finish the year with 145 blocks and 118 hits. The 145 blocks would set a career-high in that department and the 118 hits would be the second-highest total he put up in his seven-year career thus far.
If you look at Nick Jensen's player card from JFresh Hockey, you can see he's pretty good everywhere. The team's even-strength defence and penalty kill will be much improved if you add a guy like him, and on top of that, as I said, he is on pace for a career year offensively too.
2. Dmitry Orlov – 31 years old – WSH – LD
2022-23 stats: 43 GP – 3 G – 16 A – 19 PTS – 22:43 TOI
Career stats: 686 GP – 60 G – 196 A – 256 PTS – 20:11 TOI
Contract: 1 year x $5.1M
Another target from the Capitals is yet another name from their long list of pending UFAs on their blue line. Dmitry Orlov would be a little trickier to fit on the Maple Leafs' roster or anyone's roster to be honest because of his cap hit. In the final year of a six-year deal which is carrying a cap hit of $5.1M, Orlov is a name that I feel would generate a lot of interest around the league if he becomes available by the Capitals.
The 5'11, 214 lbs left shot Russian is in the middle of a season where he has missed 16 games due to injury and with this year being a contract year for the defenseman, that is not good, of course. However, if he does become available, I believe he'd instantly be a top-three defenseman on the trade market right up there with Jakob Chychrun and Erik Karlsson.
Despite missing 16 games this season, Orlov has still put up pretty good numbers offensively but has struggled defensively at even strength this year compared to seasons past. Now that might be due to the Capitals being a poor team this season and Orlov missing time due to an injury earlier in the season, but anyways, he has taken a dive in that aspect of his game and if you look at JFresh Hockey's player card, you can see that everywhere else he is doing well, but the even-strength defence has not been kind to him compared to his previous campaigns.
He is also somebody – who just like Jensen – isn't afraid to throw the body around. Orlov has 62 blocks and 88 hits in just 43 games this season. Over an 82-game pace, that is 118 blocks and 168 hits which would be a career-high in both blocks and hits.
It's unknown what a potential return for Orlov could look like given he is a pending UFA, has missed many games this season due to injury and is having a down year when it comes to his play away from the puck, but all in all, a new team could bring out the old Dmitry Orlov from years past and could be a great addition for any Stanley Cup contender as the trade deadline keeps approaching.
3. Garnet Hathaway – 31 years old – WSH – RW/LW
2022-23 stats: 59 GP – 9 G – 7 A – 16 PTS – 12:06 TOI
Career stats: 432 GP – 54 G – 62 A – 116 PTS – 11:37 TOI
Contract: 1 year x $1.5M
Garnet Hathaway is someone I would love the Toronto Maple Leafs to go out and acquire. However, after the trade with St. Louis last week, Toronto might already have their guy in Noel Acciari for the bottom six and might not need a guy like Hathaway. But oh boy, imagine a fourth line of Zach Aston-Reese, Noel Acciari and Garnet Hathaway.
That line would cause so much havoc on the ice it's not even funny. They all hit whatever moves, they're not afraid to drop the gloves, and both Acciari and Hathaway have an underrated offensive side to their game, unlike Aston-Reese. But with the addition of Acciari, Toronto's current fourth line with those two and Kerfoot has been generating a lot of chances lately.
Hathaway would help solidify and give Toronto's fourth line an even better identity. He's everything you'd want in a bottom-six player and more.
He's not someone that will put up points left right and center, but he will year in and year out chip in around 15-20 points while playing great defensively and being a pain in the behind to play against. He gets under people's skin, hits everything that moves, and as we all know, isn't afraid to stir things up on the ice either.
Hathaway had a career year last year with Washington as he scored 14 goals and added 12 assists for 26 points in 76 games. On top of that, he also registered 250 hits which is just nuts.
This year, however, his point totals are a little down, but nothing too crazy compared to last season's numbers. He has nine goals and seven assists for 16 points in 59 games which puts him on pace to finish the year with 13 goals and nine assists for 22 points.
Adding a fourth-line player like Hathaway for $1.5M against the cap that can give you 20 points and play his physical side every night is a win in my books. I think Washington values him highly, so it won't be cheap to acquire him even if he is a pending UFA, but it'll be interesting to see what happens to him if the Capitals do decide to part with him ahead of the deadline.
4. Nic Dowd – 32 years old – WSH – C
2022-23 stats: 45 GP – 10 G – 9 A – 19 PTS – 12:54 TOI
Career stats: 416 GP – 55 G – 66 A – 121 PTS – 12:12 TOI
Contract: 3 years x $1.3M
The last player from the Capitals I wouldn't mind the Maple Leafs targeting at the trade deadline is 32-year-old, Nic Dowd. Dowd is in year one of a three-year deal he signed with the Capitals last off-season that carries a cap hit of $1.3M which is beyond a fair number for what he provides a team on the ice.
Just like Hathaway, he isn't putting up points every night when he's out there on the ice, but he is someone that will almost always chip in 15-20 points a season and is a great defensive centre that plays a hard game and is hard to play against out there.
This season he has 10 goals and nine assists for 19 points in just 45 games. over an 82-game pace, Dowd would be on the best pace of his career. He would – if played a full 82-game season – finish the season with 18 goals and 16 assists for 34 points. For $1.3M per year, 34 points while playing a good defensive game and being hard to play against is unreal value for any team that would have Dowd's services.
Since I've talked about Dowd being hard to play against, here are his hit totals this season: 99 hits. In just 45 games, he has 99 hits which is crazy to think about because he hasn't even played 50 games this season.
However, given he isn't a pending UFA and has this year and two more left on his deal, I feel it's unlikely he gets dealt at the deadline by the Capitals unless a team swoops in and submits an offer to Washington that they can't refuse.
Honourable mention: Trevor van Riemsdyk – 31 years old – WSH – RD – 1 year x $950K
I've put TVR as an honourable mention because I've already talked about him being a
potential depth/cheap target
for the Toronto Maple Leafs.