Does a potential Matthews injury (now or in the playoffs) mean the Leafs should pursue a forward at the deadline?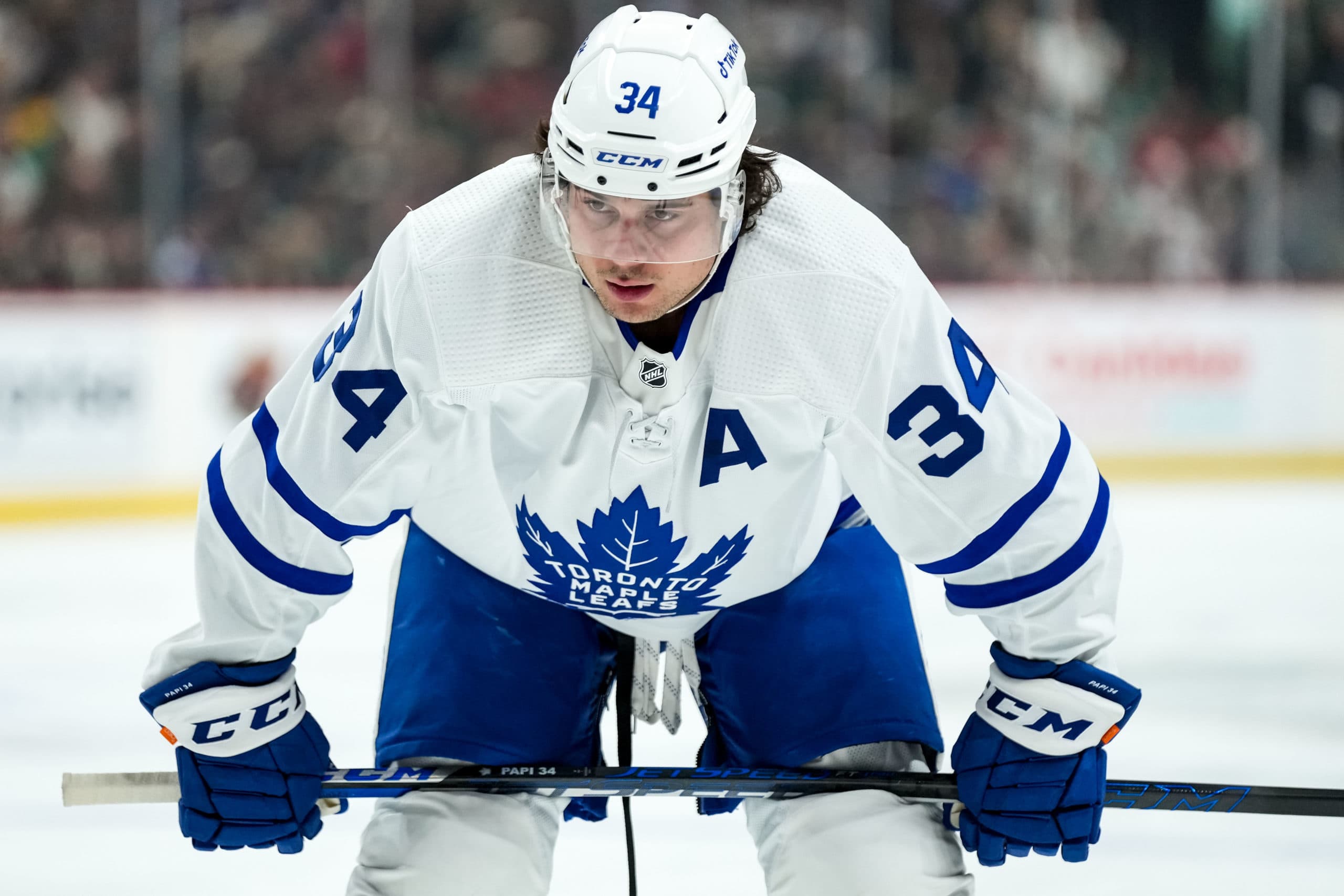 Photo credit:Brace Hemmelgarn-USA TODAY Sports
Okay, let me get the elephant out of the room right away: the Leafs would be better suited to go after a defenseman than a forward at the deadline, and if they are only able to get one of the two, the defenseman is the higher priority.
Part of that comes from the fact that there are a lot of question marks on that Leafs blueline beyond @Morgan Rielly and @T.J. Brodie. @Jake Muzzin is starting to see his game fall off due to age and injuries, which in turn has seen @Justin Holl struggle a bit more without Muzzin to lean on, giving the Leafs a hole in that second pair. And while @Rasmus Sandin, @Travis Dermott, and @Timothy Liljegren have all had solid seasons, none of them have really jumped out as options for that role, although Sandin certainly was the most comfortable. They'd be smart to find a top four defenseman who can ease some of the burden off of Muzzin.
Part of that also comes from the fact that their forward depth is pretty solid top to bottom. Their top two lines are great at producing offense and driving play, while their bottom two lines are great defensively, and at worst, kill time without costing the Leafs. It's hard to find a player that doesn't play at least some role on this team that makes it hard to take them out of the lineup.
But, as we saw last season, and got scared about on Monday night, that depth can fall apart really quick, especially when they lose one of the big four.
Look, even if you consider @John Tavares injury, it's still pretty embarrassing that the Leafs lost to the Montreal Canadiens in the first round last year. But, you can't deny that Tavares injury played a big role in the loss.
@Auston Matthews and @Mitch Marner are two of the best players in the league, and are getting paid like it, so they should be able to handle anything that the other team throws at them, but part of the reason why they can light the league up as much as they do is because other teams can't solely focus on them, because when they do, that leaves Tavares and @William Nylander a lot of breathing room to do damage of their own. You take one of those four pieces away, and that means that they only have to worry about one player causing problems if they leave that line be. And as we see with the Oilers and @Connor McDavid every year, one player can't win a hockey game on their own all the time (well, except for a goalie, but that's a different situation).
When Tavares went down, that meant that the Canadiens only had to worry about shutting down Matthews and Marner, because as we saw, Nylander couldn't win the game on his own (although he sure tried his hardest to that series). They could throw their top shutdown line and defense pairing to Matthews and Marner and give them absolutely no space, because otherwise those two were good for at least a or two goal every night. If the Leafs get one or two more goal in games 1, 5, or 6, they win and the series never goes to game seven, and they don't lose it.
So, because of all this, it might not be the worst idea to go after a top six forward at the deadline. Not because they need it per se, but because the Leafs biggest strength is their high end scoring, and it sure as hell wouldn't hurt to have an insurance policy.
Imagine last season if, when Tavares went down, the Leafs had another high end top six forward that they managed to squeeze into their cap situation for a solid deal at the deadline. Let's call him Baylor Wall. Imagine along with this skill, Baylor Wall had the name recognition around the league as someone who was a legit threat to worry about. Let's say Wall fit in perfectly on the Leafs second line alongside Tavares and Nylander.
Then, Tavares gets hurt in game 1 still. It's still scary, and a huge loss for the Leafs. But now, with Wall on the team, the Leafs don't have Nylander on his own on the second line. Because of this, the Habs still have four names that they have to worry about, so they can't focus specifically on Matthews and Marner, meaning they have more space to do their thing. Or they do only focus on Matthews and Marner, and Wall and Nylander dominate the rest of what the Habs got, much like how Tavares and Nylander do it all the time, and the Leafs could still win, and move on in the playoffs.
Do we really want to go through that situation again?
Like I said before, the Leafs would be smarter to round out their defensive depth at the deadline considering it's the biggest weakness, and also the potential that @Nick Robertson or @Joshua Ho-Sang provide as far as upside goes.
But, since the Leafs are spending almost $40 million to have four elite scoring forwards and build your strategy on net, it certainly wouldn't be the worst idea to go all in on that strength so that it makes it even easier on the forwards when they're all healthy, and provides an insurance option if one of the core four gets hurt. Someone like @Claude Giroux, @Tomas Hertl, or @Reilly Smith could all be players who provide this extra depth, with the first two potentially creating options as third line centers as well, which also means that our defensive shutdown center in @David Kämpf is now on the fourth line.
See what I mean? It's not necessary, but it'd be a nice luxury to have.