Erik Kallgren and the 'down vest': Maple Leafs Gameday Fit Week #5 Power Rankings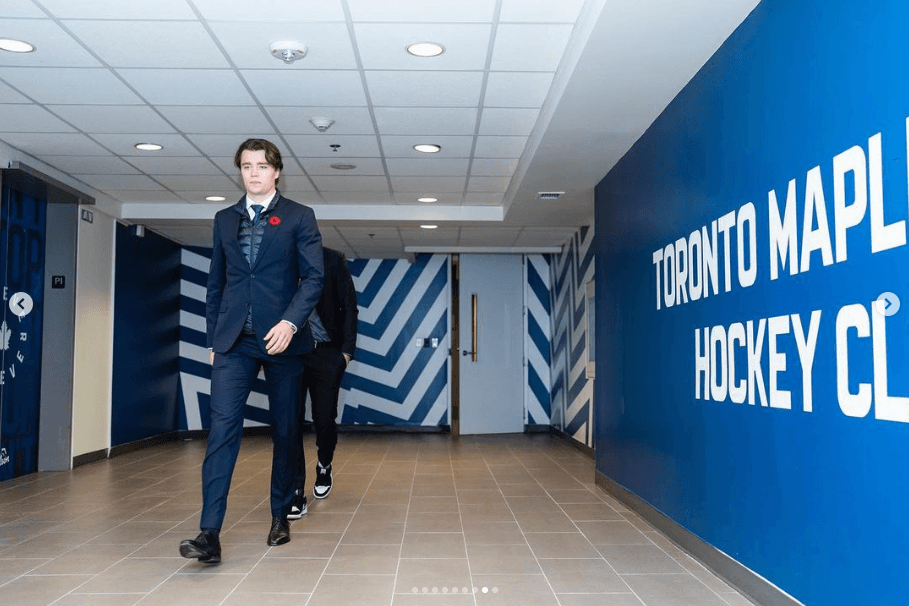 Photo credit:@MapleLeafs / Instagram
It was a fascinating seven days for the Maple Leafs, but I could say the same about the entire NHL and fashion.
Toronto had three home games this week which meant plenty of fit photos. There were some from the past few days that were shockingly good, others that we've seen before, and an iconic moment that takes number one spot.
But this wouldn't be a fashion ranking series if we didn't mention Patrik Laine's drip from Thursday night.
I, personally, have never seen a suit like this in my entire life. There's so much going on in this photo, from the brown plaid on top (that I didn't know was plaid until looking closer at this photo) to the blue that is his bottom half.
This is an amazing suit and I respect the hell out of Laine for trying it. If there's one thing that I wish was different, it would definitely be finding a different shade of blue for the hat, or maybe not even wearing one at all.
As a perfectionist, I need everything to look right — which it does — until I see the hat. It's a 10/10 suit that maybe gets one mark deducted because of the hat.
But anyways, enough of that discussion. Let's get onto what you came here for: the Maple Leafs Gameday Fit Rankings for Week five!
5th – Erik Kallgren (✅NEW)
Everyone was harping on Kallgren when they noticed he was wearing what looks like a coat underneath his suit jacket.
But guess what? I did some research and it's not a coat, it's in fact what's called a '
down vest
'. it's actually a very popular thing, too. Style people, it's style.
Kallgren is trying something very different — that people within North American hockey haven't seen much of — which I respect a ton. I really wanted to place him higher on the list to upset the readers, but I take these fashion rankings seriously.
So, he gets fifth place instead. But if Kallgren does it again, he gets first place automatically.
4th – Mitch Marner (✅outside top-5)
Marner looks like he's off to gamble on some horses. Seriously.
This is a great plaid suit that the 25-year-old is wearing, however I'm not the biggest fan of grey. That, unfortunately slides him into fourth place. In all honesty though, Marner might not even make it within the top-five if not for the hat on his head. Unlike Laine, Marner makes it work.
He's always rocking some kind of hat before games, and I rate it a lot. A very nice touch.
🥉- William Nylander (⬇️-2)
I know I said with Marner that I'm not the biggest fan of grey suits, but hear me out on this one.
If anyone can pull off Nike's, Jordans, or any type of Adidas shoes with a suit, you've got an A+ in my books. And that's what Nylander did here. He really makes everything flow together rather easily, which is what makes the 26-year-old's fashion sense so incredible.
The shirt that he picked, too, works flawlessly.
This is an incredible look that I would love to see more NHL players try because it's different. We need more difference in fashion throughout league. We need to eliminate the wedding suits.
🥈 – Auston Matthews (✅+1)
Ah, the turtle neck.
If you have a great memory like I do (I don't), this is the same exact suit — and shirt — that Matthews wore to the 2020 All-Star festivities. If there's anyone who can pull off this look in the NHL, it's the 25-year-old, and maybe Laine. Okay, no. Definitely Laine, too.
The shade of blue that this suit has makes it pop. If Matthews was walking down the street in this, or if anyone who could rock this was for that matter, they would be getting a lot of looks. Good looks, though.
And so they should because it's a great fit. Maybe, Laine should mail Matthews the hat because I think it would work with this fit.
🥇 – Borje Salming (💙SPECIAL)
One of the most special moments in hockey happened this weekend as the Maple Leafs honoured Borje Salming in back-to-back games at Scotiabank Arena. Both nights were special, but the tribute they did for Salming on Saturday was second-to-none. It was incredible.
So, in honour of that, and in honour of the great career he had, I'm going to give the number one spot this week to Salming. He graced the hearts of many throughout the hockey world and is an icon that will be remembered forever in this game.
To see Maple Leafs head coach Sheldon Keefe put out an all-Swedish lineup for this ceremony was also an amazing touch. An overall great tribute to what Salming meant to the country of Sweden and to hockey as a whole.
There wasn't a dry eye in the house, and there shouldn't have been. He's a legend that many will remember. Always.
Photos in article via @MapleLeafs Twitter and Instagram