Erik Kallgren has set himself up to be in contention for the backup role for 2022-23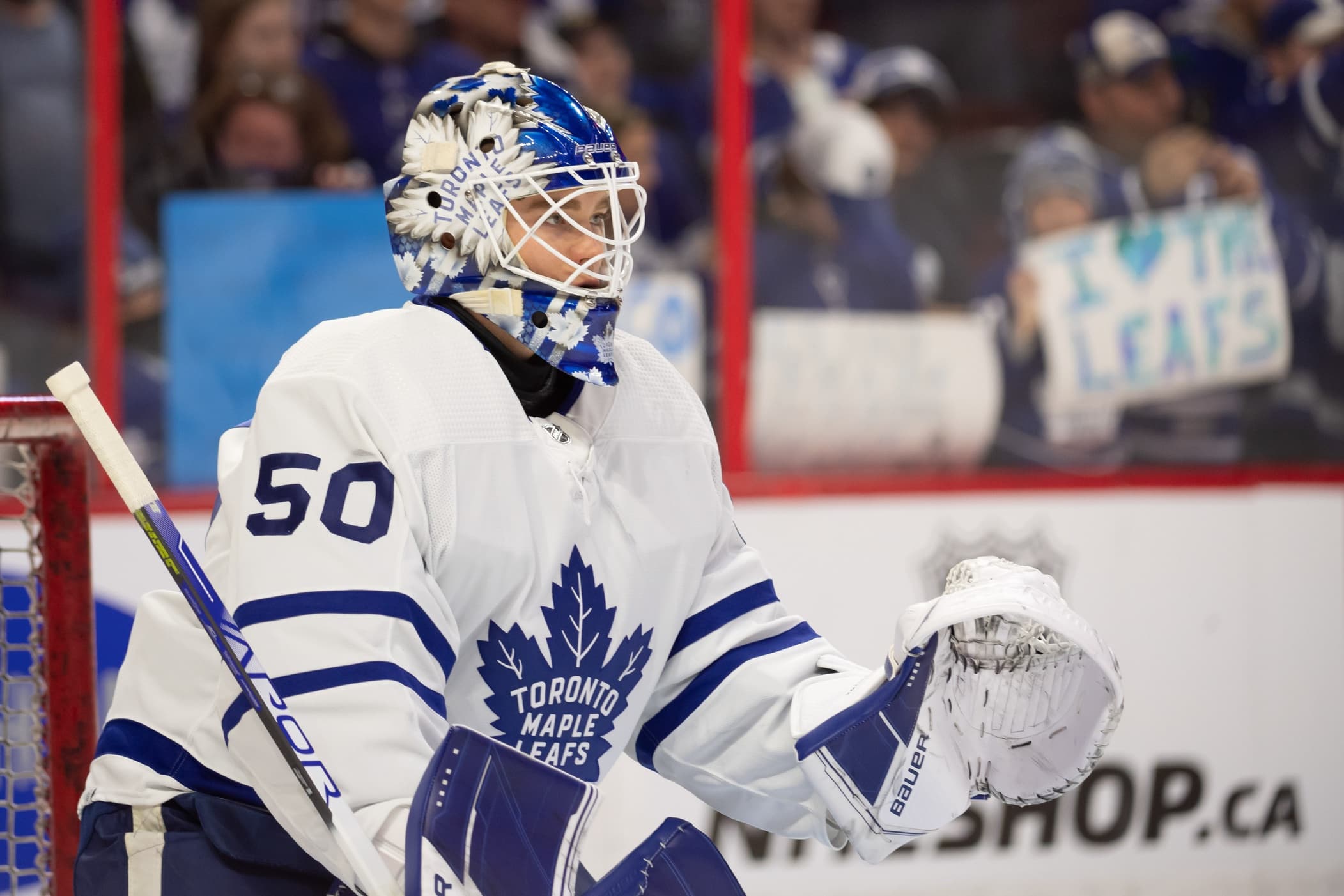 Photo credit:© Marc DesRosiers-USA TODAY Sports
An area of concern for the Leafs to take care of this summer will almost certainly be the goaltending.
By most accounts
, @Jack Campbell appears to have priced himself out of Toronto and they will try and find a new home for @Petr Mrazek after putting him on waivers at the deadline and not reinserting him for the playoffs once he was cleared to return. Meaning the goalie rotation is likely going to look very different by the time opening night rolls around.
Who emerges as the Leafs' starter for the coming season remains unclear. It could end up being Campbell if he agrees to a hometown discount. Maybe it becomes an option in free agency that fulfills their needs such as @Eric Comrie or @Darcy Kuemper. Or the answer could be via
a big trade
, especially given the Leafs still have their first-round pick in hand and it could be used as part of a package to bring in an established netminder (ie: @John Gibson).
The Leafs could go in any direction for who takes the mantel of the starting job, but they will not need to think too hard about who will be their backup. That is because @Erik Kallgren has earned himself a longer look with the top club and is in contention to become their backup.
Kallgren was originally brought into the fold on a two-year entry-level contract and
came with an impressive track record
that made him an intriguing addition to the goalie tandem. He took over the starting role for Växjö during the 2021 SHL playoffs due to Viktor Fasth suffering an injury in Game 1 of the semi-finals. From there, Kallgren would go 7-3-1, registering a .930 SV%, a 1.74 GAA, and a shutout on route to Växjö capturing the SHL Championship.
It was through his breakout performance that he earned the aforementioned contract with the Leafs and would show promise in his first season with the organization. Kallgren began the year with the Marlies where he would work his way into the starting job. Going 15-8-1 in 26 games played with a .904 SV% and 3.04 GAA on a mediocre Marlies team caught the eyes of Kyle Dubas which would soon earn him a promotion to the NHL. He got off to a hot start by winning his first three games (only surrendering a combined three goals in that span and posting a shutout in his debut start) before
hitting a snag for the remainder of the regular season
. He went on to post an 8-4-1 record, a .888 SV%, and a 3.31 GAA along with making 10 saves in a relief appearance for Game 4 of the playoffs.
By no means was it a smooth-sailing ride for Kallgren and this past season can be best described as growing pains. But he showed promise of what he could one day become through his calm presence and demeanour in the crease during a critical juncture of the season where the Leafs were in desperate need of a save.
While it is hard to predict what his numbers will look like in year two, a good indicator of what might occur is to compare his rookie season with @Ville Husso's. Like Kallgren, Husso had growing pains in his first taste of NHL action while posting a winning record as the backup. He followed it up with an impressive sophomore year which has helped make him an attractive target in free agency with his contract set to expire at the season's end.
| | | | | | | | | | |
| --- | --- | --- | --- | --- | --- | --- | --- | --- | --- |
| GOALIE (SEASON) | RECORD | SV% | GAA | SO | xGA | HDSV% | HDGAA | MDSV% | MDGAA |
| HUSSO (2020-21) | 9-6-1 | .893 | 3.21 | 1 | 27.86 | .815 | 1.38 | .872 | 0.89 |
| KALLGREN (2021-22) | 8-4-1 | .888 | 3.31 | 1 | 22.62 | .771 | 1.57 | .913 | 0.78 |
The last five columns are at 5v5.
There are a few noticeable differences between the two goalies but it is clear that both had comparable numbers for their respective freshman seasons. An area of concern for Kallgren would be his HDSV%, which ranks him third-worst among goalies with a minimum of 600 minutes played. In contrast, Husso's HDSV% placed him in the middle of the pack for goalies with a minimum of 700 minutes played.
By no means am I suggesting Kallgren is guaranteed to become one of the top young netminders in the NHL for his second season like Husso did because it is clear he is still fine-tuning his craft. But through this exercise, it is clear that he can at least take a step forward and make himself become a more reliable option in the crease. As long as he doesn't struggle to adjust in his first five playoff appearances like Husso did, then Kallgren should be fine.
With so much uncertainty about what the future holds for Campbell and Mrazek in Toronto, the Leafs are probably happy to know that they won't have to think too hard about who will be the backup by the time opening night rolls around. Although he is fresh off a less than stellar rookie season, Kallgren showed flashes of his potential and has a track record of turning up his game when his team needs it the most.
If the Leafs want to get the most out of Kallgren, the 25-year-old will need to work alongside a goalie who would flirt with 60 starts. It would be ludicrous to suggest he deserves to be handed the keys for the starting role right now, and he doesn't need to be for him to be effective.
While netminders such as @Joseph Woll, @Michael Hutchinson, or even a goalie they acquire from elsewhere this summer will be vying for the position, Kallgren has made himself the running favourite to become the Leafs' backup goalie for 2022-23.
POINTSBET IS LIVE IN ONTARIO
PointsBet Canada has officially launched in Ontario! Get a $25 free bet just for 
signing up right here!