Erik Källgren is the dark horse on the Maple Leafs' goaltending depth chart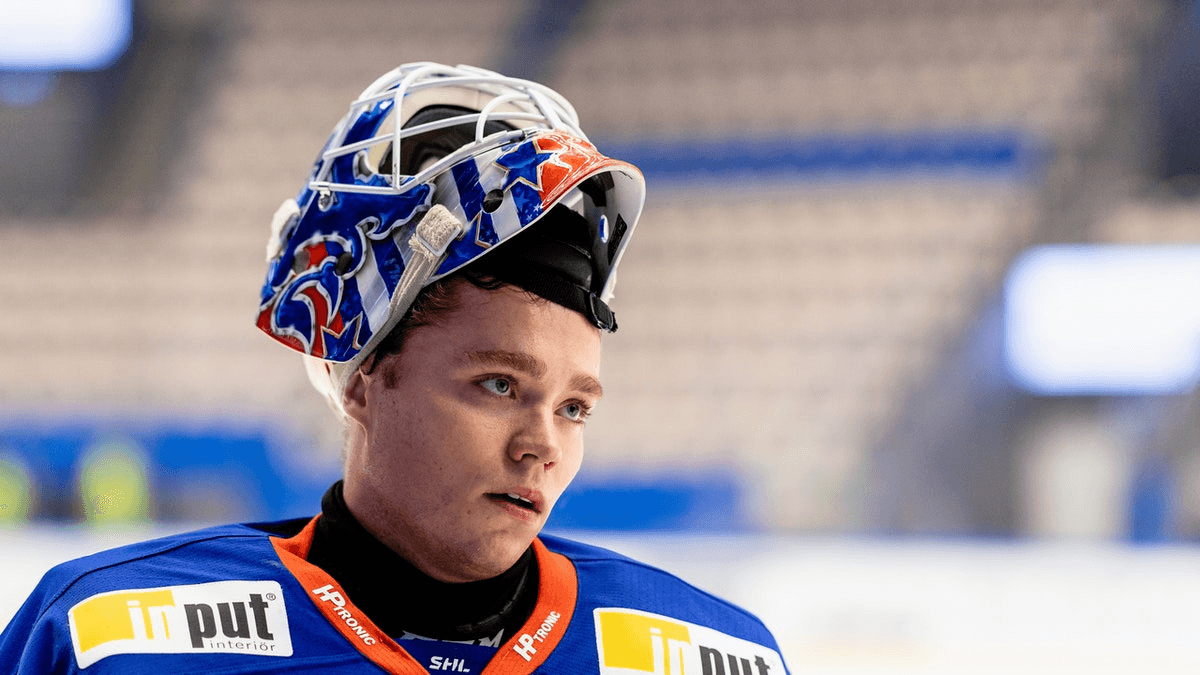 Photo credit:shl.se
The Leafs' signing of Swedish goaltender Erik Källgren back in May came with little fanfare but he could prove to be a valuable addition to Toronto's goaltending depth chart.
Set to turn 25-years-old in October, Källgren is signed for the next two seasons with an NHL league minimum cap hit of $750,000 and he will be a restricted free agent at the conclusion of his current contract, providing the Leafs with a cost-controlled goaltending option who has enjoyed success at the professional level.
Källgren signed with the Leafs fresh off the heels of an outstanding playoff performance for Växjö, putting up a 1.74 GAA and .930 SV% in 10 postseason games on the way to a Swedish Hockey League Championship. The Leafs would have watched Källgren's performance closely while monitoring 2018 sixth-round pick @Pontus Holmberg who earned Playoff MVP honors for his contributions to Växjö's title run before earning a contract of his own with the Leafs.
Källgren was drafted by the Arizona Coyotes in the seventh round of the 2015 draft after posting a 1.75 GAA and .937 SV% in 34 games at Sweden's U20 level but following a brief minor league stint with the organization in 2019-20, the team terminated his contract to facilitate a move back to Europe. To this point, his track record in North America consists of two AHL games in which he put up a 0.89 GAA to go along with a .967 SV%, and three ECHL games where he finished with a 2.70 GAA and .924 SV%. Not exactly a sample size you can draw any conclusions from, but impressive numbers nonetheless.
Removing a two game stint with Växjö's SHL club in 2019-20, Källgren has put up solid numbers just about everywhere he has played.
| | | | | | |
| --- | --- | --- | --- | --- | --- |
| Year | Team | League | GP | GAA | SV% |
| 2016-17 | Oskarshamn | Allsvenskan | 22 | 2.52 | .912 |
| 2017-18 | AIK | Allsvenskan | 28 | 2.42 | .907 |
| 2018-19 | AIK | Allsvenskan | 32 | 2.02 | .920 |
| 2019-20 | Tucson | AHL | 2 | 0.89 | .967 |
| | Rapid City | ECHL | 3 | 2.70 | .924 |
| | Växjö | SHL | 2 | 5.51 | .837 |
| | TPS | Liiga | 18 | 2.33 | .911 |
| 2020-21 | Växjö | SHL | 21 | 2.37 | .911 |
It goes without saying that success in European pro leagues doesn't always translate to success in North America but Källgren's track record – especially his recent playoff run – is intriguing.
Källgren is a technically sound goaltender with good size, standing at 6'3″ and weighing close to 200 pounds. He maintains solid form while tracking pucks, using efficient footwork and avoiding unnecessary activity in the net.
He isn't simply a positional goaltender, however, and has the ability to adjust and make athletic saves when the play breaks down in front of him. Källgren has great body control and can make desperation saves without completely losing his form or his net.
Källgren's vision and puck tracking ability shine through when he battles in front to take the net away and smother dangerous opportunities. He maintains good upper body posture on push-offs to discourage high shots while taking away the bottom half of the net.
Källgren has the tools to stop pucks at the North American pro level and given his age, there is still plenty of runway for him to carve out a successful career. The Leafs organization obviously sees something in him but he will have to make good on his opportunities when they arise.
With @Jack Campbell and @Petr Mrazek locked in as the Leafs' tandem, @Michael Hutchinson, @Joseph Woll, and @Ian Scott all under contract, and the addition of Källgren, Toronto's goalie room is getting a bit crowded.
For all his flaws, Hutchinson is a solid enough third-string goaltender, and beyond Campbell and Mrázek, he is the only netminder in the organization with any NHL experience. Assuming Campbell and Mrázek are healthy, the Leafs will hope to have Hutchinson clear waivers and share the Marlies' crease. No matter who he is sharing the crease with, it will be a difficult situation for the organization to manage. On one hand, Hutchinson is the incumbent third-stringer, and having him game-ready in the case of injury to one of Campbell or Mrázek will be a consideration. On the other hand, the three goalies below Hutchinson on the depth chart are all younger players that the organization is trying to develop and you can only cut a goal crease into so many slices.
Woll, 23, has had good stretches but has mostly struggled through his first two AHL seasons, and while the organization still has high hopes for him, his hold on regular playing time is tenuous at best. Scott, now 22-years-old, has had a difficult couple of years since being named CHL Goaltender of the Year in 2018-19. He missed the entire 2019-20 season after undergoing hip surgery and struggled mightily in limited AHL and ECHL action this past season. Scott is likely ticketed to begin the season in the ECHL as he tries to rebuild his game after being out of action for so long.
That leaves Hutchinson, Woll, and Källgren to battle for the Marlies' crease going into the 2021-22 campaign. Hutchinson's playing time is likely secure, at least to some degree, assuming he isn't lost on waivers at the end of training camp. He should see semi-regular action as the 1A option in the trio of prospective Marlies netminders.
Woll and Källgren will be battling for playing time right from the beginning of Maple Leafs training camp with both of them likely to get their fair share of starts for the Marlies early in the season. Woll might have the inside track as a player the Leafs spent a third-round draft pick on but his struggles, combined with Källgren's potential and superior track record, have put his role in jeopardy.
European free agent signings always come with uncertainty but uncertainty also brings intrigue, and there is plenty to be intrigued by with the addition of Källgren to the Maple Leafs' goaltending depth chart. He brings a winning pedigree with significant professional experience, plays a technically sound style, has good size and athleticism, and has the potential to quickly climb the Leafs' goaltending ranks if he can carry over his stellar play from last season's SHL playoffs.
It might be a long shot but with Joseph Woll and Ian Scott running into obstacles on their respective development paths over the last couple of years, Källgren is a dark horse to push for minutes with the Leafs in the coming seasons.
(Statistics from EliteProspects.com)
(Contract information from PuckPedia.com)