Expectations and goals for every right-shot defenceman on the Toronto Maple Leafs' depth chart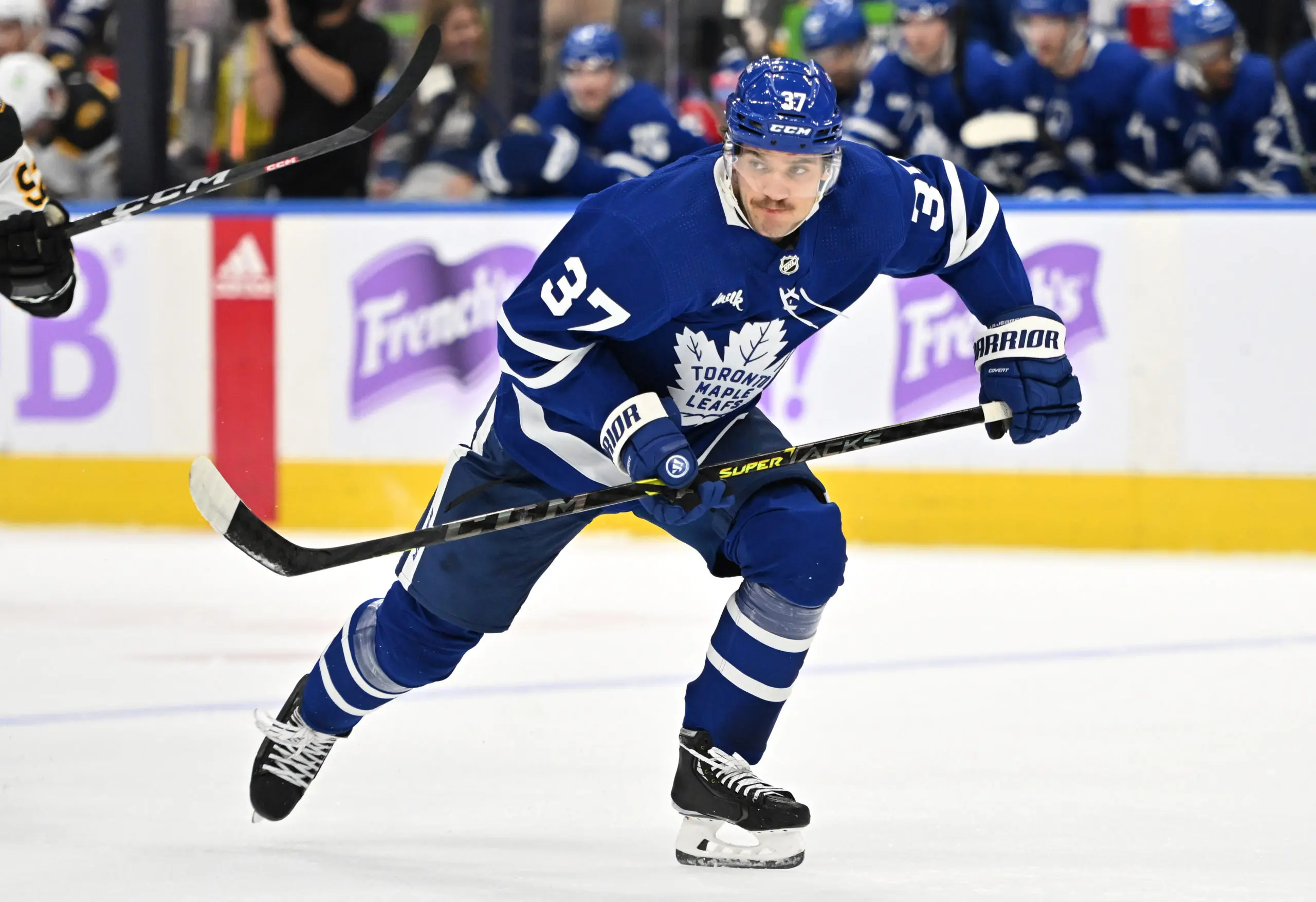 Photo credit:Dan Hamilton-USA TODAY Sports
Welcome back to our new "Goals and Expectations" series here at The Leafs Nation, where we'll take a look at each and every player on the depth chart and cast a set of reasonable expectations for them to meet, and goals to pursue. Earlier this week, we kicked things off by taking a look at the goaltending depth chart from top to bottom, and today, we're going to continue things by examining each right-shot defenceman in the system. 
The right side of the back end has been one of the Maple Leafs' weaker links in terms of prospect depth in recent years. Timothy Liljegren is a full time NHLer now and Topi Niemela looks promising, but outside of those two, there's not much. 
Either way, that doesn't mean there's nobody worth discussing in that crop of players. So, we're going to do just that. Here's some goals and expectations for each right-shot defenceman the Maple Leafs have, in the pros and the minors. 
T.J. Brodie: Eat minutes, allow Morgan Rielly to play his game
Okay, I'm kind of cheating here because Brodie is not a right-shot defenceman. But, he does play on the right side more often than the left, and with the departures of both Luke Schenn and Justin Holl, he will almost certainly eat up some ice time on the right side.
With new addition John Klingberg likely being paired with a defence-first player such as Jake McCabe, I feel like it's a pretty foregone conclusion that Rielly and Brodie are going to play together, and if that's the case, the expectation for him is simple; keep eating minutes, keep stabilizing the D-corps, and keep playing his game. 
He's got one year left on his four-year contract with a price tag of $5 million, and while I'm not sure the 33 year-old is going to get much of a bag in free agency, a strong final season could increase the chances of that happening.
In full, Brodie won't be expected to do anything different than he was in year 1, 2, or 3 of his contract. He's one of the players on the team who has a consistent role and knows what his job is night in and night out, and while it would be ideal to not have him eating 25+ minutes per night like he did in the playoffs, he's one of the guys you can depend on to do so. 
John Klingberg: Have a bounce back season
Maple Leafs fans seem to have mixed opinions on Klingberg, and rightfully so. Like Rielly, he's a really good puck mover and will be an offensive contributor from the back end. But, also like Rielly, he's got defensive shortcomings that will frustrate you as a fan every now and then. The Swedish defenceman is coming off a down year with the Anaheim Ducks that limited him to 24 points in 50 games, and then nine points in 17 games with the Minnesota Wild following a deadline deal.
While the signing may not inspire confidence for some fans given his lack of production last season, history suggests that the 2022-23 season doesn't reflect what he's capable of. Instead of the best of his offensive options up front being Trevor Zegras and Troy Terry, he'll have the opportunity to quarterback a power play with the likes of Auston Matthews, Mitch Marner, and William Nylander up front among others.
The Maple Leafs' power play has been among the best in the league for a few years now, but that doesn't mean there isn't room to improve, and one area they need to improve in is generating offense from the point. With all due respect to Rielly, his shots don't often make it to the net. Meanwhile, that's an area Klingberg excels in. 
A fair expectation would be 40+ points for him this season, but given that he's coming off of two separate one-year contracts, I'd imagine the 30 year-old's goal is to have something a little closer to a career year so he can get some term on his next deal. 
Timothy Liljegren: Take a step forward 
The Maple Leafs' first round pick in 2017 is right on the cusp of fully breaking out. His development has been slow, but at the same time, it's a nice change of pace from the days when they would rush their defencemen into the league (cough Luke Schenn cough). 
He only really started getting regular minutes in 2021-22, and despite looking pretty stable alongside Mark Giordano at times, he found himself on the sidelines during the playoffs. It was more of the same story in 2022-23. He started the season with an injury, stepped into the lineup and looked even more comfortable than the year before. Still, following some additions on the back end including Jake McCabe and Schenn, he saw his ice time diminish towards the end of the season.
With Schenn and Justin Holl both out of the picture, the very real chance that both Brodie and Klingberg won't be Maple Leafs next season, and the fact that he has an expiring contract next season, it's going to be a big season for Liljegren. The expectation is that he takes another step forward, and I'd imagine the goal would be for him to show the Maple Leafs he's worthy of some term on his next contract following the season.
Conor Timmins: Grind for playing time 
Timmins is going to be an interesting player to keep an eye on in 2023-24. The Maple Leafs acquired him for cheap back in November 2022, and despite multiple injury issues getting in the way of his development, he came out strong for the Maple Leafs. He notched six assists in his first eight games with the team and scored his first NHL goal in January against the Philadelphia Flyers. He produced at a solid rate when he was in the lineup, finishing the year with 14 points in 27 games.
Any chance of Timmins getting regular ice time towards the end of the season disappeared with the trade deadline that they had, and unfortunately for him, it looks like he'll be in tough to be a full-time roster player this season, especially with the signing of John Klingberg. 
This all being said, Timmins' chances of getting playing time are ultimately going to depend on what he makes of the limited opportunities he gets. He's making $1.1 million, which I can't imagine the Maple Leafs will want riding on their bench, but on the flip side, they can't send him to the AHL without waivers. It's a situation I'm not quite sure how they're going to handle, but all he'll be able to do is work hard and be ready to go when called upon.
Topi Niemela: Have a smooth transition to North America
Niemela is an intriguing prospect that fans will be able to have a closer look at this season. A third round pick in 2020, the Finnish defenseman had an outstanding 2021-22 season that saw him record 32 points in 48 games, some impressive production for a then-19 year old playing against grown men, but his offensive game took a bit of a step back in 2022-23, finishing with only 18 points in 58 games.
The 2023-24 season will mostly be about properly adjusting to North American hockey after spending his entire playing career to date in Finland. He played six regular season games for the Marlies last season, tallying two assists, and came alive during the Marlies' short-lived playoff run with two goals and five points in seven games. He likely won't be called upon in the NHL unless there's an absurd amount of injuries, so his expectation and goal alike this year should be ensuring a smooth transition to the AHL.
William Villeneuve: Build on last year 
Another draft pick from the class of 2020, Villeneuve is touted as an offense-first defenseman who has some struggles on the back end. Standing at 6-foot-2 and 184 pounds, he just wrapped up his first season with the Marlies and had a nice little transition season, finishing with 25 points in 54 games. 
After Villeneuve didn't really improve on his draft year in the QMJHL, his name sort of slipped under the radar. But, he finished his junior era strong, and didn't look out of place in the AHL by any means. He will have kinks to work out like any other young defenseman, but like Niemela, I can't imagine he'll get a call-up to the NHL this year, certainly not for more than a game if anything. His goal and expectation this year should simply be to focus on his development and take a step forward.