Exploring the idea of the Maple Leafs sending an offer sheet to Jake Oettinger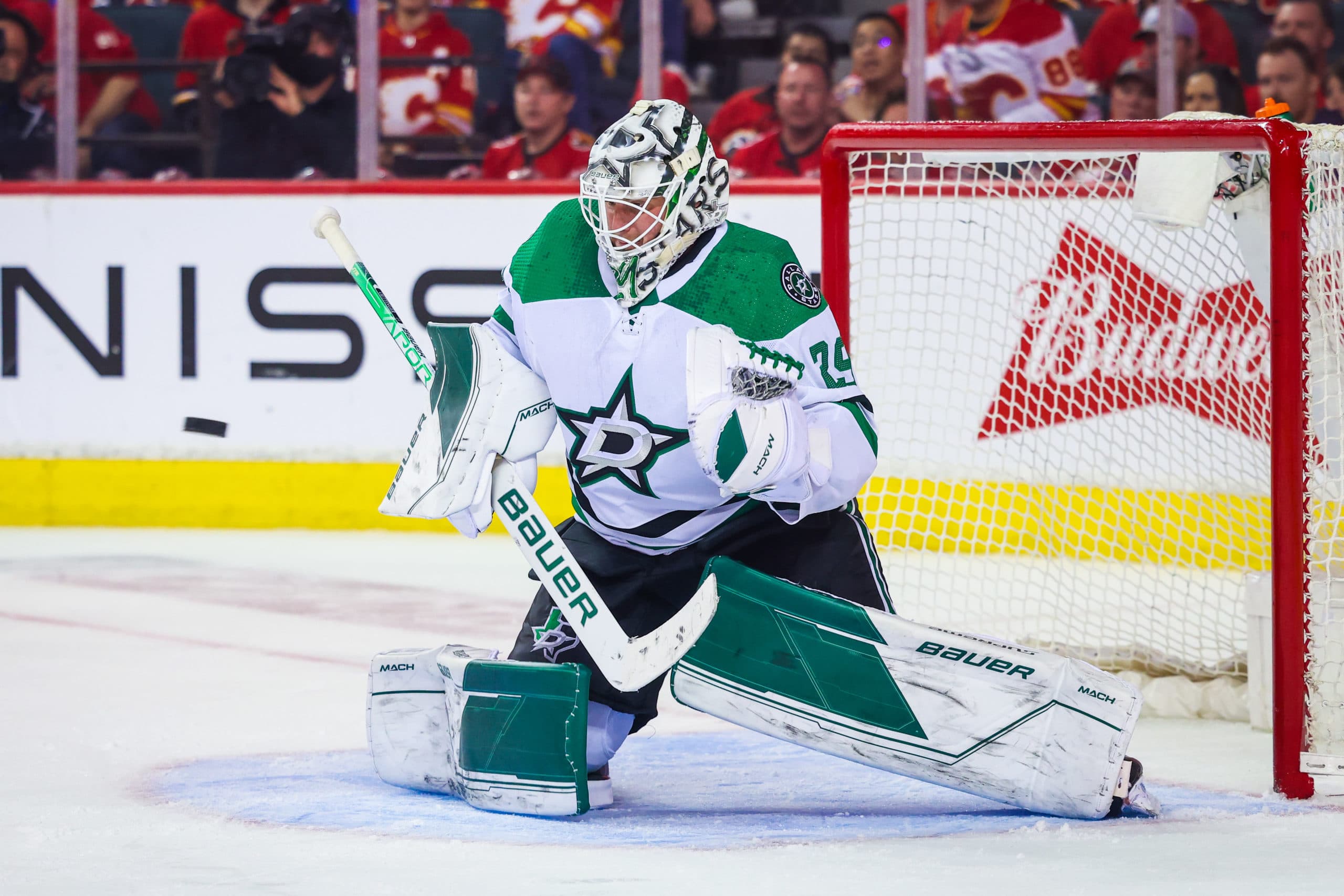 Photo credit:Sergei Belski-USA TODAY Sports
Offer sheets — aren't they fun?
On Thursday, I wrote about the possibility of Rasmus Sandin getting offer sheeted by an opposing team. This was discussed because the 22-year-old ranked third on
Frank Seravalli's offer sheet candidates list
over at DailyFaceoff.
But on that list was another interesting player — one that the Maple Leafs should at least consider targeting. That is Dallas Stars netminder, Jake Oettinger.
Surprisingly enough, the 23-year-old ranked one spot above Sandin in second place on the offer sheet list. And with Jack Campbell potentially leaving, this would be the perfect time for Toronto to pull the trigger. Maybe.
From Seravalli:

Scoop: Oettinger's playoff performance was the stuff of legend. Amazingly, 

HockeyViz.com

 calculated that Oettinger's workload in Round 1 – with 272 saves on 285 shots (.954 Sv%) – was roughly equivalent to what Darcy Kuemper faced in the 

entire

 Avalanche run (386 shots) when factoring in high-danger chances. To this point, the Stars and Oettinger have made little progress on a new deal. Jason Robertson also needs an expensive second contract. What would it take to pry out a 23-year-old elite goaltender who can man your crease for the next decade? Here are the teams that would sign up: Edmonton, Toronto, Montreal, Washington, Chicago, Seattle, Ottawa, San Jose, New Jersey, Arizona, Buffalo, Anaheim. All of them.
There's not many goalies available through free agency that could be legitimate starter options for the Maple Leafs. In fact, there's only nine netminders available who played over 20 games last season and had a save percentage above .900.
I really like this idea is because he's only 23-years-old and has incredible numbers for a netminder who's played less than 100-career NHL games. Oettinger started 46 times in the regular season and finished with a .914 save percentage.
Put that along with his playoff performance that Seravalli mentioned above and you have an incredible goaltender for the future.
The only thing that might be stopping Toronto from doing this is their draft capital. They only have three picks in the 2022 NHL Draft — one of which is a first-round pick — something they haven't had since the 2020 draft.
ANNUAL AVERAGE (AAV) VALUE
COMPENSATION
$1 – $1,386,490
NO COMPENSATION
$1,386,491 – $2,100,742

1 THIRD ROUND PICK

$2,100,743 – $4,201,488
1 SECOND ROUND PICK
$4,201,489 – $6,302,230

1 FIRST ROUND PICK

1 THIRD ROUND PICK

$6,302,231 – $8,402,975

1 FIRST ROUND PICK

1 SECOND ROUND PICK

1 THIRD ROUND PICK

$8,402,976 – $10,503,720

2 FIRST ROUND PICKS

1 SECOND ROUND PICK

1 THIRD ROUND PICK

$10,503,721+
4 FIRST ROUND PICKS
For a goaltender of Oettinger's calibre, I'd assume that the Maple Leafs would need to offer him a hefty package to lure him over. If that's the case, Toronto would likely have to offer the 23-year-old an AAV between $4.201-$6.302 million.
Even then, the Dallas Stars would probably match it since they do have $18.5 million in cap space to play around with this summer. Plus, if the Maple Leafs did in fact acquire him, they would lose their first and third round draft picks. I'm sure they could re-acquire one if they sent a player out, but it would likely only be a third-rounder.
All in all, I really do like this idea because Toronto could allocate the money they might've given to Campbell to Oettinger. The only risk is the small resume and the draft picks that they'd lose offer sheeting him. And that's why I don't think the Maple Leafs make that move.
It makes sense in a dream world, but not in the real world. The future of Toronto's goaltending is very scary in the real world and nobody knows what they're going to do.
(Offer sheet table via CapFriendly.com)
PointsBet is live in Ontario. 
Get started here
.