First round recap and looking ahead to the second round: Who scored the goal of the season for Toronto?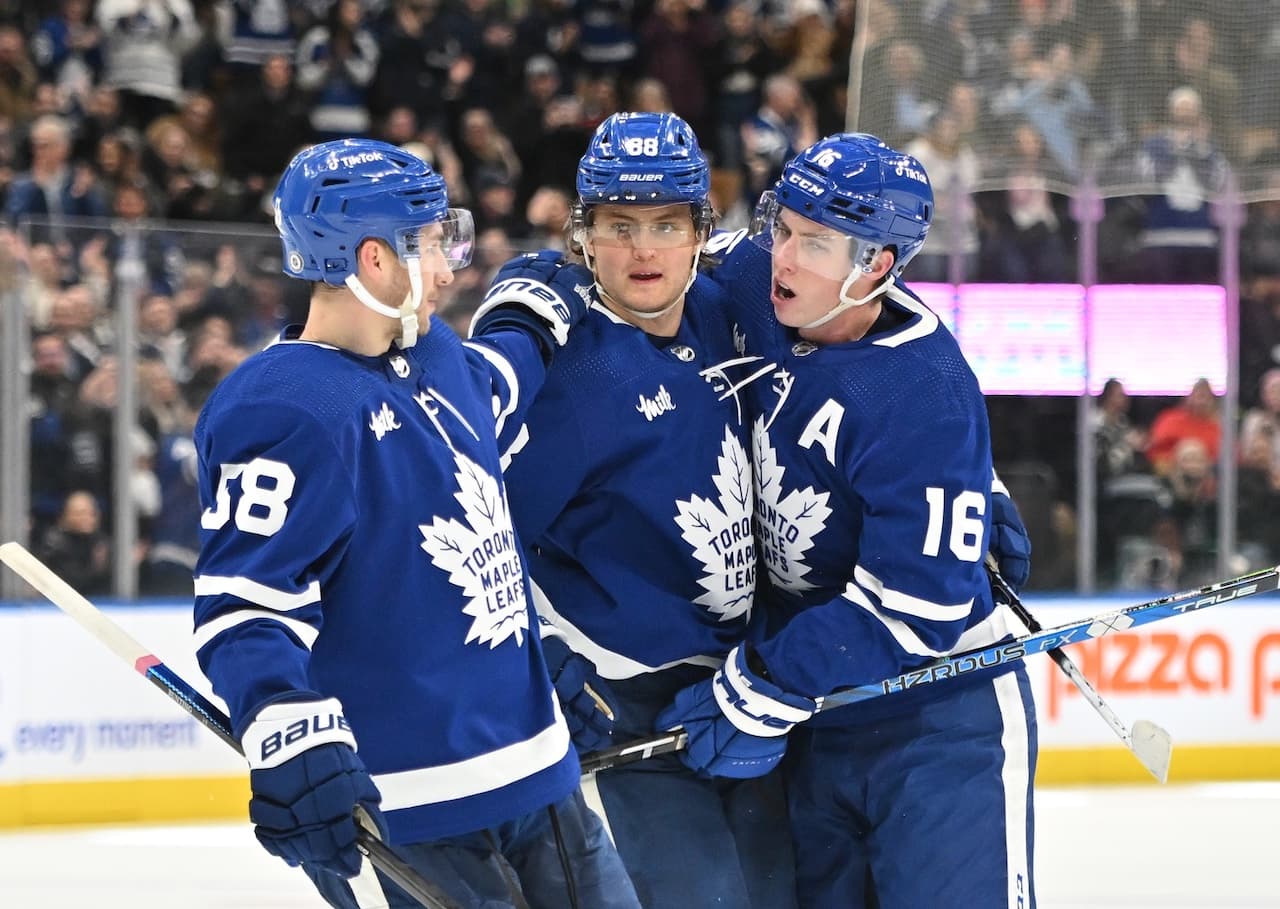 Photo credit:Dan Hamilton-USA TODAY Sports
I created a bracket of 16 of the best goals from the Toronto Maple Leafs' 2022-23 season and tweeted out a poll – along with videos of the goals – on our Twitter account (
@TLNdc
) and gave you, the followers, a chance to vote on which goal you'd like to see advance through to the next round.
With the first round officially over, let's go through the results to see who advanced to the second round, who got eliminated from the bracket, the percentage of votes from each matchup and what the second round will now look like.
Matchup one:
Winner: John Tavares vs PHI, November 2, 2022 (91% of the votes)
Loser: Denis Malgin vs ANA, October 30, 2022 (9% of the votes)
Matchup two:
Winner: Willaim Nylander vs STL, December 27, 2022 (70% of the votes)
Loser: Auston Matthews vs NYI, January 23, 2023 (30% of the votes)
Matchup three:
Winner: John Tavares vs FLA, April 10, 2023 (76% of the votes)
Loser: Zach Aston-Reese vs WSH, January 29, 2023 (24% of the votes)
Matchup four:
Winner: Mitch Marner vs EDM, March 11, 2023 (85% of the votes)
Loser: William Nylander vs LA, December 8, 2022 (15% of the votes)
Matchup five:
Winner: Mitch Marner vs NYR, January 25, 2023 (76% of the votes)
Loser: William Nylander vs BUF, November 19, 2022 (24% of the votes)
Matchup six:
Winner: Mitch Marner vs PIT, November 26, 2022 (62% of the votes)
Loser: Ryan O'Reilly vs BUF, February 21, 2023 (38% of the votes)
Matchup seven:
Winner: William Nylander vs FLA, January 17, 2023 (68% of the votes)
Loser: Mitch Marner vs NJ, March 7, 2023 (32% of the votes)
Matchup eight:
Winner: William Nylander vs MIN, February 24, 2023 (90% of the votes)
Loser: Mitch Marner vs CHI, February 19, 2023 (10% of the votes)
Biggest blowout: Matchup one, Tavares (vs PHI) 91% of the votes vs Malgin (vs ANA) 9% of the votes
Closest matchup: Matchup six, Marner (vs PIT) 62% of the votes vs O'Reilly (vs BUF) 32% of the votes
Here is a picture of the updated bracket heading into the second round after all eight first-round matchups…
You will have a chance to vote on the second round of matchups tomorrow over on our Twitter account (
@TLNdc
)