Five NCAA free agent targets for the Toronto Maple Leafs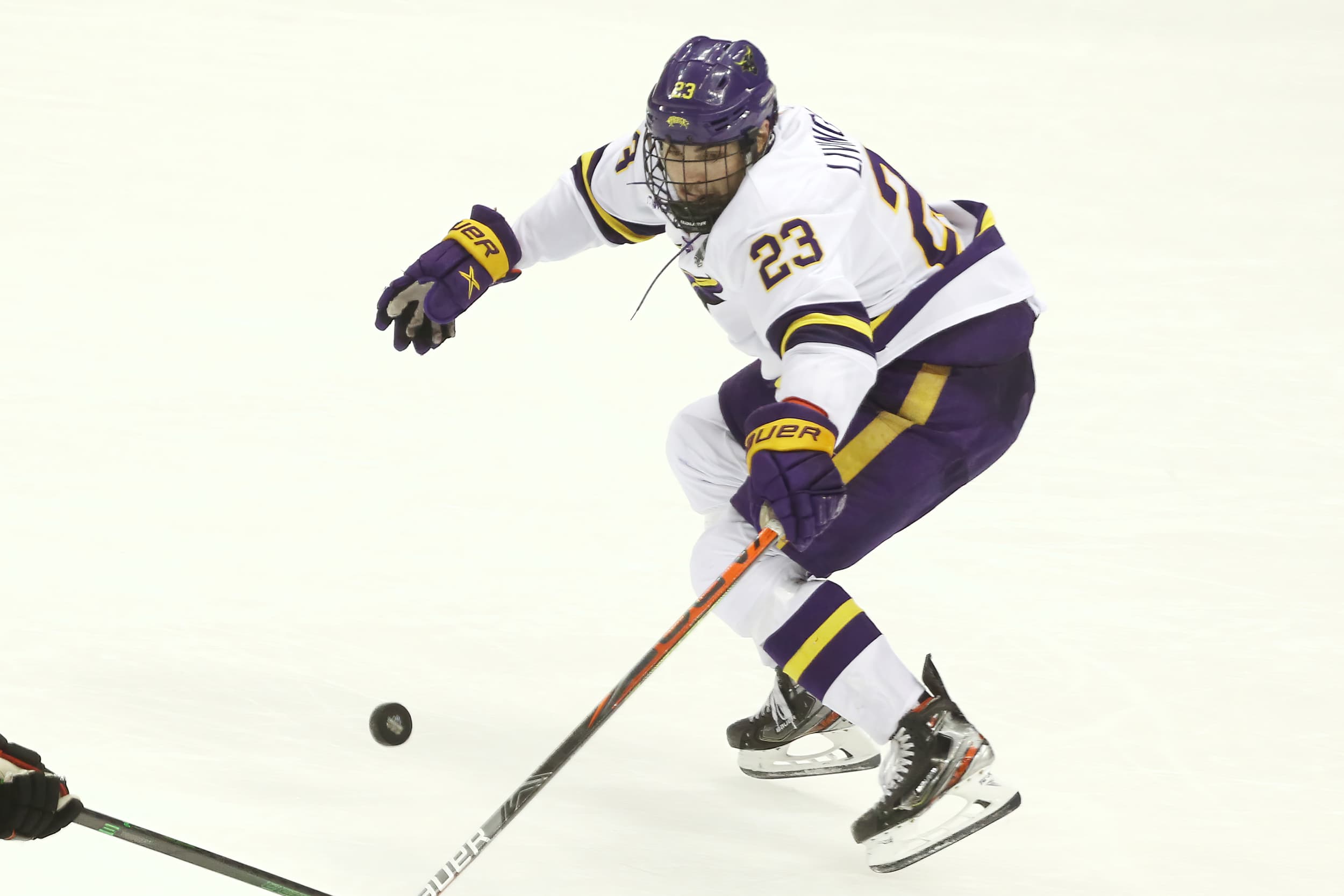 Photo credit:Charles LeClaire-USA TODAY Sport
The NCAA playoffs are still a while away, but things are starting to really ramp up in hockey's top college ranks.
And that includes looking towards the future. Some of the top college players each year sign entry-level deals with NHL teams as an inexpensive way of adding depth. We don't typically see many high-quality players go the free-agent route, but Tyler Bozak is a notable one that comes to mind as one that worked out for the Blue and White. Last year, the Toronto Marlies added Dryden McKay, who was coming off of one of the best statistical careers by a goaltender in recent NCAA history.
There aren't any must-have prospects this year, but we know Kyle Dubas and Co. love scouring the United States for quality, developed talent. They'll have options this year, depending on need. The theme this year, like most years, is depth, but there's also a chance to add some skill and size to the lineup, too.
Here's a look at five NCAA free agents the Toronto Maple Leafs could look to target this spring:
Jason Polin, RW (Western Michigan)
Polin is the big kahuna right now. The 23-year-old Western Michigan captain is having a dominant season, scoring 23 goals and 35 points in his first 28 games as a senior. He's always been a goal-focused winger, with 53 of his 84 points coming thanks to his great release and his nose for the net. He has good speed, is an excellent puckhandler and obviously knows how to put pucks past goaltenders. He has five hat tricks this season, which is utterly bonkers. But away from the scoresheet, scouts have noticed his 200-foot game being much more consistent than in years past. He has good potential as an energetic bottom-six forward who can step up and play a bigger role in pinch situations.
Ryan McAllister, LW (Western Michigan)
Speaking of WMU, McAllister entered the weekend tied with 2023 NHL Draft star Adam Fantilli for first in scoring with 40 points in just 28 games. The 21-year-old took the long route to the NCAA, starting in Jr. B in 2018-19 before spending three years in British Columbia and Alberta. McAllister had a whopping 57 goals and 139 points with the AJHL's Brooks Bandits this year and wasted no time making an impact with WMU as a rookie. He's an older freshman, and another year of NCAA action wouldn't hurt, especially without Polin by his side. But given his offensive output, it wouldn't be surprising if McAllister went the pro route, either.
Jake Livingstone, D (Minnesota State)
Teams love big defensemen, which helps when they've got some offensive literacy, too. Livingstone stands tall at 6-foot-3 and 205 pounds, making him a big, daunting presence on the Mankato blueline. He's also putting up decent points with 25 points in 28 games. The junior will be 24 in April, so he's definitely on the older side of things, which might help him transition into a bottom-pairing role rather quickly. If Livingstone was on the Leafs now, he'd be the biggest blueliner other than Justin Holl if that's important to you.
Hunter McKown, C (Colorado College)
At 20, and finally no longer eligible for the NHL Draft, McKown is one of the youngest players to watch. And it's crazy because he's already a junior at Colorado College. McKown has shown some solid improvements in the consistency of his game and his overall skill level doesn't get enough credit. That's partly because he played a more defensive role with the USNTDP and didn't really start to get comfortable as a goal-scorer until last year when 13 of his 21 points were goals. He already has 14 goals in 25 games, but his defensive game is still his bread and butter.
Jaxon Nelson, C (University of Minnesota)
Nelson isn't a big offensive producer and he never will be. But with a 6-foot-4, 220-pound frame, Nelson is an intimidating force, especially around the net. He's not going to get too aggressive or lay any big hits, but he has one of the best net-front presences in college and gives goalies headaches regularly. Nelson can skate well enough, too, so it's not like he'll be left in the dust. Nelson is the type of guy you'd slot in your bottom six to create distractions or even deploy late in the game to take lanes away.