Five NHL Draft targets for the Toronto Maple Leafs from the 2023 World Juniors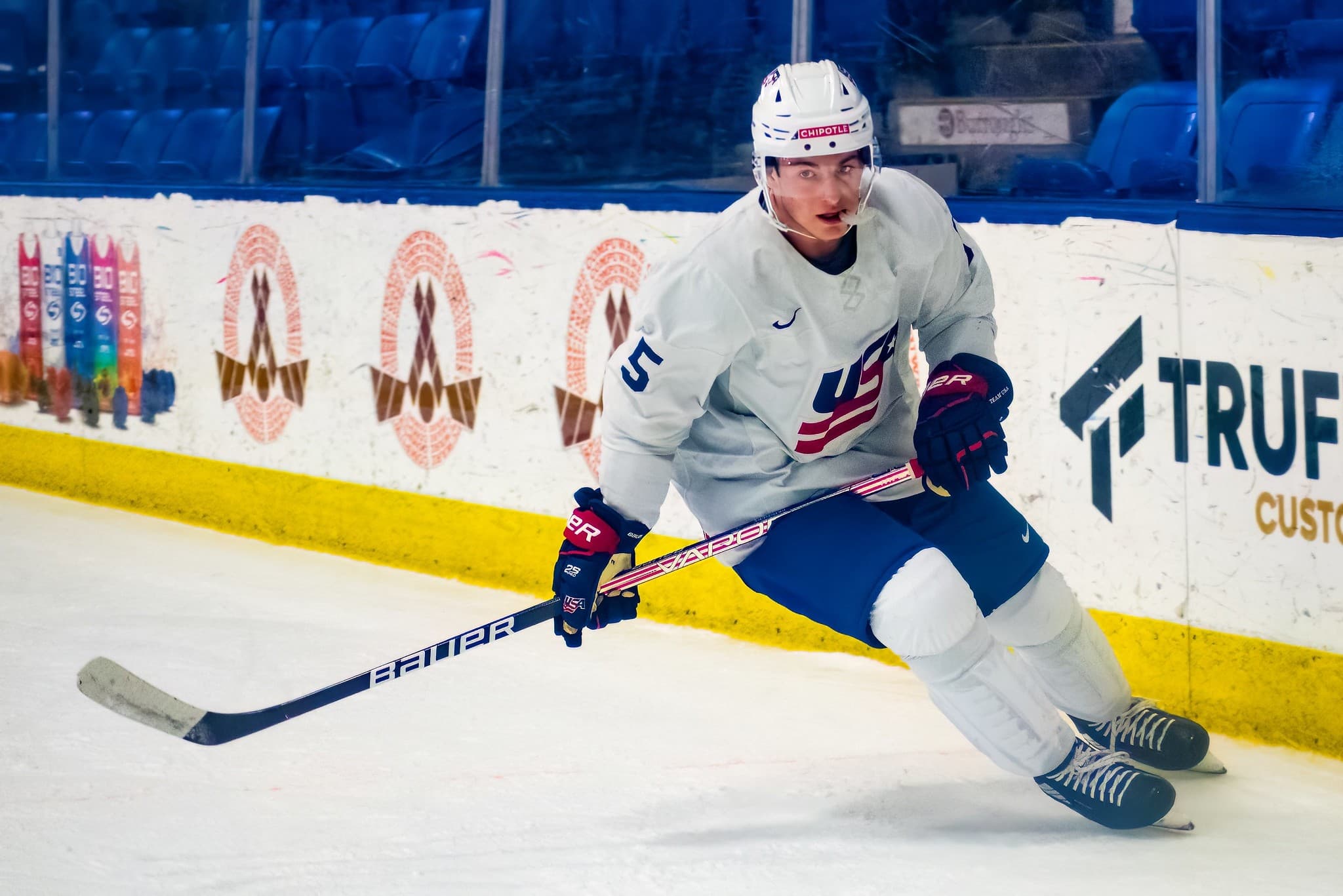 Photo credit:Steven Ellis/The Leafs Nation
The Toronto Maple Leafs were one of two teams without any representation at the 2023 World Junior Championship, with the Pittsburgh Penguins being the other.
That interested fans were more focused on the 2023 draft eligibles with the hopes of getting an early glimpse at some of the names the Leafs may target this June. The big three – Connor Bedard, Adam Fantilli and Leo Carlsson – were total no-gos. Instead, it was looking at players that'll likely fall closer to the deep of the first round of the draft – and the deeper, the better.
Toronto currently has five draft picks to work with: their first-rounder, two third-rounders and picks in the fifth and sixth round. So the first half of the draft will be a quiet one, assuming they don't make any more moves to deplete the crop. And, we're being honest, the Leafs don't have an impressive prospect core right now. There aren't many in the system that look like high-end impact prospects, and I'm a bit low on a few that some in the fanbase hold in high regard.
But that's a story for another day. Here's a look at five prospects from the 2023 World Junior Championship that the Leafs could look to target at some point when the selection process begins in Nashville:
Gavin Brindley, RW (USA)
After spending most of the tournament in a bottom-six role, Brindley started to see some success in the latter stages en route to bronze. It was a solid showing for a player many expect to go near the end of the first round. Brindley has been an excellent secondary offensive option for the Wolverines this year, mainly as a playmaker. Don't let his size fool you – Brindley is tenacious. He wants the puck as badly as anyone, and he'll pressure you all night long to make it happen. Brindley is quick, does an excellent job of keeping calm under pressure and can sometimes wow you with a bit of pizzazz. He has the makings of an electric, speedy middle-six forward – and honestly, not too far off of Nicholas Robertson.
Charlie Stramel, C (USA)
You don't want to mess with Charlie. Standing 6-foot-3 and a whopping 216 pounds, Stramel can become the hulk when you really annoy him, and he'll cause havoc around the net, too. While he wasn't a huge producer with USA, he did make his presence known as one of the better bottom-six forwards in the tournament, grinding his way throughout. With Stramel, you're not going to get huge offensive output, and that's partly why scouts are divided about him. He's not a great skater and his playmaking decisions can be questionable at points, but neither of those attributes are a hindrance, either. He plays a basic game that allows him to remain focused, but he'll annihilate you physically if you get in his way. He needs to prove he's more than just a big body at the next level, but he has some solid NHL potential. He'll go later in the first round, and if the Leafs feel like they need a solid third-line center down the line, they could target him.
David Reinbacher, D (Austria)
It was easy to overlook the Austrians, who finished dead last with one of the most underwhelming tournament performances in recent history. But Reinbacher wasn't to blame – he was consistently Austria's best player and nearly played half of the team's second relegation game against Austria, recording two assists. Reinbacher was forced to play heavy minutes but his performance didn't really fall off in the latter stages, even after playing 25 minutes in a game. His workhorse effort wasn't lost on the coaching staff, and even when they were getting slaughtered by Canada, Sweden or Czechia, Reinbacher made smart decisions with the puck. He has good size at 6-foot-2, has a cannon of a shot when he needs to use it and, again, he thinks the game at such a high level. Reinbacher has forced himself into late first-round consideration, and he would instantly become one of Toronto's best defensive prospects if they selected him.
Adam Gajan, G (Slovakia)
For once, goaltending depth doesn't seem to be an issue for the Leafs. Still, Gajan – who put himself on the map with some incredible performances for Slovakia – will have no shortage of interested suitors this year. His 53-save effort against Canada was one of the best of the tournament, but he also was a big reason why they Slovakia beat USA and then followed it up with a shutout over Latvia. Gajan has good size at 6-foot-4 and has done a splendid job of handling heavy workloads this season. Passed over at the 2022 draft, Gajan is committed to the University of Minnesota-Duluth, so the Leafs could be patient with him. Scouts still seem mixed as to where he'll land at the draft, but it's likely a middle-round selection at best. It doesn't hurt to use a latter-round pick on a goalie, especially one that's on the rise right now.
Attilio Biasca, C (Switzerland)
This one is a bit more off the board and someone that could go much later in the draft. Biasca is a bit of a late-bloomer, having shown some promise in his third year as a draft-eligible prospect. Biasca averaged 23:27 through five games, the most of any forwards that made it into the quarterfinal. A lot of that is skewed by his 28:35 played against Slovakia in a 4-3 shootout victory, with Biasca recording nine of his team's 36 shots that game. He was good in the pre-tournament too, recording a hat-trick against Sweden, and generally caught the attention of scouts that otherwise wasn't impressed with his last two seasons in the QMJHL. There's no guarantee he'd get drafted in 2023, but some scouts see potential in him as a bottom-line forward that can grind plays out, hold his physically and make some good decisions with the puck in a pinch.