Five potential landing spots for Maple Leafs Wayne Simmonds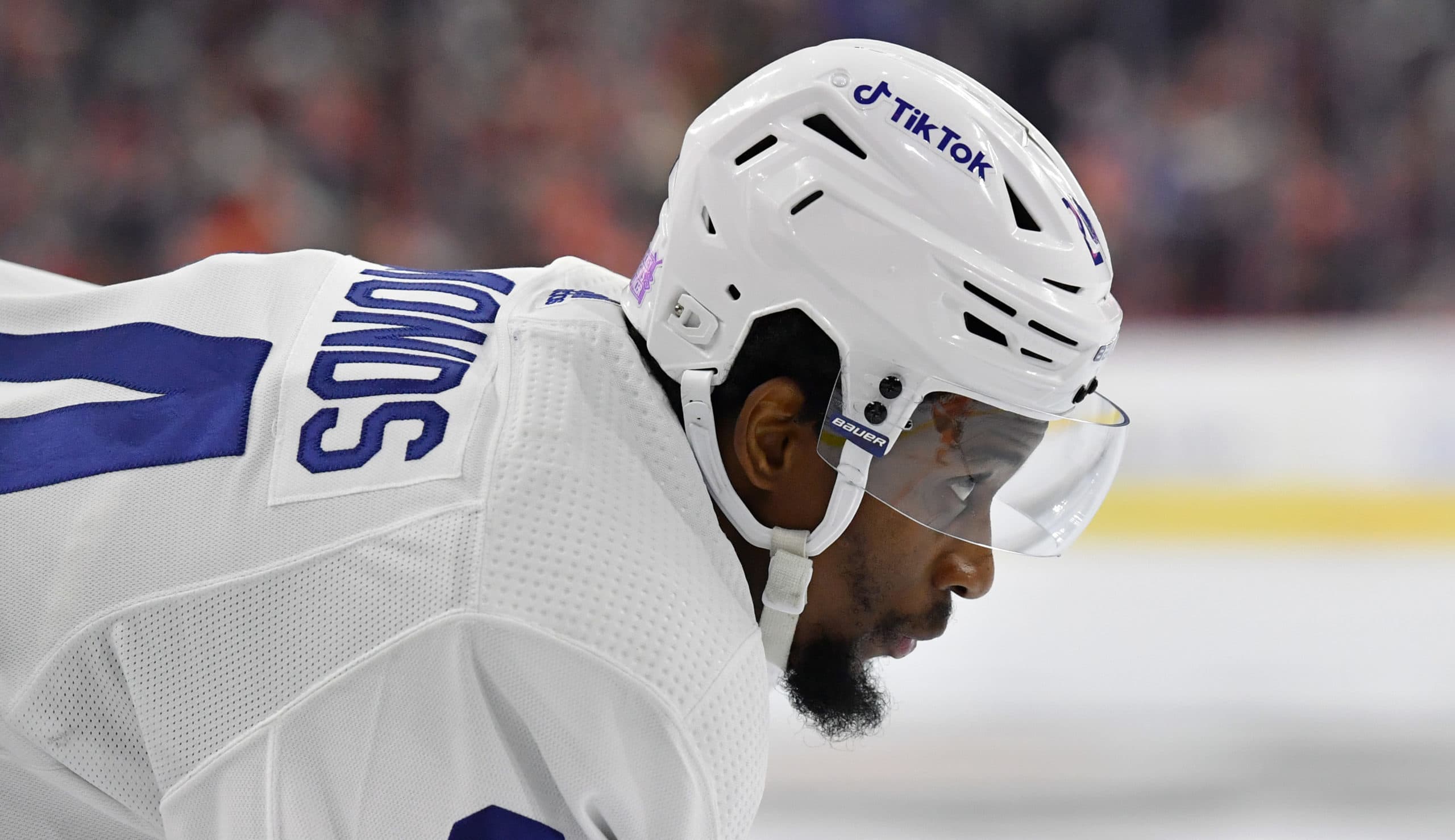 Photo credit:Eric Hartline-USA TODAY Sports
Last week, Sportsnet's Elliotte Friedman reported that the Toronto Maple Leafs sent an email out to other NHL teams letting them know veteran forward Wayne Simmonds is available. Simmonds was put on waivers before the start of the regular season and cleared the following day making him still a part of the organization but not on the main roster.
With such a deep forward group this year for the Maple Leafs, securing a roster spot for Simmonds was difficult. It ultimately forced him to be put on waivers on the same day as Kyle Clifford, Adam Gaudette, and Victor Mete. All four passed through, but Kyle Dubas and Toronto would still like to do good by the forward and try and find him a new home to play somewhat regularly.
As Friedman said, "Return is not as important" and they want to do right by the player. With that being said let's look at some potential landing spots for forward Wayne Simmonds.
1. Philadelphia Flyers
It shouldn't come as a surprise that the Philadelphia Flyers are not only on this list but number one on this list. I think Philadelphia makes a ton of sense, and I believe there are others out there too that agree that it makes a ton of sense for a reunion.
Simmonds spent eight years in the orange and white playing in almost 600 games for the franchise over that time span. He was regarded as one of the very best power forwards in the entire NHL during his time in Philadelphia with the way he used his body and size to his advantage while scoring at a pretty good rate. Over the 584 games played, he scored 203 goals and added 175 assists for 378 points with the Flyers.
A reunion between these two wouldn't be shocking given Simmonds' history there and the fact Philadelphia isn't looked at as a competitive team this year so adding a player like him at his current age really shouldn't bother the franchise at all. However, if the team is looking at the spot that the Flyers are in being non-competitive, maybe they're looking for their young guys to start playing more so they can get their feet wet in the NHL and that will leave Simmonds with no spot on the roster.
Although this team is run by John Tortorella, if there was ever a man who would maybe make room for Wayne Simmonds in his lineup, it would be him, to be honest.
2. Los Angeles Kings
The Kings – just like the Flyers – make a ton of sense given that the Los Angeles Kings were the team that drafted Simmonds 61st overall in the 2007 NHL draft before he ended up being dealt to the Flyers in the summer of 2011 with Brayden Schenn and a second-round pick in exchange for Mike Richards and Rob Bordson.
Los Angeles is an up-and-coming young team who took massive strides last season with making the playoffs and going the distance in a seven-game series in the first round against a pretty dangerous Edmonton Oilers team. After winning two cups in three years between 2012 and 2014, the Kings were on the decline and only made the playoffs twice between 2015 and 2021, until, of course, they made it last season.
Adding a familiar face like Wayne Simmonds could make sense to this Kings team if they're looking to add a veteran forward into their bottom six for some toughness and just having a veteran presence, in general, surrounding such a young team like the Kings. They already have a tough bottom-six player in Brendan Lemieux so trading for Simmonds wouldn't be shocking.
However, by just looking at the Kings' lineup, the only player I could realistically see Simmonds replace every once in a while in the lineup would maybe be Lemieux or Blake Lizotte. Everyone else besides Kopitar and Danault are young players, so I doubt they'd want to take them out of the lineup for a 34-year-old who is way past his prime.
3. Ottawa Senators
For the Ottawa Senators, I don't really see why or how they would want Simmonds on their roster, specifically because they're also a team who are playing a ton of their young players along with some of their off-season additions in Alex DeBrincat, Claude Giroux, and Tyler Motte. However, they have Austin Watson on their fourth line right now so maybe they would swap the two every other game or something or even just add Simmonds to that fourth line and take out Parker Kelly or Mark Kastelic.
The reason why I added Ottawa to this list is because of what was said on the Real Kyper and Bourne show on October 10th. Nick Kypreos stated that "I can tell you from what I've heard. As of yesterday, there was interest in Wayne Simmonds by the Ottawa Senators."
Both Kypreos and Bourne talk a little bit more about Simmonds and the Senators around the 17:30 mark.
https://podcasts.apple.com/ca/podcast/what-happens-to-wayne-simmonds-and-nhl-season-preview/id1588452517?i=1000582179672
4. Minnesota Wild
I feel like the Minnesota Wild could be a potential sneaky team for Wayne Simmonds to get traded to if he does indeed get dealt. The Wild have approximately $3.2M in cap space and these two teams have a history of making a trade with the return not being anything significant. Back in July of 2021, the Toronto Maple Leafs acquired defenseman Brennan Menell from the Minnesota Wild in exchange for a 2022 conditional seventh-round pick with the conditions being if Menell played in 30 games for the Maple Leafs in the 2021-22 season, the Wild would receive the draft pick.
The Wild could be a team for Simmonds to slot into their bottom six because the Wild have a couple of players who are guys that do the same job Simmonds does, but they also add some offence as well. I don't see him being an everyday player on this Wild team, but him being in the lineup every now and again wouldn't shock me if he gets dealt to a team like Minnesota.
They have guys like Marcus Foligno, Jordan Greenway (IR), and Brandon Duhaime who are known for being players who hit and will fight when needed. So adding a Wayne Simmonds to the bottom six to fill in for a role like that wouldn't come as a surprise and would kind of be a decent fit in my opinion whenever he would get in the lineup.
5. Toronto Maple Leafs
Now, if he doesn't get dealt to anybody and nobody wants Wayne Simmonds, then he would obviously remain a part of the Toronto Maple Leafs' organization still. However, a part of me wonders if he will just call it a career and retire if he doesn't get traded and he isn't an everyday player for Toronto at least. Now I'm saying this as someone who is just thinking, I have not heard anything about him potentially retiring but it would make sense because I highly doubt he would want to be in the AHL when he'd rather be playing on an NHL team.
If there are injuries to the Leafs' bottom six then obviously Simmonds would eventually find his way into the lineup and play. But when you're looking at the team's depth chart, they have a ton of options for who could be Toronto's 13th forward. You have Simmonds, of course, but you also have Nick Robertson, Alex Steeves, Pontus Holmberg – who looked really good in the preseason – Adam Gaudette and others as well.
It'll be very interesting to see what happens with Wayne Simmonds and if he finds a new team or will remain with the Toronto Maple Leafs.
The Toronto Maple Leafs also placed goalie Matt Murray on LTIR which will free up some cap space and will have room to call up and carry a couple of extra players. With this news, does Wayne Simmonds get the call-up and serve as an extra forward and maybe even get in some games with Toronto still? Or does he not want that anymore and will still be satisfied playing regular NHL minutes elsewhere?