Five Pressing Leafs Topics: January Edition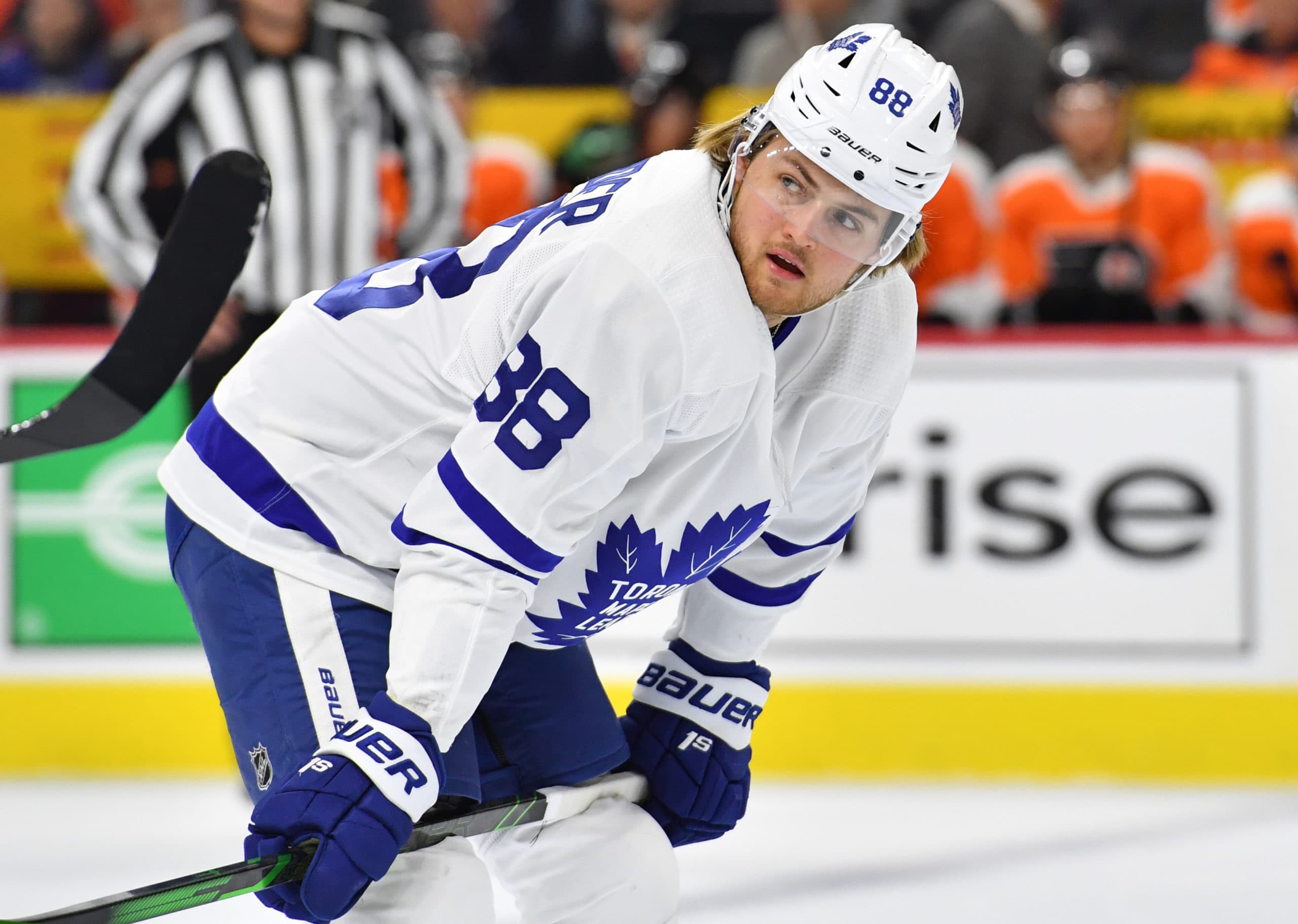 Photo credit:Eric Hartline-USA TODAY Sports
I'll be starting the new year with a monthly article showcasing some of the most pressing Leafs topics and concerns! So far this month, the Leafs are 5-2-1 and sit comfortably in a playoff spot. Of course, the expectations are higher than that, in an Atlantic division filled with elite teams – the margin for error is extremely thin. Without wasting any more time, let's get right into it.
Here are the topics that will be covered:
The Forgotten Fourth Line
Do the Leafs have a problem defending leads?
Jake Muzzin and Justin Holl
Timothy Liljegren: Trade piece or part of the core? 
Analyzing the new balanced lines from practice
The Forgotten Fourth Line
One of the biggest differences between this version of the Leafs and last year has been their fourth line. Last season it provided Toronto with a ton of scoring in limited sheltered minutes. Jason Spezza, the staple of the line, finished the season with 24 points at 5v5 while averaging just over eight minutes at 5v5 minutes per game. Alex Ovechkin, Blake Wheeler, David Krejci, and Tyler Toffoli also each finished with 24 points at 5v5 despite playing over 200 more minutes than Spezza. This year Spezza has only five points at 5v5 in 34 games. The contrast between Spezza's production in the past two seasons is seen below:
Season
GP
TOI/GP
Goals/60
Total Assists/60
Total Points/60
Shots/60
S%
iCF/60
On-Ice SH%
2020/2021
54
8.58
1.04
2.07*
3.11 *
7.77
13.33
13.47
10.76
2021/2022
34
9.36
0.75
0.19**
0.94**
6.79
11.11
13.38
5.39
*Spezza's career-high
**Spezza's career-low
Puck luck has definitely played a role but injuries and a lack of center depth has forced Toronto to play Spezza at center far too much this season. In contrast, Spezza spent a lot of last year on the wing. Travis Boyd, Pierre Engvall, Adam Brooks, and Alex Kerfoot all spent time as the fourth line center and thrived playing next to Spezza.
Fourth-line combinations with Spezza at center have lacked transition skill and speed whether that's been with Kyle Clifford, Nick Ritchie, or Wayne Simmonds. The Leafs have had both Alex Kerfoot and Pierre Engvall playing on the wing in the top-nine. If they can add a middle-six forward at the deadline or have a healthy lineup (as discussed later), it could provide an avenue to bump one of them to the fourth line with Spezza and Simmonds.
Luckily their overall depth scoring hasn't taken too much of a hit. The offensive production of the third line has done a decent job replacing the scoring they used to receive from the fourth. With that said, the fourth line still takes a ton of offensive zone starts. It's important for Toronto to outplay and outscore their opponents in those situations.
Do the Leafs have a problem defending leads.. and should we be concerned?
Anytime a team blows multiple leads in the same week, it's going to be talked about, especially when that team is the Toronto Maple Leafs. Last week, Toronto blew leads against Colorado, Vegas, St. Louis, and the New York Rangers. On one hand, this seems concerning. The Leafs have a history of blowing leads and whether we want to believe it or not, there are "demons" the organization is battling which factor into their play intense situations.
When we take a step back and search for context, the "blown leads" problem looks a lot more manageable. During this stretch, the Leafs had below .900 goaltending and were coming off a long break where the majority of their players entered COVID protocol. When we look at the season as a whole, Toronto has actually done a great job playing with leads. They currently rank 2nd in the NHL in expected goals percentage at 5v5 when leading the game, and 8th in expected goals against per minute at 5v5 when leading.
It's worth mentioning that they still won two of those four games where they blew leads. Hopefully, this is mostly a result of poor goaltending and it doesn't become a recurring theme this season.
Jake Muzzin and Justin Holl have been better
After being a reliable pairing for years, Jake Muzzin and Justin Holl had a slow start to the 2021-2022 campaign. In particular, their ability to defend incoming speed in the neutral zone and to limit turnovers on the breakout were concerns. Muzzin and Holl are trusted to go against the opposition's top lines in tough deployment so an improvement in their play is vital to Toronto's success.
Since the beginning of the calendar year, the pairing has looked better, albeit in just four games. In fact, when filtering to pairings who have played at least fifty minutes together at 5v5 since January 1st, 2022, Muzzin and Holl rank first in the NHL in xGF% at 69.61%. High danger shot attempts when they are on the ice have been 17-8 for the Leafs.
To add to the situation, during the St.Louis game Jake Muzzin suffered a concussion. The injury seems to be minor but I'm sure the Leafs will be careful before rushing Muzzin back to the lineup.
At this point, keeping Muzzin and Holl together might be Toronto's best option. Liljegren has made strides but asking a 22-year-old to play top-four minutes in the playoffs is a big ask. In addition, the team has been reluctant to play Dermott on the right-side in the top four, and Sandin is providing the team a ton of value on the left side of the third pairing in sheltered minutes right now. In a vacuum, a trade makes sense but the market for a right-handed shutdown defenceman isn't too plentiful. In Frank Seravalli's "
20 Trade Targets in play as the market heats up"
article, there was only one right-handed defenceman on the list – it was Justin Holl.
Timothy Liljegren: Trade piece or part of the core?
Liljegren's season has been a mixed bag so far. He's looked fully competent as an NHL puck-mover and has done well in sheltered third-pair minutes. Due to injuries and his strong play, Liljegren was given an opportunity in the top-four where he's looked less than impressive in the defensive zone. In particular, some big mistakes have led to goals against these past two weeks.
It should be noted that Liljegren is still only 22-years-old. It's common to see growing pains from young defencemen, especially in their own end. Liljegren started playing pro at the age of 18 and is used to developing his game while going up against players who are much older than him. Overall his puck-moving, defending in transition, and offensive creativity has been a huge positive for Toronto's third pairing. If the playoffs started today, I wouldn't be surprised if Keefe played a Sandin-Liljegren third pairing and scratched Dermott.
Liljegren is bound to make mistakes from time to time but he should only get better from here. He has the speed to recover from turnovers higher up the ice but will still need to continue working on his puck management and defensive zone coverage at the NHL level.
As the deadline gets closer, Liljegren's name will probably arise as a player the Leafs can trade to improve their current roster. Good, young, cost-controlled right-handed defencemen are tough to acquire in today's NHL so unless the Leafs receive an offer they can't refuse, they should continue to stay patient with Liljegren.
Analyzing the new lines at practice
Yesterday, Keefe came out with new line combinations that spread the big four over three lines.
While Marner was out, Keefe created the Bunting-Matthews-Kase line and it worked well. All three players are capable puck-winners and have enough playmaking to go along with strong finishing ability. In transition, Matthews was the primary puck carrier. Any time one of the best players in the world has the puck on his stick more often, it's a good thing. When this line was together, Matthews looked unstoppable. Naturally, Matthews will probably demand the other team's top players, making it easier for the rest of the forward lineup to play against the lower competition. A balanced lineup should make the Leafs tougher to match up against. 
| | | | | | | | | |
| --- | --- | --- | --- | --- | --- | --- | --- | --- |
| Center | Right-wing | Left-wing | TOI | CF% | GF | GA | xGF% | Off. Zone Faceoff % |
| Auston Matthews | Ondrej Kase | Michael Bunting | 55.02 | 53.85 | 3 | 0 | 58.49 | 42.86 |
The fourth line makes sense for the same reasons outlined earlier in the article. Spezza gets to move to the wing, and Engvall provides the trio with a strong puck-carrier in transition and more speed. As a line, they have fully taken advantage of favourable deployment and I wouldn't be surprised if we see this line together more down the stretch.
| | | | | | | | | |
| --- | --- | --- | --- | --- | --- | --- | --- | --- |
| Center | Right-wing | Left-wing | TOI | CF% | GF | GA | xGF% | Off. Zone Faceoff % |
| Pierre Engvall | Wayne Simmonds | Jason Spezza | 51.83 | 64.23 | 5 | 2 | 67.34 | 65.63 |
The most controversial parts of this lineup lie within the middle-six. Both the second and third lines are virtually brand new so it should be interesting to see how it works out. If there's a time to experiment with new lines, it's now.
Mikheyev currently has the hot scoring hand and his speed should bode well as the F1 forechecker on a line with Tavares and Marner. Mikheyev hasn't had long stints in the top-six but played quite well there in his rookie year.
Nylander has been one of the Leafs best forwards this year so a demotion onto the checking line seems a bit odd. According to Sheldon Keefe, this isn't a demotion at all. Keefe had this to say about the lines as reported by
Luke Fox of Sportsnet
.
"It's about having [Auston] Matthews, [Mitch] Marner and [William] Nylander on three separate lines"

"A lot goes into our game talking about 'top six' and 'bottom six.' Really, it's about minutes and how much guys play. I don't see anything changing there at all."
The Nylander line reminds me of the "HBK" line of Hagelin-Bonino-Kessel that helped Pittsburgh win the cup in 2016. This line was given defensive zone starts and served as a "counter-attacking" threat to their opposition. The speed of Hagelin and Kessel mixed with Bonino's defensively responsible nature was a stroke of genius. Similarly, Kampf is naturally a defensive player and could allow Nylander and Kerfoot to take chances up the ice in order to look for more chances on the rush. The Nylander/Kerfoot duo has been really successful at generating breakaways so far this season as Nylander currently leads the league in breakaway attempts. Kampf won't provide much help in the offensive zone but if he can win pucks and get it up the ice to his linemates, it could work.
Keefe has been effective at getting his top players adequate ice time regardless of what the lines are, but it's still nice to see something different in January of an 82 game season.
Thanks for reading!