Flames vs Maple Leafs 03/19/21 – Odds and NHL Betting Trends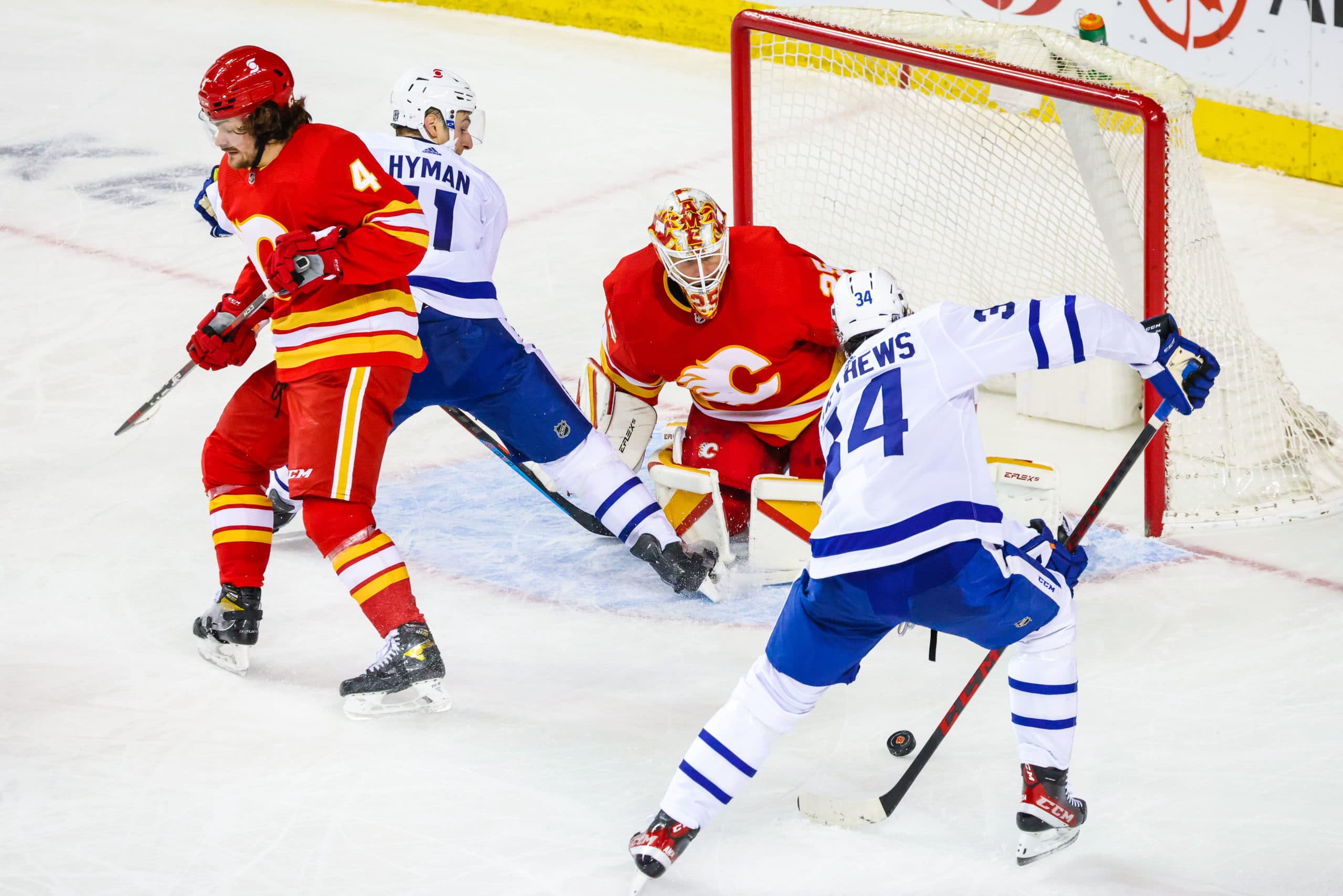 Photo credit:Sergei Belski-USA TODAY Sports
Moneyline trends and fresh legs suggest the Toronto Maple Leafs will have the jump to get out of their slump. The Maple Leafs are -165 favourites and the Calgary Flames are +145 underdogs with a 6.5-goal total on the

NHL odds

for Friday at sportsbooks monitored by OddsShark.com.
The teams have a rematch on Saturday. Toronto is 9-5 in its last 14 games when it is slated to play the next day, while Calgary is 4-9 in its last 13 games that were on the front end of a back-to-back. The Maple Leafs are 5-2 over seven games as a -150 to -180 favourite at home, with the OVER hitting at

betting sites

in three of the last four matchups. The Flames are 1-9 in their last 10 games as an away underdog of +130 to +160.
Toronto leads the season series against Calgary 3-1, with one overtime win. The teams are dead-even at 5-5 in five-on-five goals, with the Maple Leafs owning edges in expected goals-for percentage, or xGF% (53.8), scoring-chance percentage (51.3) and high-danger chances share (57.1). The Flames are four-for-15 on the power play and the Maple Leafs are 2-for-17. (All advanced stats are based on score- and venue-adjusted five-on-five play.)
The Flames are 14-13-3 after their 7-3 home loss against the Edmonton Oilers on Wednesday. Calgary is not built to chase the game, but it is 17-12-4 in its last 33 away games with one day of rest thanks to their persistence, personified by the Elias Lindholm-Matthew Tkachuk-Dillon Dube and Sean Monahan-Johnny Gaudreau-Brett Ritchie lines. Their defense corps, led by the Mark Giordano-Rasmus Andersson pairing, allows high-danger chances against Toronto at a higher rate than the rest of the North Division, but so far they have been bailed out by their otherwise up-and-down goaltending.
Since February 19, Calgary is 11th in the 31-team NHL in shots-for percentage (51.9), 12th in xGF% (52.4) and 12th in high-danger chances share (51.9). On the season, The Flames are 21st goal scoring (2.73 per game) and 19th in goals against (3.03). Their power play ranks 15th (20.6 percent) and their penalty killing ranks 14th (78.6).
Jacob Markstrom, who is 11-8-2 with a 2.90 GAA and .903 save percentage, has started all five Flames games since Darryl Sutter became Calgary's coach on March 7. However, he allowed seven goals on Wednesday. Backup David Rittich, who is 3-5-1 with a 2.93 GAA and .904 save percentage, seems to be Leafs kryptonite with a 3-1-1 / 2.16 / .937 statline over five career games, but he has not played in two weeks.
The Maple Leafs, who are 19-9-2 but regulation-winless over their last six games, have been off since Sunday. Toronto is 7-1-1 in its last nine home games with three or more days off, and has devoted the time to integrating two forwards. While the Auston Matthews-Joe Thornton-Mitch Marner first line is back together, recent waiver pickup Alex Galchenyuk will get a chance to flank No. 2 center John Tavares and right wing William Nylander. Rugged wing Wayne Simmonds, who is close to returning after missing six weeks with a broken hand, will add a net-front presence for a power play that has converted only 10 percent of its chances during Toronto's six-game skid.
In the last month, Toronto ranks 15th in shots-for percentage (51.5), fourth in xGF% (54.7) and eighth in high-danger chances share (53.2). Overall, the Maple Leafs are fourth in goal scoring (3.40 per game) and ninth in goals against (2.63). Their power play ranks second (29.9 percent) and their penalty killing ranks 22nd (75.6).
Frederik Andersen, who is 13-7-2 with a 2.86 GAA and .900 save percentage, usually plays when Toronto is on the front end of a back-to-back. One advanced stat of interest for totals bettors is that Calgary and Toronto are 26th and 29th in the NHL in high-danger save percentage since February 19.