For Maple Leafs' Max Domi & Tyler Bertuzzi, the struggle is real so far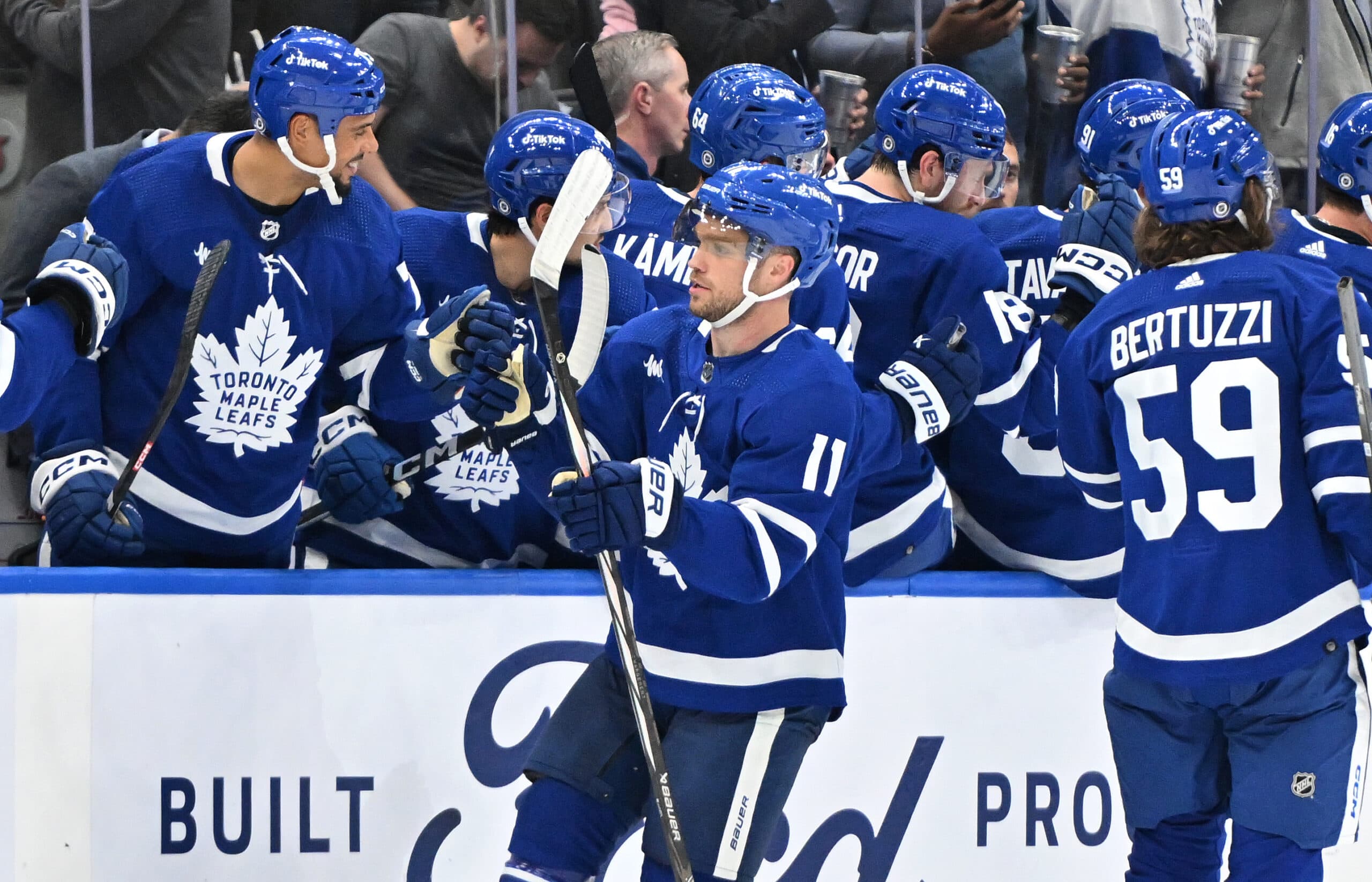 Photo credit:Dan Hamilton-USA TODAY Sports
The Toronto Maple Leafs are off to a mild 2-2-0 start to the season and while there's been a slew of storylines discussed throughout the first couple weeks, it's the play of
Maxi Domi
and Tyler Bertuzzi which could be the most concerning.
Through four games this season, Domi has recorded just one assist and while he was brought in for his tenacity and yes, some secondary scoring, Domi's been standing around way too often and has been yelled at by the coaching staff on numerous occasions to move his feet. We saw
Thursday night in Florida
as a prime example when Domi went on a heather, icing the puck four straight times, and hearing it from his coach about standing still.
Bertuzzi on the other hand, is a bit banged up. He's missed a practice already and head coach Sheldon Keefe admitted after the loss to the Panthers that Bertuzzi may benefit from a game off. There's a chance he doesn't suit up on Saturday night in Tampa Bay, which will be interesting to see how the Leafs handle that one with no extra forwards on the roster. Will the 'emergency' call ups begin?
Domi Needs to Find a Role
Throughout the loss to the Panthers, Domi found himself all over the lineup. From the wing on the fourth line at times to playing centre, Keefe has been trying to do whatever he can to spark the pesky forward. The thing is Domi's spot in the lineup is so pivotal to a number of things, including what the Leafs are going to do with Fraser Minten.
So far, it does appear Minten will be heading back to junior, which means Domi could be used as a centre once the youngster departs for the WHL. Would a couple weeks at centre be the recipe he needs to start moving his feet more and being more engaged? His defensive skills haven't necessarily been bursting at the seems throughout four games so it's truly a tough spot for the coaching staff right now as they try to figure out how the lineup should be structured.
If Domi stays on the wing and Minten goes back to junior, it's likely Pontus Holmberg gets the first call up. If Domi moves to centre, then it's likely Nick Robertson gets the first call up. Again, Domi's positioning has a ton of impact on others.
After the loss to the Panthers, coach Keefe
was candid when asked
about Domi's start – "just confidence, he's really trying to work hard and do well defensively. He's trying to manage the puck. He's got a lot going on in his head. But I think over time he'll just settle in. You'll see more of his instincts come to the forefront. He's played in the league a long time, and we expect that he'll settle in and get more comfortable." Hopefully the comfort level increases soon because it's starting to get a touch worrisome.
Bertuzzi Needs to Get Healthy
This was suppose to be a breakout year for the gritty Bertuzzi who has basically been handed the
perfect contract-year scenario
playing alongside two superstars in Auston Matthews and Mitch Marner. Instead, minor penalty after minor penalty, and only one point to show for it in four games. That one point came in the fashion of a power-play goal as Bertuzzi has been playing close to 15 minutes a night at even strength and has yet to register a point.
The veteran winger found himself pulled off the first line against the Panthers recently and was slotted in for more of a checking role. If both him and Domi aren't going, the Leafs will need Matthew Knies to step up in a big way and the same can be said for Calle Jarnkrok. Both Knies and Jarnkrok were moved up into the top six, while Domi and Bertuzzi moved down against the Panthers and this will be something to monitor as we continue through October.
If it's sitting out a game to nurse the nicks and bruises then that's exactly what Bertuzzi should do. There's no point toughing it out in October when it could be a chance to get fully healthy and get himself rolling into the later stages of the season, and of course the Stanley Cup Playoffs. We've seen how health is so vital to the likes of players like Auston Matthews, who has put a couple of wrist surgeries behind him. Health is wealth, baby.
Yes, both Domi and Bertuzzi are off to dismal starts to their Maple Leaf careers, but there's no need to panic just yet Leafs Nation. Give it another couple of weeks though and that big red button could be creeping into the picture.