4 Maple Leafs most likely to be traded during the 2023 offseason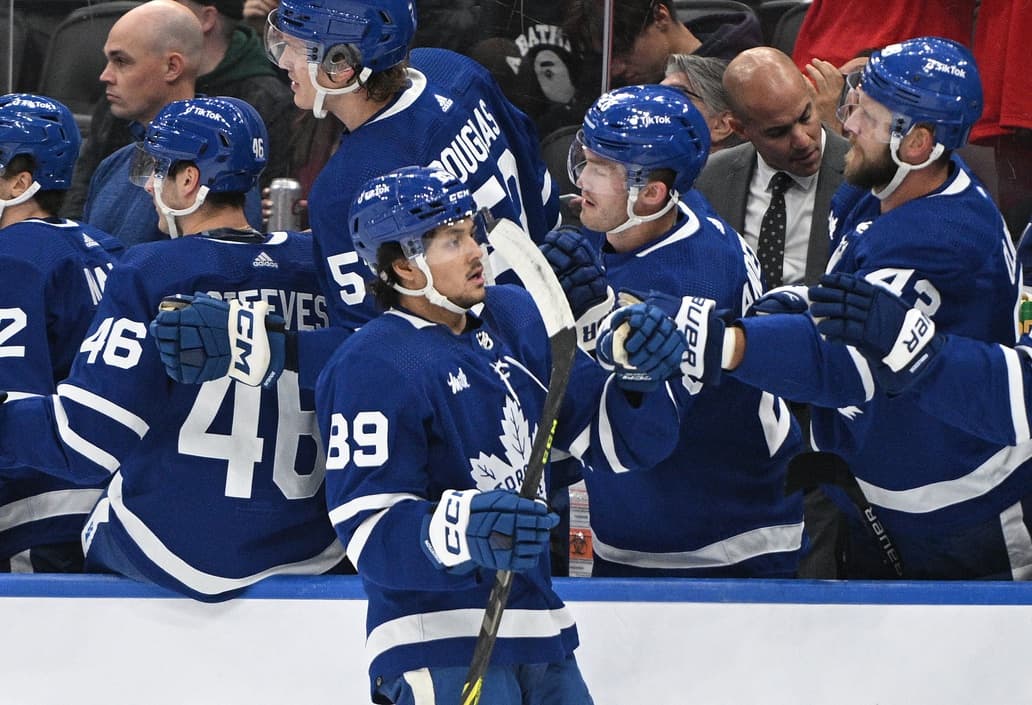 Photo credit:© Dan Hamilton-USA TODAY Sports
The NHL's silly season is upon us. The flat-cap environment has teams desperate to move out some money as the salary cap will once again influence the frequency of trades. The vibe from all of hockey's biggest insiders is this offseason is going to be filled with deals.
Insert the Toronto Maple Leafs and general manager (GM) Brad Treliving. He's looking to change the narrative in Toronto from always being 'about the core four', to having everyone focused in on a deep roster.
Treliving will need to make a couple of trades this summer as the free-agent market is very thin and won't have all the answers for upgrades. If talent is coming in, it means talent has to go out; here's four Maple Leafs who are most likely to be traded this summer:
Matt Murray
It feels like Treliving has been trying to move Murray since day one he arrived. With Ilya Samsonov's contract status and the fact
both sides are looking to get a deal done
and with Joseph Woll signed for two more seasons under $800,000, Murray is the odd man out and should be dealt. That's if the Leafs can find a taker.
Murray is a two-time Stanley Cup champion who continues to battle injuries. Last season it cost him starting in the playoffs. He ended his first season as a Leaf with a 14-8-2 record, to go along with a 3.01 goals-against average and .902 save percentage. Frankly, not good enough.
Treliving has the option of buying Murray out which would save the Maple Leafs $4.18 million in 2023-24 and would be a charge against the cap of $2 million in 2024-25. This is essentially the 'last resort'. If the Leafs GM can't facilitate a trade before June 30, he needs to use the buyout option and cut ties with the veteran goalie.
As far as trade destinations go, the San Jose Sharks, Los Angeles Kings, and Detroit Red Wings are potential landing spots. And, if Tristan Jarry doesn't return in Pittsburgh, you can add Kyle Dubas and the Penguins to the list.
Connor Timmins
Treliving loves having a big defense who are tough to play against. While Timmins has some size at 6-foot-2, he doesn't play nasty or on the edge. He's more offensively focused than anything and while he was a 'Dubas guy', being a former Sault St Marie Greyhound, there's certainly a chance he's part of a trade package this summer.
Timmins recorded 14 points in 25 games last season and while he was mostly a healthy scratch down the stretch, he showed he belongs in the league as a 5/6 defenseman. At $1.1 million for the next two seasons, there's some appeal there from a contract perspective, however time will tell if Treliving feels the same.
The Maple Leafs need to reset their defense core. Morgan Rielly, Timothy Liljegren and Jake McCabe appear to be locks next season and at this point, everything else is on the table. Moving Timmins becomes less likely if Luke Schenn doesn't re-sign.
Nick Robertson
A player with so much promise, Robertson is still only 21 years old. The
injuries have piled up
early on in his career and to this point Dubas and company had been rather loyal to the former second-round pick. Treliving may change the course.
There's a number of teams around the league who are open to moving out some veteran proven talent and if the Maple Leafs do business with these teams, they are going to want young prospects who are close to NHL ready. Robertson fits the bill and even with his history of health concerns, he's still an appealing prospect with
good speed and an above-average shot
.
In 31 career NHL games, stretched over three seasons, the California native has recorded just three goals and seven points. Underwhelming numbers for someone who has shown flashes of brilliance.
The Maple Leafs are unlikely to open up next season with Matthew Knies and Robertson as their top-two left wingers, and with Knies being a lock, and Calle Jarnkrok who can play either side, Robertson has become trade bait. He's not suited for a checking role and at only 5-foot-9 and 162 pounds, he needs to be playing an offensive role on a team's top six. A team that's rebuilding and can give him a serious look.
The Maple Leafs would be wise to package Robertson up this summer and land an impact player. If it's a top-six forward, a third-line center or top-four defenseman, the Leafs' trade offer will need some pieces and it's very likely Robertson's involved.
Topi Niemela
Speaking of prospects, Niemela is the Maple Leafs most appealing defenseman 21 or under. He crossed the pond to play with the Toronto Marlies to end last season and showed off his solid two-way game. Niemela is a great skater and someone who could impress during training camp next season. Treliving is in win now mode and Niemela should be considered a trade candidate this summer.
At 5-foot-11, the Finnish blueliner is undersized and again, Treliving loves having d-men over 6 feet who play with an edge. At this point, it's hard to say where exactly Niemela fits in.
Does Toronto want to ship out all their prospects? Obviously not. But if a deal comes around where, for instance, the Philadelphia Flyers want Niemela as
part of the package to acquire Scott Laughton
, Treliving needs to strongly consider it.
If
Schenn re-signs
and Timothy Liljegren and Timmins stick around, the path for Niemela will be jammed up anyways. He's not NHL ready and the Maple Leafs window to win is right now and slowly closing. He's very likely being used as trade bait this summer to chum the waters and see what kind of bites Treliving can get from other GM's.
Yes, Niemela does have some solid potential, however timing is everything and right now he's basically, to minimize things, just a coin flip. Heads, he ends up being a top-four defenseman who can help run a power play, or tails, he's too soft for the NHL and struggles early to find his footing. It will be up to the Maple Leafs GM to chance the coin toss or add another Dubas' draft pick to his trade offers.
The Maple Leafs are going to look much different next season in the press box, behind the bench and on the ice. While the core four and head coach
Sheldon Keefe will be back
, there's a number of potential trade candidates who will be discussed in trades this offseason. The four players mentioned above are the most likely Maple Leafs to be changing addresses this summer.