Fraser Minten wants his next stop in Toronto to be playing for the Leafs inside Scotiabank Arena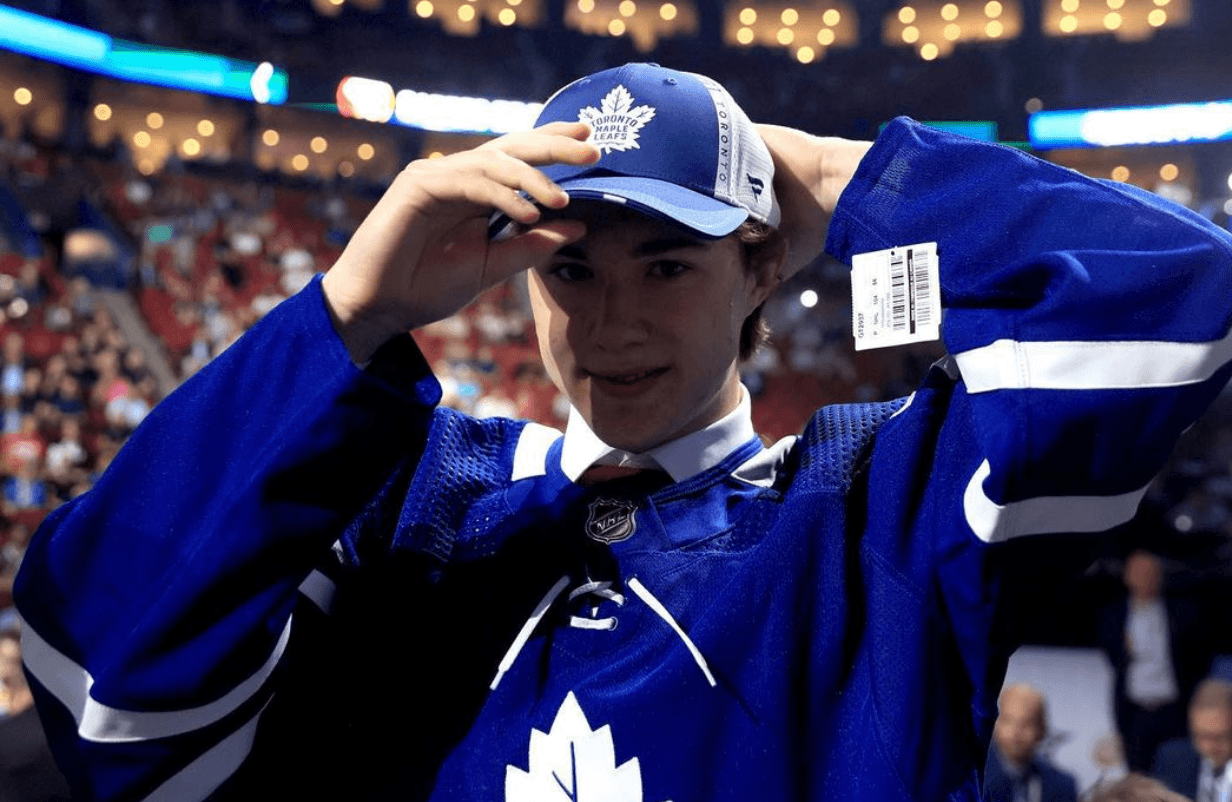 Photo credit:@fraserminten / Instagram
He's been to Niagara Falls, the CN Tower, and a Toronto Blue Jays game but Fraser Minten is excited for what's ahead with the Maple Leafs.
"It's all happening pretty quick," Minten said after day one. "It's been great, the camp's been great these past couple of days, first couple skates. The coaches are really good, lots of detail in what they teach us, and it's been awesome so far."
There were two groups of skaters throughout the day on Sunday, each getting an hour and 15 minutes of ice-time with the Maple Leafs' development staff. Minten was a part of the first group of players, skating alongside prospects such as Matthew Knies, Max Ellis, Veeti Miettenen, and Axel Rindell.
The 18-year-old was one of the players who stood out in the first group who skated on Sunday. Of course, the highly anticipated Knies was also among the players who had a strong showing on day one of camp.
"It's a pleasure to be here," said Knies who's getting his first taste of Maple Leafs development camp. "Alongside all of the best players the Maple Leafs have, so it's definitely been fun. Exciting first day. I'm excited for the rest of the week."
If you remember back to the NHL Trade Deadline, Knies was playing with the decision to leave school and join Toronto, or remain at the University of Minnesota. In the end, we all know what happened, and he decided to return to school for what looks like one more year.
"I thought I would develop a lot more," said the 19-year-old of his decision. "I don't think I was ready to make the step yet. Off the ice, on the ice, I don't think I was mature enough, as a player, as a person. I think there was more to go into that, and I'm excited. I think I'm fortunate enough to be here, and just really, really happy."
Knies also confirmed that he would be back at the World Juniors in August, which will be held in Edmonton.
"Obviously, it was a dream come true. I always wanted to represent my country, so that was a big honour to be there," he said of the World Juniors back in December. "It's very unfortunate that they had to cancel it, but I'm so happy that they rescheduled it and that I can get to go back there and compete for a medal again."
The two of Knies and Minten make up the earliest draft picks Toronto has had in the last couple of years. There was a lot of hype around Knies, understandably, but the hype train for Minten may soon be approaching the station.
Only being 18-years-old, there was a lot of mystery as to how he'd show at development camp. It's clear, though, after day one that he's here to make a statement and show what he's capable of.
"I've been to Niagara Falls, I've been to the CN Tower before, I've been to a Jays game. I've seen most of the main things." Minten said. "What's left is playing in Scotiabank Arena here."
Hearing the 18-year-old speak like that, in his first Maple Leafs development camp, shows the confidence he has. If Toronto is able to help him put everything together, Minten will be an interesting player once he gets to the NHL.
And figuring out what he could be was a part of his discussions with the Maple Leafs when he arrived in Toronto.
"To me, they kind of didn't want to put a ceiling on it with me," said Minten. "They said 'We see you as being a guy who's pretty safe as becoming a bottom-six guy and playing there, but we also think there's a lot of possibility for you to grow into a top-six player, and develop offensively as well.' So, they didn't necessarily put a limit on it, they want me to take my game as far as I can."
Another discussion that was had with all of the prospects was a Q&A with Jason Spezza on Saturday night at their reception dinner.
"He seems like a really, really just down to earth guy," said Minten of Spezza. "Obviously, super well accolated, but just a super nice guy… He really put emphasis on how much the game's changed and how serious everyone takes it nowadays, and how much more time you have to put into it now, than like 20 years ago."
The 18-year-old also revealed the question he asked the newly-named Special Assistant to the General Manager. Minten asked Spezza what he's noticed about the very best players he's played with and what they did consistently that was different than everyone else.
"He (Spezza) said their self-awareness was really good," Minten stated. "Always being able to improve themselves and critique themselves."
Now, Minten isn't going to be on Toronto's NHL radar for the next couple of seasons, but that doesn't mean the 18-year-old doesn't know what development he needs as the years progress.
"I think for me, a bit of everything. Work on getting stronger, quicker, more mature physically." Minten explained. "I think I think the game well and just working on the skills and strength is what I'm going to focus on."
Once day one of Maple Leafs development camp came to a close, Assistant General Manager, Player Development, Dr. Hayley Wickenheiser spoke with the media. A number of topics were discussed, but she had some interesting words about Minten.
"I really like Fraser. What a smart kid," Wickenheiser said. "He has a very high IQ, both in hockey and away from the rink. Really interesting story that he started playing high-level hockey at the age of 14, which is very uncommon and I think it's a nice story and a message to send to both parents and kids that there's not one way to do it.
"So, I find that he's a very cerebral guy, he asks a lot of really good questions, he's a student of the game, he loves to watch hockey. And I think on the ice, for me, what stood out was how smooth he is. He makes some good plays, seems to have confidence with the puck, and I know he looks relatively lean off the ice, but on the ice he uses his body well to get to the inside of the ice and seems to be not afraid to be go to the tougher areas. So, really excited about him."
Wickenheiser also outlined what she expects of Knies in his next season at the University of Minnesota: "We want him to dominate every time he steps on the ice."
There were a number of interesting prospects among the second group, such as Nicholas Moldenhauer, Braeden Kressler, Ty Voit, Ryan Tverberg, and William Villeneuve. But the first group likely stole the show today.
The two of Minten and Knies will likely have most eyes on them as the week progresses here in Toronto. But, it'll also be interesting to see what other prospects emerge as frontrunners for an ELC once development camp ends on Friday.