Free agent departures: Andersen's red hot start with the Hurricanes and more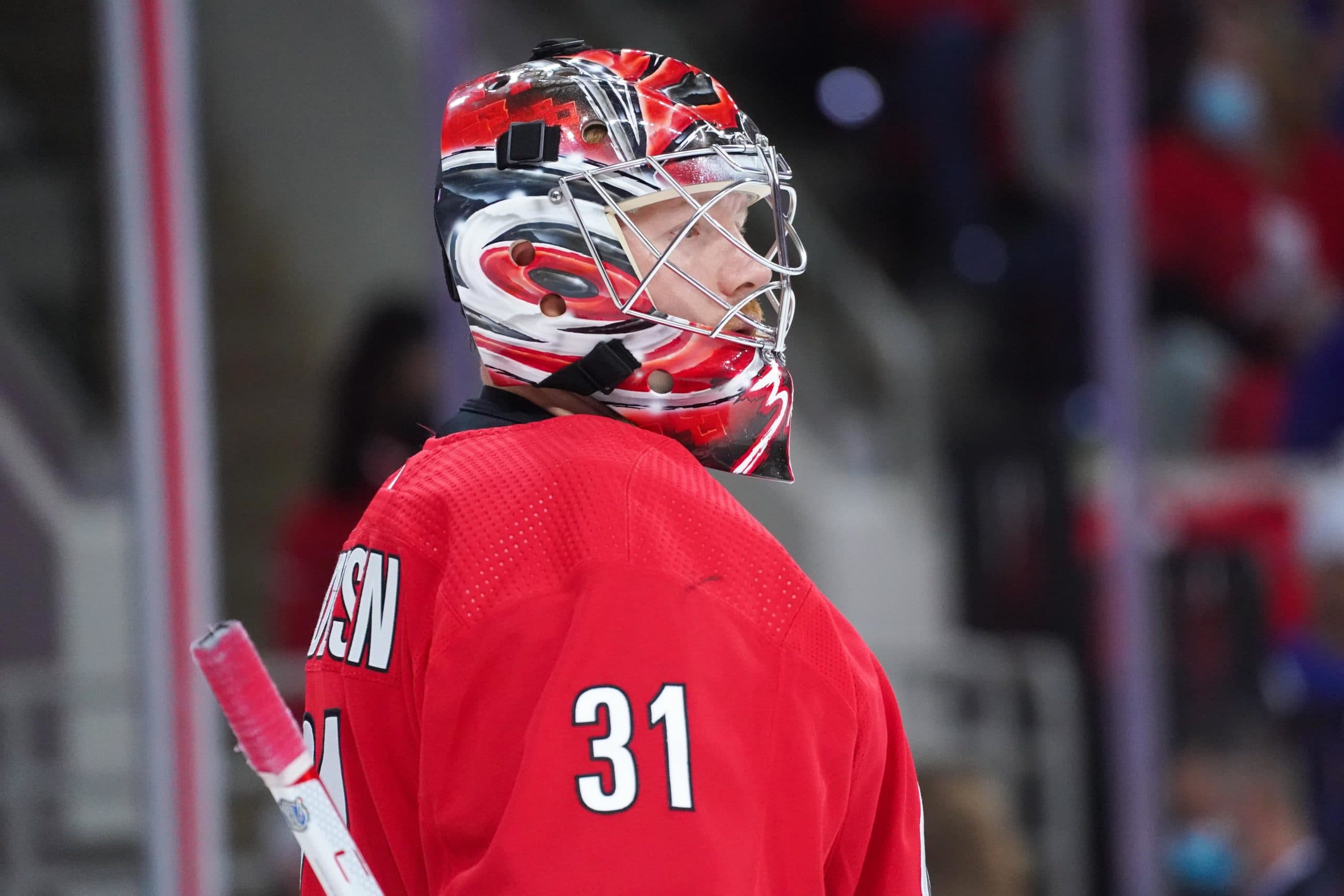 Photo credit:James Guillory-USA TODAY Sports
This past off-season, the Toronto Maple Leafs parted ways with a handful of players, including some Leafs that were with the organization for five or more years. It was definitely sad seeing them sign with a new team in the off-season, but it was also inevitable due to the contracts they received from their new teams and the salary cap situation in Toronto, of course. With the departures of the former Leafs, Toronto was forced to replace them by committee with the given cap space after they signed elsewhere.
With that said, since the 2021-22 NHL season is well underway with three weeks under its belt, I thought it'd be a pretty cool idea to check in on some former Maple Leafs and how they are doing thus far on their new squad.
1. Zach Hyman – EDM – 29 years old – LW/RW
2021-22 stats: 7 GP – 6 G – 1 A – 7 PTS – 18:31 TOI
Contract: 7 years x $5.5M 
For me, personally, this was the hardest departure this past off-season with the Maple Leafs, and I think the majority of people will agree with me on this as well. Zach Hyman was such a great player with this organization and an even better human being if you got to see what he did outside of the rink.
From his time with the Marlies to making his full-season debut during the 2016-17 season with the other handful of Maple Leaf rookies, it was a pleasure to watch Hyman grow as a player and get better and better every season. His playstyle was unlike any other that this organization has seen in quite some time and he was such a special player, that it stung when he left for Edmonton.
Hyman was brought into Toronto way back in June of 2015 via trade with the Florida Panthers, which sent Greg McKegg to the Panthers, in exchange for the rights to Zach Hyman and a conditional 2015 seventh-round pick. All I got to say is, that was a pretty good deal that current General Manager, Kyle Dubas pulled off.
After spending six years with the Toronto Maple Leafs, Hyman signed a seven-year deal with the Edmonton Oilers worth $38.5M carrying an AAV of $5.5M and he's already off to a terrific start with them. In just seven games so far, he has potted home six goals and added an assist as well for a total of seven points while averaging 18 and a half minutes of ice-time.
He's currently playing on the first line alongside Connor McDavid and Jesse Puljujarvi while being on the first power-play unit as well. So you know if Hyman can stay healthy, he will more than likely continue to rack up the points alongside a guy like McDavid and alongside the players on the power-play.
He is the perfect complementary player to be put beside star players. He did a terrific job with Matthews, Marner, Nylander, and Tavares in Toronto, and now he has the opportunity to do it beside McDavid, Draisaitl, and Nugent-Hopkins in Edmonton. As I said, his playstyle is so important to a hockey team and every team in the league would die for at least one player that does the job that Hyman does.
2. Frederik Andersen – CAR – 32 years old – G
2021-22 stats: 7 GP – 7-0-0 – 1.26 GAA – .956 SV% – 1 SO
Contract: 2 years x $4.5M 
Just like the Hyman departure, Frederik Andersen leaving Toronto to go to the Carolina Hurricanes in free agency was also pretty sad, but that's part of the business and I wish him nothing but the best over there. It's no secret that his play was on the decline over the past two seasons with the Maple Leafs, but we shouldn't forget what this man did in his first three years in Toronto.
He was among the best goalies in the entire league in his first three seasons in Toronto (2016/17-2018/19) and could have had legitimate arguments to include him in the top three or top five in some Vezina voting conversations in some of those seasons. His numbers were incredible and his records were just as good, it was a shame that his play slowly declined in the last two years along with him playing injured sometimes throughout his final two seasons in Toronto.
In that three-year span, he had a combined record of 107-53-26 with 10 shutouts. His numbers on the other hand were great too as he had a 2.75 GAA and a .918 SV%. Over his five seasons with Toronto, he ended up with a record of 149-74-36 with 13 shutouts and had a 2.79 GAA and a .914 SV%.
Fast forward to his first season with his new team, Andersen has put himself in early Vezina conversations. Scratch that, Andersen has put himself as the early front runner for the Vezina Trophy with his stellar play through one month with the Hurricanes. In seven games to start his new journey with Carolina, Andersen has won every single game he's played and currently holds a 7-0-0 record with outstanding numbers in the crease.
Along with his undefeated record, he has a 1.26 GAA and a .956 SV%. That is just flat-out insane and incredible to see from him, given his last two seasons and how poor they were. I just wish he was putting those numbers up with the Maple Leafs over the past two seasons, but as I said, we can't forget what he did for this team in his first three seasons.
3. Nick Foligno – BOS – 34 years old – LW/C/RW
2021-22 stats: 2 GP – 0 G – 1 A – 1 PTS – 11:37 TOI
Contract: 2 years x $3.8M 
A lot of fans might still be sour about this man right here, but honestly, I can't be mad at him. Yes, it sucks the Maple Leafs gave up what they gave up to acquire Foligno right before the trade deadline, but you have to give up good stuff to get a player like Foligno, especially towards the trade deadline. A first-round pick might seem pretty high given that they gave up two other picks with it, but Foligno's salary was also essentially 75% retained by the two other teams involved.
A player like Foligno come playoff time is a very important player to have on your team, and he was someone the Leafs were missing. Yes, they had Hyman, but Foligno is Foligno, a lot of players don't like playing against him, especially in the playoffs. Anyways, enough about acquiring him and what they gave up for him.
As you may know, he signed a two-year deal with the Boston Bruins in the off-season worth $7.6M carrying an AAV of $3.8M. He has only played in two games with the Bruins because he's currently injured. However, in two games, he has registered a point which was an assist if you were wondering. He's only averaging 11 and a half minutes of ice-time which is probably around the right time for a player like him and his age, but I wouldn't be surprised if it slowly goes up when he comes back.
There really isn't much to say, given he was only a Leaf for a limited time before being injured about three different times, and now he's injured with his new team already. I guess that's a big risk when you sign a guy like Foligno, but when healthy, he can definitely be an effective player on the ice for your team.
4. Joe Thornton – FLA – 42 years old – C/LW
2021-22 stats: 6 GP – 1 G – 0 A – 1 PTS – 10:26 TOI
Contract: 1 year x $750K
I kind of feel bad for this guy right here, especially last season because of course, the Maple Leafs couldn't do the job and win these veterans the Stanley Cup, let alone a single playoff round. Anyways, "Jumbo" Joe Thornton signed another one-year contract worth $750K, this time with the Florida Panthers. To be honest, that wasn't that bad of a decision by Thornton given the amount of talent that is on that Panthers team.
He has played in all of Florida's games to start the season except three of them and has recorded just a single point, which was a power-play goal. There isn't too much to say about Thornton because he only has one point and is averaging less than 11 minutes of ice-time a night, but I hope he goes far with this Panthers team, just not too far because obviously, I want Toronto to do better than them, but we'll obviously have to wait and see if that actually happens or not.
5. Alex Galchenyuk – ARI – 27 years old – LW/C/RW
2021-22 stats: 0 GP – 0 G – 0 A – 0 PTS – 0 TOI
Contract: 1 year x $750K
There really isn't too much to talk about former Leaf, Alex Galchenyuk because he is currently injured and has yet to play a single game this season with the Arizona Coyotes. He left Toronto and signed a PTO with the Coyotes and did a good enough job in the preseason to sign a one-year deal worth $750K. I hope he can continue to bounce back and have a good year in Arizona once he's healthy again.