Free agent departures: Frederik Andersen's bounce back month, Nick Foligno's struggles, and more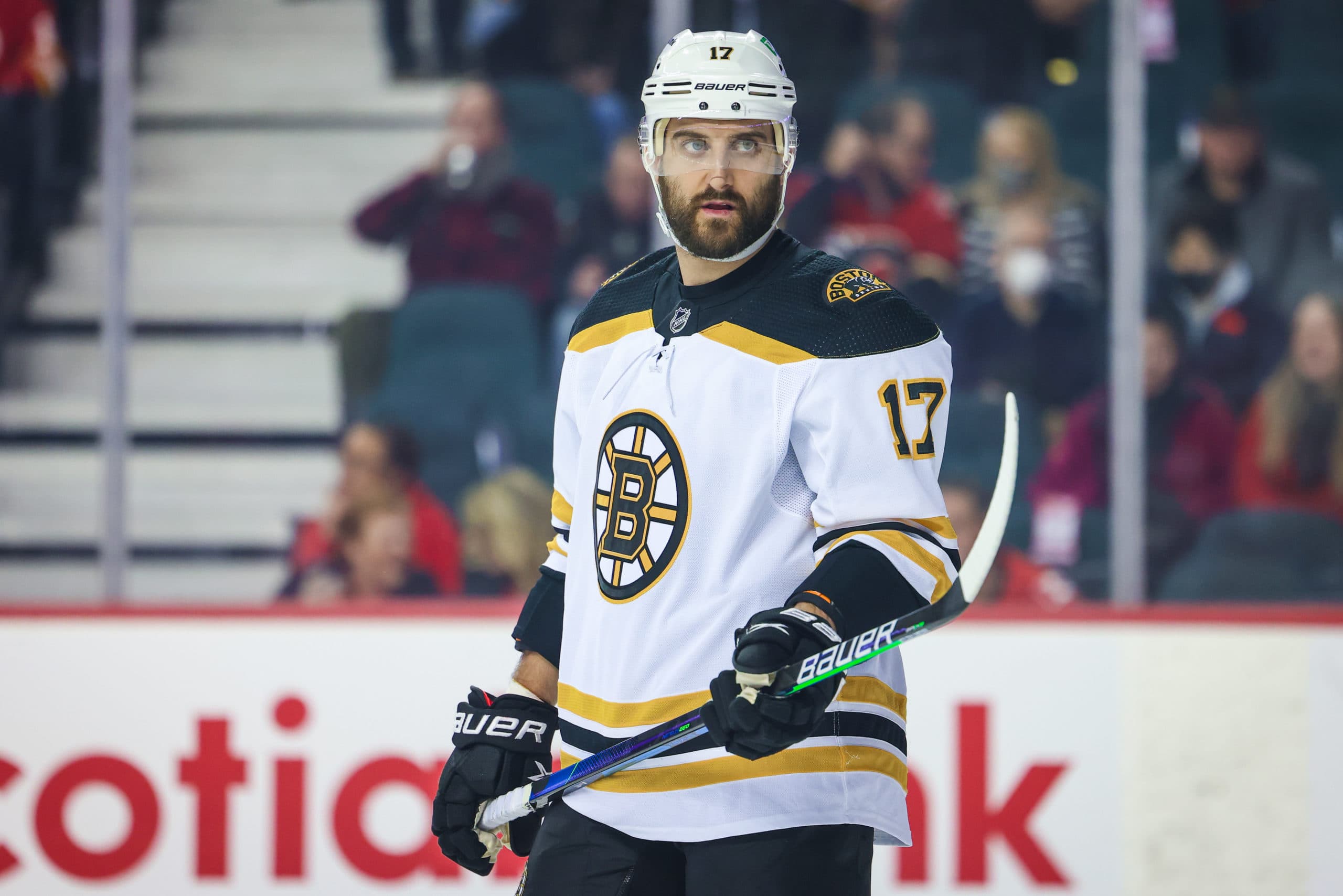 Photo credit:Sergei Belski-USA TODAY Sports
We're now almost three full months into the 2021-22 NHL season and we've now seen enough games for some former Leafs on their new teams. You have guys like Frederik Andersen and Zach Hyman who are finding success on their new teams, but you also have guys like Nick Foligno and Alex Galchenyuk who are struggling right now and can't seem to find success on their respected teams.
Now, some of these players have dealt with injuries so far this season and some had been placed on the NHL's COVID-19 protocol list as well, so that could also be a reason why they haven't found success early on with their new teams but we're also in January now and I think it's time for them to step up and make a case to their new team as to why they went out and signed this player.
(As of December 31st, 2021)
1. Zach Hyman – EDM – 29 years old – LW/RW
December 2021 stats: 8 GP – 2 G – 2 A – 4 PTS – 19:49 TOI
2021-22 stats: 29 GP – 11 G – 8 A – 19 PTS – 19:02 TOI
Contract: 7 years x $5.5M
Zach Hyman hasn't quite been on the same pace he was to start the season in October with the ridiculous amount of goals he scored, but he's honestly been a solid addition to this Oilers team on the top line with Connor McDavid and Jesse Puljujarvi, that he's still contributing throughout the first 30 ish games of the regular season. With 19 points through his first 29 games this season, it still puts Hyman on a pretty good pace to end the season with 52 points – 30 of them being goals as well – which would set career highs for the former Toronto Maple Leaf in goals, assists, and points.
However, Edmonton is currently in a little slump of their own and have now lost eight of their last 10 games as the entire team as a whole has looked sloppy at times so that could also be a reason why Hyman hasn't been putting up the same offensive numbers he was in October and November, but it's safe to say that he is on an Oilers team with two of the best players on the planet and the best power-play in the league as well, so he'll start producing more very soon.
2. Frederik Andersen – CAR – 32 years old – G
December 2021 stats: 5 GP – 5-0-0 – 1.60 GAA – .937 SV% – 0 SO
2021-22 stats: 21 GP – 16-5-0 – 1.93 GAA – .930 SV% – 1 SO
Contract: 2 years x $4.5M
After coming off a down month in November, Frederik Andersen has bounced back in a huge way for the Carolina Hurricanes and has honestly looked like October Andersen that started this season. With a record of 5-0-0 in December and posting a 1.60 GAA with a .937 SV%, Andersen has climbed back up as one of the favourites for the Vezina trophy in my opinion. Through the 21 games this season that he's played in, Andersen has posted a record of 16-5-0 and has put up tremendous numbers with a 1.93 GAA and a .930 SV% which both sit top five in the entire league for goaltenders who have played at least 15 games this season.
Although he is on one of the best all-around teams in the league in the Carolina Hurricanes, Andersen has honestly looked like he's bounced back after two not so great seasons in Toronto which involved him being injured multiple times so that, without a doubt was also a factor as to why he may have not been performing at the same level he was in his first three seasons in Toronto. But also due to the fact that Toronto overworked him because of their backup goalie situation for a couple of seasons but that is in the past now.
3. Nick Foligno – BOS – 34 years old – LW/C/RW
December 2021 stats: 7 GP – 0 G – 0 A – 0 PTS – 15:30 TOI
2021-22 stats: 18 GP – 0 G – 4 A – 4 PTS – 15:22 TOI
Contract: 2 years x $3.8M
Nick Foligno's start to the season with his new team, the Boston Bruins, hasn't quite gone to plan as he really hasn't been producing anything for them this season and if you're the Bruins, that's not something you want to see given the Bruins have always struggled with depth scoring on the wing. In 18 games so far this season, Foligno has just four assists to his name and went pointless in the month of December in the seven games that he suited up for. Although Foligno isn't the same Foligno as years past where he'll give you a decent amount of offensive production, but he's still someone that can put up points here and there while playing that physical side of the game too.
However, for $3.8M a year for the next two seasons, I think the Bruins may want Foligno to start producing a little more, because as I said earlier, they've always struggled with depth scoring on the wing, and he's someone that can help in that department, especially if he plays with some of their top players at times like Bergeron, Marchand, Pastrnak, and Hall.
4. Zach Bogosian – TB – 31 years old – D
December 2021 stats: 10 GP – 1 G – 1 A – 2 PTS – 17:33 TOI
2021-22 stats: 20 GP – 2 G – 4 A – 6 PTS – 17:13 TOI
Contract: 3 years x $850K
Not quite the same month production-wise for the veteran defenseman, Zach Bogosian, but still a solid month given that he's not someone who is going to blow you out of the water with his offensive numbers as he's more someone who plays a defensive role, and Maple Leaf fans should know that first hand by watching him last season in Toronto. In the month of December, Bogosian played in 10 games and registered two points while averaging 17 and a half minutes of ice-time which is pretty good if you ask me, especially on a Tampa Bay team who is incredibly deep on defense.
However, Bogosian is sidelined yet again with another injury and this one is considered lower-body with no set timetable for his return. You never want to see someone go down with an injury, especially multiple times in one season so here is to hoping Bogosian returns for the Lightning soon.
5. Joe Thornton – FLA – 42 years old – C/LW
December 2021 stats: 6 GP – 1 G – 0 A – 1 PTS – 11:38 TOI
2021-22 stats: 18 GP – 3 G – 2 A – 5 PTS – 10:56 TOI
Contract: 1 year x $750K
It wasn't a very productive month for the 42-year-old veteran, Joe Thornton, but at least he registered an assist in one of the six games he suited up for in the month of December with the Florida Panthers. There's not a lot to talk about when it comes to Thornton given that he's a veteran chasing a cup and he's on one of the best teams in the entire league so it's pretty obvious they don't expect a lot from him but at least he's giving them some production with his five points in 18 games thus far.
He's not an everyday player, especially on that Panthers team, but when he gets to suit up for a game, there's enough talent on that squad that he'll more than likely get some chances throughout the games he plays in.
6. Alex Galchenyuk – ARI – 27 years old – LW/C/RW
December 2021 stats: 4 GP – 0 G – 0 A – 0 PTS – 13:45 TOI
2021-22 stats: 13 GP – 0 G – 2 A – 2 PTS – 13:44 TOI
Contract: 1 year x $750K
It's been quite a frustrating 2021-22 season so far for the former Maple Leaf, Alex Galchenyuk. After being acquired by Toronto last season, there was hope that the Maple Leafs could help Galchenyuk rejuvenate his career and get things going again after a couple of down seasons after his time in Montreal. Well, after a little bit of time down in the AHL with the Marlies and getting the opportunity to play in the top-six with the Maple Leafs, it felt like he somewhat found his groove again and could be a solid top-nine player in the NHL.
However, in the early going of his second stint in Arizona, it hasn't quite been the best for the 27-year-old as he's only found himself suited up for 13 games through the first three months of the season. That is obviously due to him missing time to begin the season with an injury, being placed on the COVID protocol list, and even being scratched too. Galchenyuk has only two points on the year so far and it's tough to see that, especially on a team like Arizona where he could've thrived as a leader offensively.