Free agent departures: Hyman's early season success on McDavid's line and more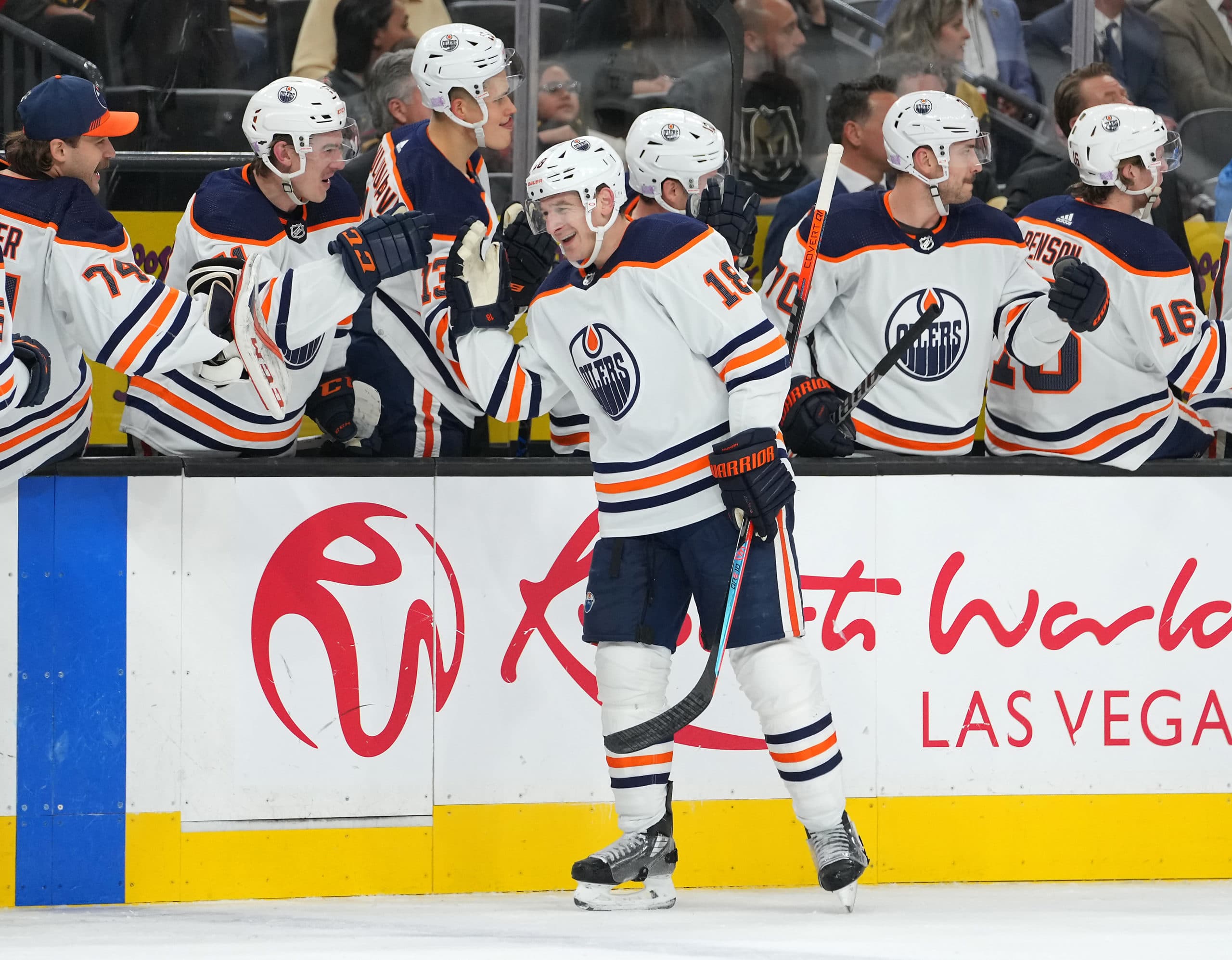 Photo credit:Stephen R. Sylvanie-USA TODAY Sports
At the start of November, I published a piece about how some former Maple Leafs players are currently performing with their new teams during this 2021-22 season. I talked about Frederik Andersen's red hot start with the dangerous Carolina Hurricanes, and I also touched base on players like Zach Hyman, Nick Foligno, and more.
Now, it's December 1st, and that means I'm going to take another look at how all those players performed during the month of November, whether they did good or whether they did bad, let's take a look at some former Leafs and how they performed last month.
1. Zach Hyman – EDM – 29 years old – LW/RW
November 2021 stats: 13 GP – 3 G – 5 A – 8 PTS – 18:57 TOI
2021-22 stats: 20 GP – 9 G – 6 A – 15 PTS – 18:48 TOI
Contract: 7 years x $5.5M
Pretty much picking up where he left off in the month of October, Zach Hyman is continuing to produce for the Edmonton Oilers. However, when you're on a team with both Connor McDavid and Leon Draisaitl, you may not get the recognition you deserve, but Hyman has been electric for the Oilers so far. Opening up the first couple of weeks of the season in October, Hyman was scoring at a ridiculous rate and it was obviously bound to slow down – which it has – but he's still finding ways to score goals and contribute on the assist side too.
In the month of November, Hyman suited up for 13 games and registered three goals and five assists for eight points, improving his point totals to 15 points in 20 games so far this season which is pretty darn good if you ask me. He's been playing on the first line alongside McDavid and also has a role on the first power-play unit, so you know his contributions on the offensive side will show up for the Oilers.
With his 15 points in the first 20 games of the season, it ties his 2019-20 start when he also had 15 points in the first 20 games of the season. Now, that season – as we all know – was shortened due to COVID, so he ended the season with 37 points in 50 games. As of right now, with his current point totals, he is currently on pace for 37 goals and 25 assists for 62 points which would crush his current career-highs in goals (21) and points (41).
I'm not saying he is going to sustain this pace, but hey, you never know what could happen, especially when you're on the Edmonton Oilers and you're playing beside Connor McDavid and Leon Draisaitl. All in all, Hyman has been a great addition to this team. He brings more than just his improved point totals as he brings an element that a lot of teams would love on their squad. His desire to chase pucks in the corners, go to the dirty areas, go to the front of the net, be responsible defensively, and more. It's a treat to watch Zach Hyman play.
2. Frederik Andersen – CAR – 32 years old – G
November 2021 stats: 9 GP – 4-5-0 – .904 SV% – 2.55 GAA – 0 SO
2021-22 stats: 16 GP – 11-5-0 – .928 SV% – 2.00 GAA – 1 SO
Contract: 2 years x $4.5M
After a ridiculous start to the season with the Carolina Hurricanes, Frederik Andersen has come back down to Earth a little and has put up human-like numbers again in his nine starts in the month of November. After starting the season in October with a record of 7-0-0 and posting outrageous numbers (goals-against average and save percentage) Andersen has now posted a record of 4-5-0 in November with a .904 SV% and a 2.55 GAA in nine games with the Hurricanes.
Obviously, when looking at his October numbers compared to his November numbers, they've taken a massive decline in November, but that was bound to happen given his hot start to begin the season and that performance being unsustainable. However, going from a .956 SV% in October to a .904 SV% in November, it's a bit concerning, but at the same time it's only the beginning of December and there are still 60 plus games to go so he can definitely boost those numbers this month.
Carolina is one of the best teams in the entire NHL, offensively and defensively, so it's not like his numbers are going to be dropping constantly on this team. Yeah, he won't sustain a ridiculous .950 SV% every month, but I don't think he'll have another month where he's around a .900 SV%, but hey, you never know what will happen, especially when it's Frederik Andersen because as us Leaf fans, we know he can go cold very fast. Anyways, it's great to see him playing well in Carolina and helping them be one of the best teams in the league.
3. Nick Foligno – BOS – 34 years old – LW/C/RW
November 2021 stats: 9 GP – 0 G – 3 A – 3 PTS – 15:51 TOI
2021-22 stats: 11 GP – 0 G – 4 A – 4 PTS – 15:00 TOI
Contract: 2 years x $3.8M
Nick Foligno, just like a couple of other players on this list, was injured to start the season or got injured in October and didn't get to play the full schedule in October on their new team. However, Foligno got back and was able to suit up for games in November with the Boston Bruins. After playing in only two games in October, Foligno played nine games in the month of November and has recorded three points in those nine contests.
I know some Maple Leafs fans may be a little salty about how Foligno left Toronto in the off-season given that the Maple Leafs gave up a pretty decent amount to acquire him from Columbus right before the trade deadline, but there's nothing we can do about that and I guess just accept that he left for the Bruins. It's not like he's tearing it up there either anyways as he has four points in 11 games thus far.
However, Foligno – especially at the age of 34 – isn't quite known for his offense anymore and he's more so a player who will bring physicality on the ice and is someone who is pretty responsible defensively and won't be a complete liability out there whenever he is on the ice. I feel like he's fitting in his role nicely with the Bruins. As I said, he's physical and when you're on the Bruins, that's a perfect fit.
4. Zach Bogosian – TB – 31 years old – D
November 2021 stats: 8 GP – 1 G – 3 A – 4 PTS – 17:43 TOI
2021-22 stats: 9 GP – 1 G – 3 A – 4 PTS – 17:20 TOI
Contract: 3 years x $850K
I totally forgot to include Zach Bogosian in the first free-agent departures piece back at the beginning of November, but I have a good explanation because he was injured in the first game of the season with Tampa Bay and just recently came back sometime in November. We all know what Bogosian brings to a hockey team, I don't have to go into extreme details.
He's a veteran defenseman who knows what it takes to win it all and someone who brings physicality and pretty good defense in a limited role on any team. He's back with the Lightning for the second time in his career as he signed a three-year deal with them carrying an AAV of $850K this past off-season. He's not someone who will consistently average top-four minutes on a team – especially the Lightning – unless there are injures or suspensions, and he's capable of being a number four guy but you may want to put him with the proper defense partner just in case.
In nine games with the Lightning, this season – eight in November – Bogosian has put up pretty good numbers on the scoresheet, to be honest, I can't lie. He has recorded a goal and three assists for four points while averaging almost 17 and a half minutes of ice-time a night. As I said, and as everyone probably already knows, he's not someone who will be flashy offensively, rather, he's someone who kills penalties well and brings physicality when needed.
5. Joe Thornton – FLA – 42 years old – C/LW
November 2021 stats: 6 GP – 1 G – 2 A – 3 PTS – 10:32 TOI
2021-22 stats: 12 GP – 2 G – 2 A – 4 PTS – 10:29 TOI
Contract: 1 year x $750K
"Jumbo" Joe Thornton has had himself a better month of November than October, that's for sure, as he put up three points in six games this past month. Obviously, we aren't watching late 2000s Joe Thornton, but we are still watching a living legend play the sport he loves and he still finds ways to contribute on the scoresheet, even though it's not every single game. After signing with the Panthers this past off-season for one year, Thornton is simply ring chasing, and I don't blame him given he's 42 years old and has yet to win a cup.
Florida is clearly a great team to be on right now and if you're ring chasing like Thornton, he's only there to contribute whenever he needs to and to be a great veteran presence for the younger players in that lockerroom. There's not much to talk about with Thornton as he only has four points on the season so far and doesn't average a ton of ice-time either. However, I'm rooting for Thornton, just not when the Maple Leafs play the Panthers.
6. Alex Galchenyuk – ARI – 27 years old – LW/C/RW
November 2021 stats: 9 GP – 0 G – 2 A – 2 PTS – 13:44 TOI
2021-22 stats: 9 GP – 0 G – 2 A – 2 PTS – 13:44 TOI
Contract: 1 year x $750K
Alex Galchenyuk didn't get the chance to play any games in the month of October due to an injury that kept him out of action. However, by the start of November, he was good to go and started playing games for the Arizona Coyotes for the second time in his career. He's only played in nine games all year – and in November – and found himself as a healthy scratch against the Minneosta Wild on the last day of November.
Despite not playing in any games until November and finally suiting up for nine contests, Galchenyuk has only put up two assists in those games and has averaged just under 14 minutes of ice time a night after coming from a Toronto team where he saw some top-six minutes consistently with some of the best players in the league.
There's not much to Galchenyuk right now, he's a struggling player who came to Toronto, who kind of bounced back and signed a one-year deal with an old team he used to play for who is also struggling right now and is in a re-build mode. This is a good chance for Galchenyuk to pick up from where he left off with Toronto and apply that with this Arizona team because we all know his skill set is there, he just needs to apply it all the time and be consistent.