Free agent departures: Zach Hyman sets career-high, Zach Bogosian returns from injury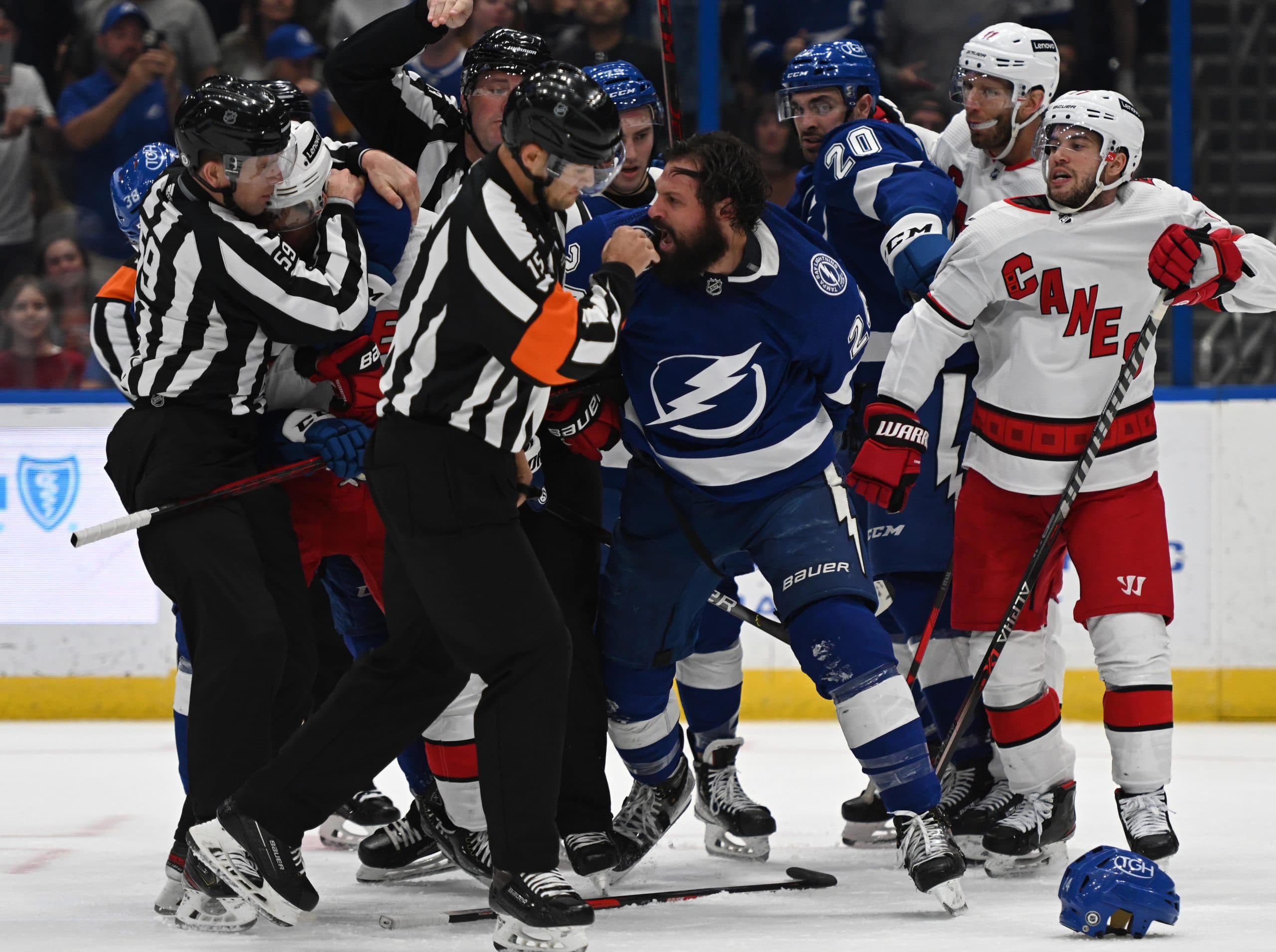 Photo credit:Jonathan Dyer-USA TODAY Sports
The NHL regular season is almost coming to an end as the month of March just finished last night and we hockey fans get set to look forward to the month of April as some teams get set to play some important games down the stretch for their playoff positions, and even playoff hopes. With that said, it's been another month on the schedule for some former Maple Leafs to play with their new teams, so let's take a look at how they did.
1. Zach Hyman – EDM – 29 years old – LW/RW
March 2022 stats: 15 GP – 3 G – 7 A – 10 PTS – 20:11 TOI
2021-22 stats: 62 GP – 22 G – 23 A – 45 PTS – 19:33 TOI
Contract: 7 years x $5.5M 
When Zach Hyman left the Toronto Maple Leafs in the off-season, Leaf fans were sad, it's no secret. However, the addition of Michael Bunting and the type of season he is currently having for Toronto, it's something to cherish as fans, but let's not take away the accomplishment from Hyman this season as he set a new career-high in both goals (22) and points (45) while being just two assists shy from tying his career-high in that department with 25.
It's been an incredible year for the former Maple Leaf, and it's great to see him thrive on a new team because the Edmonton Oilers really did get a good player in Hyman. He's the type of player that will produce for you offensively, be reliable defensively, and will do all the little things during games that matter and are important to win games.
In the month of March, Hyman had himself another very productive month as he recorded three goals and seven assists for 10 points in 15 games while averaging north of 20 minutes of ice-time a night at 20:11 to be exact. With Hyman's play on the ice, I said he's going to be a very important piece to this team moving forward and come playoff time if they can keep a playoff spot come to the end of the season. The Oilers were lacking a player like Hyman, and now they finally got one in him and he's thriving in his role with Edmonton.
2. Frederik Andersen – CAR – 32 years old – G
March 2022 stats: 8 GP – 4-3-1 – 1.88 GAA – .926 SV% – 1 SO
2021-22 stats: 46 GP – 33-10-3 – 2.00 GAA – .929 SV% – 4 SO
Contract: 2 years x $4.5M
The huge bounce-back year for Frederik Andersen with the Carolina Hurricanes continues and he's been a big part of why the Carolina Hurricanes currently sit where they do in the NHL standings. Although the month of March was kind of a down month compared to his previous months, Andersen still posted some solid numbers in the games he was able to suit up for with a 1.88 GAA and a pretty solid .926 SV% in eight games in the month.
His record was 4-3-1 but records are more of a team stat in my opinion. Yes, you want your goalies to win more games than he loses, but I feel like it's more important to look at the numbers he posted in the month than just the record. Throughout the season so far, Andersen has a record of 33-10-3 – which is remarkable – and has Vezina Trophy-type numbers with a 2.00 GAA and a .929 SV% which currently sits him top two in the league in both goalie categories.
Now, I know Andersen is having a major bounce-back season this year after two pretty poor seasons in his last two years in Toronto, but just like during his time in Toronto, the playoffs are going to be important for Frederik Andersen. He is on one of the best teams in the league and they are one of the best defensive teams as well, so that'll obviously help out a lot, but coming from a goalie standpoint and Andersen's history of allowing some pretty weak goals in the playoffs with Toronto, it'll be important to see how he performs. I'm rooting for the Danish netminder, just not against Toronto, of course.
3. Nick Foligno – BOS – 34 years old – LW/C/RW
March 2022 stats: 13 GP – 1 G – 3 A – 4 PTS – 10:39 TOI
2021-22 stats: 49 GP – 2 G – 9 A – 11 PTS – 12:56 TOI
Contract: 2 years x $3.8M
After an atrocious month of February, Nick Foligno somewhat bounced back and actually produced on the scorehseet for the Boston Bruins. He laid a goose egg in the month of February with zero goals, assists, and obviously points, but was able to put up four points – one goal and three assists – in 13 games this past month while averaging a little over 10 and a half minutes of ice-time a night with his new team.
It's no secret now that Foligno is way past his prime and won't be producing at the same level offensively that he once did. But one thing that Foligno brings to a team that'll be very important is his style of play. He's always been someone who is reliable defensively and will always, and I mean always bring the physical side of things out there on the ice. After all, he is a Foligno, and they are made for playoff-type games and that's what he'll be doing with the Bruins soon.
So, if he isn't producing at a decent rate, he'll definitely be sturring things up with other players, laying big hits, getting into fights, and simply sticking up for his teammates. Toronto fans saw that first-hand last season, although it wasn't for a long period of time as he played less than 10 regular-season games for the franchise, we all know what Foligno can bring on the ice, especially in important games.
4. Zach Bogosian – TB – 31 years old – D
March 2022 stats: 11 GP – 1 G – 0 A – 1 PTS – 13:03 TOI
2021-22 stats: 34 GP – 3 G – 4 A – 7 PTS – 16:00 TOI
Contract: 3 years x $850K
It's been quite the up and down season for defenseman, Zach Bogosian in his second stint with the back-to-back Stanley Cup Champions, Tampa Bay Lightning, as he's been hit with the injury bug more than once and was finally able to return to the lineup in the month of March and suit up for 11 games for his team. Bogosian, as we all know, is a rough and physical type of defenseman that is a perfect bottom pair defenseman on most teams, and was that exactly on the Toronto Maple Leafs last season in the shortened 2020-21 campaign.
However, his type of style of play sometimes, comes with a price and he sometimes gets hurt from it, but his recent injury was listed as an upper-body injury that kept him out of action for the entire month of February and it must've sucked for him to be sidelined yet again because he's definitely the type of player that wants to be out there with his teammates and go to battle with them. With his return to the Lightning's lineup, he was able to play in 11 games, and in those games score a goal while playing his physical game were all familiar with.
Bogosian is going to be a small, yet important piece down the stretch in the regular season and into the playoffs for the Lightning, especially if they want a chance at three-peating. Depth is important, we all know that, and with Bogosian's style of play, it'll be important in the playoffs.
5. Joe Thornton – FLA – 42 years old – C/LW
March 2022 stats: 5 GP – 1 G – 2 A – 3 PTS – 10:33 TOI
2021-22 stats: 29 GP – 5 G – 4 A – 9 PTS – 10:57 TOI
Contract: 1-year x $750K
It's been another month where the veteran Joe Thornton barely plays, but he was able to get into five games in the month of March, and in those five games, he actually found the scoresheet three which is pretty good for him. In the five games with the Panthers last month, Thornton was able to register a goal and two assists for three points while averaging just over 10 and a half minutes of ice-time a night at 10:33.
Throughout the 2021-22 season, he's suited up for just 29 games and in those games had five goals and three assists for eight points while averaging just under 11 minutes a night at 10:57. It's pretty clear he's not an everyday player at the NHL level anymore, or at least not an everyday player on that Panthers roster given how deep they are, but it's good to see him on a winning team trying to chase a Stanley Cup, just like he is.
6. Alex Galchenyuk – ARI – 28 years old – LW/C/RW
March 2022 stats: 14 GP – 1 G – 3 A – 4 PTS – 13:11 TOI
2021-22 stats: 47 GP – 5 G – 11 A – 16 PTS – 13:14 TOI
Contract: 1-year x $750K
After a pretty productive month of February, Alex Galchenyuk didn't really find the same success in the month of March and it led to a month where he was only able to register four points – one goal and three assists – in 14 games while averaging north of 13 minutes of ice-time a night at 13:11. As I have gone over before, it wasn't really the greatest of starts to a season for the former Leaf as he was injured to begin the season which led him to miss some time, and then was later thrown on to the NHL's COVID protocol list along with basically the entire league at one point.
With that, Galchenyuk really hasn't been able to find his groove on this Coyotes team, and when he signed with them, I thought this could've been the perfect fit for him to continue to do what he was able to learn with the Maple Leafs last year when he was working with the development staff and the games he was able to get into with the Marlies before coming up and playing in the Maple Leafs' top-six.
I shouldn't say this entire season has been a bad one for Galchenyuk because despite the slow start, he had a pretty big month of February for himself which boosted his point totals and it looked like he was trending in the right direction. However, he followed that month up with a poor month in March and, as I said, was only able to put up four points on a struggling Arizona team. Galchenyuk has now improved his point totals to 16 points – five goals and 11 assists – in 47 games while averaging 13:14 of ice-time a night.