Friedman: Treliving meeting with Maple Leafs this week, wonders about Mellanby for GM, Perry hitting open market and more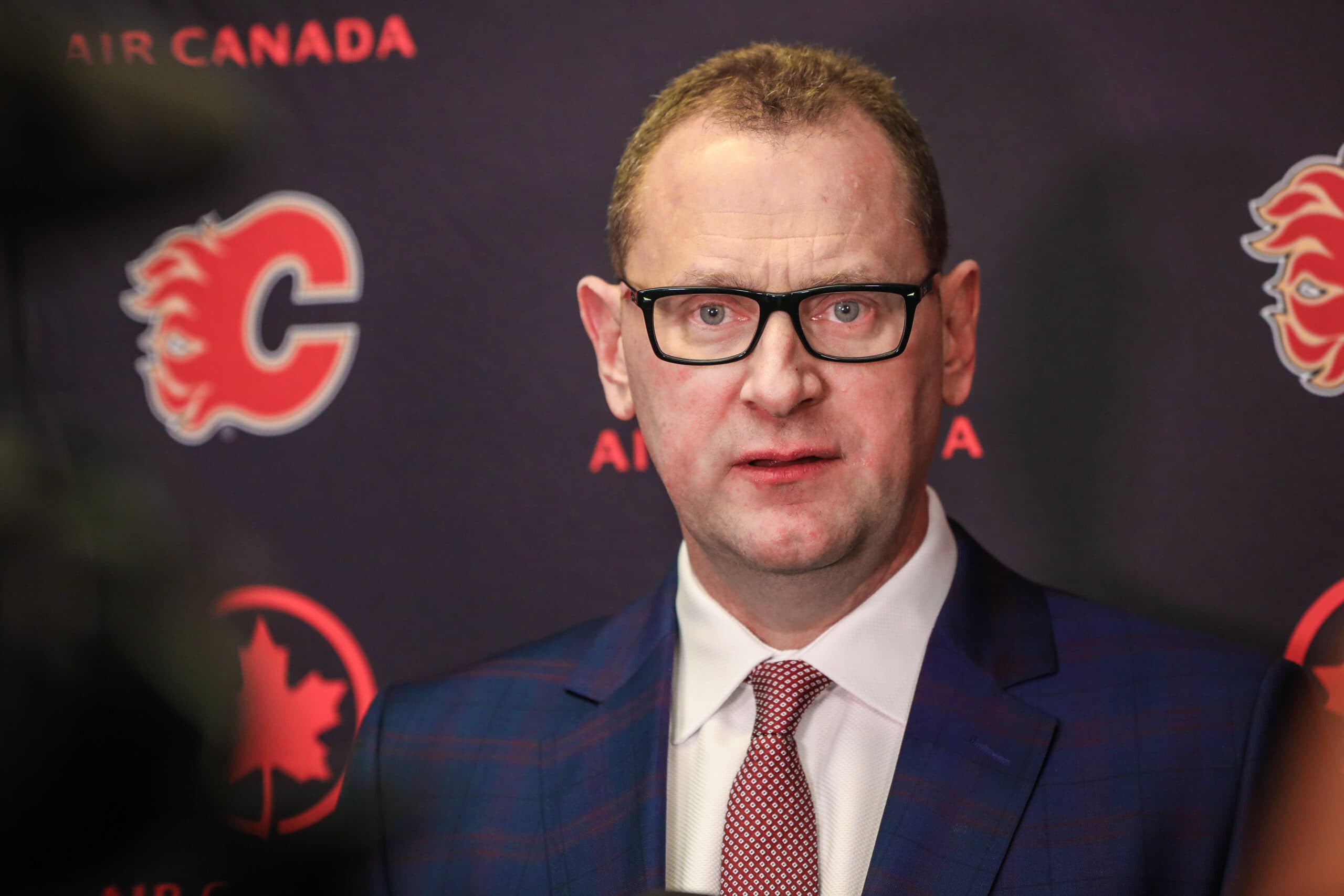 Photo credit:Sergei Belski-USA TODAY Sports
Last night, Elliotte Friedman dropped the latest edition of his
32 Thoughts article
and included some pretty juicy Toronto Maple Leafs topics.
As we know, Toronto is searching for a new general manager after the organization decided to part ways with Kyle Dubas less than a week ago. So it's a no-brainer that the first couple of thoughts in his article are related to that situation.
Thought no. 1
"Dubas is at the top of Pittsburgh's managerial wish list, assuming he and family are ready to make the move. There have already been discussions. The Penguins are prepared to give him a bit of time to consider. When it comes to Ottawa, it will be interesting to see if the winning bidder has already committed to any particular hockey operations leader, including the people already in place. There are suspected links for all four prospective owners, but nothing is done until it's done."
After both Friedman and TSN's Darren Dreger reported a couple of days ago that the Pittsburgh Penguins have been granted permission to speak with Dubas, I would expect an answer here sometime soon. Right?
Pierre LeBrun also reported yesterday on Insider Trading that the Penguins have let some general manager candidates know that they are not in the running for the job anymore. The list of names includes Marc Bergevin, Peter Chiarelli, Eric Tulsky and Dan MacKinnon.
It's honestly looking more and more likely that Dubas to the Penguins could very much happen given they were close to ending their search for a new general manager, but ever since the Dubas news broke, they have put a hold on things to reach out and speak to Dubas.
It'll be interesting to see where things go in the coming days. Do the Penguins hire Dubas or go a different direction and hire someone else? Do the Penguins maybe engage Dubas in a different role that is not a general manager instead? We shall see.
Thought no. 2
"Brad Treliving is expected to be in Toronto this week to meet with the Maple Leafs. Obviously, he won't be the only interviewee. There's a ton of interest in this job, but as the organization began to consider alternatives to Dubas, Treliving was very high on the list."
It feels like when Toronto announces the new general manager, it might end up being Brad Treliving, but that's because we're always hearing his name. However, that could change once interviews get underway. We'll have to wait and see. Friedman is saying both sides are going to meet in the city this week to discuss the general manager job and Mr. Treliving was very high on Toronto's list of potential candidates to replace Kyle Dubas.
In my honest opinion, Treliving isn't very high on my list of candidates to get the job in Toronto, but he is also not the worst one whose name is out there. He's a better option than guys like Bergervin, Chiarelli, Benning, Hextall, Burke, and so on.
Thought no. 3
"Apparently, Scott Mellanby went very far down the road with the Philadelphia job that went to Keith Jones. So that makes me wonder about him for Toronto, too."
Now, Friedman isn't reporting that Mellanby is a name that has jumped into consideration for the GM job in Toronto. Still, it is worth noting that he wonders about him because he apparently went 'down the road with the Philadelphia job that went to Keith Jones' and he is someone who has been around the game for a long time and has a history in management in the NHL.
Mellanby, 56, is a former player who worked with the Vancouver Canucks for three years following his retirement as a special consultant to the general manager and the hockey operations department.
After Vancouver, he was an assistant coach with the St. Louis Blues for two seasons and later left the Blues to pursue a new job with the Montreal Canadiens. He spent nine years in the Montreal organization as a Director of Player Personnel and an assistant general manager before resigning in late 2021.
Mellanby is currently back with the Blues organization as a Senior Advisor to the General Manager after being hired by them in the summer of 2022.
Thought no. 4
"Looks like Corey Perry will be hitting the market. After all these years, do the Maple Leafs finally make it work? Think of the content."
Could it happen? Could it finally happen?
It would be funny that after all these years, Corey Perry finally signs in Toronto after tormenting their fans over the past couple of seasons with the Canadiens and Lightning.
Perry, 38, is in the last year of a two-year deal he signed with the Lightning and according to Friedman, it looks like he'll be hitting the open market come July 1.
Perry reportedly wanted to sign with Toronto ahead of the shortened 2020-21 season before signing with the Canadiens after Toronto went a different route and signed both Wayne Simmonds and Joe Thornton.
Do the Peterborough native and the Maple Leafs finally get it done? Perry will be 38 years old by the start of the 2023-24 season and he's of course way past his prime, but if he can replicate his play from the past couple of seasons in a fourth-line role and continue to be a menace to other teams out there on the ice, you should at least be interested in him and see if he's interested in you as well.
As I said earlier, he's coming off of a two-year, $2M contract ($1M AAV), so whatever his next contract looks like, I can almost guarantee that he makes the same or even less next season.