Gabe Perreault is a playmaking winger who the Maple Leafs may select at 28th overall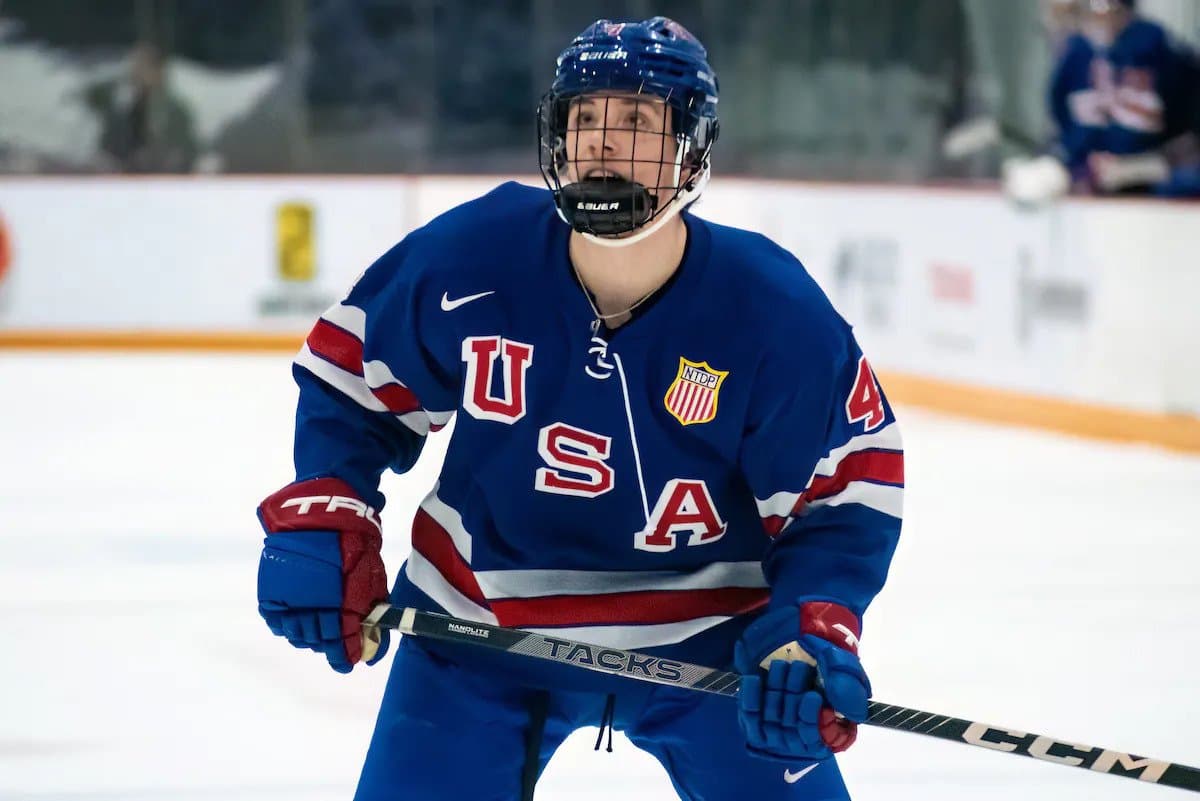 Photo credit:Photo by Steven Ellis/Daily Faceoff
Generating offence from players outside of the "Core Four" has been a constant challenge for the Leafs over the past few years.
This has been especially apparent in the playoffs, where that detriment was a key factor in their demise on the biggest stage. This makes it imperative for a team in their position to find quality players on cheap contracts, with first-round picks being extremely helpful on that front.
Scouting Profile
Gabe Perreault is a right wing who spent the past season as part of the U.S. National Team Development Program. The Canadian-born American forward is classified as a playmaker and comes in around average in terms of size for his position, standing 5'11" and weighing 165 pounds.
He may not be the quickest player on the ice, but Perreault makes up for it by having some of the best hands and vision among this current crop of playmaking forward prospects. He can read the play developing extremely quickly and it allows him to get defenders to bite on his moves to set up a springing teammate or get in position to fire a shot. Speaking of his release, it's deceptive and quick, which makes him a tricky player for opposing teams to deal with because he has multiple ways of beating you. Perreault also has good compete levels and has developed a knack for stealing pucks to regain possession.
The biggest detractor in his game is his poor skating mechanics for a player of his size. He is a very top-heavy skater with a wide stride, which makes it hard for him to gain his outside edges and makes him susceptible to defensive pressure and losing steam much quicker than most in the offensive zone. There are also concerns about how well his skillset will translate at higher levels as its unclear if his puck battles in junior will be able to carry over as his career progresses. Given that he is seen as a complimentary player, there are also questions on how well he will fare away from linemate Will Smith.
Even still, his high intelligence of the game and ability to read the game at rapid speeds make him one of the more intriguing playmakers in this draft class. His hockey IQ stems from him being the son of former NHL forward Yanic Perrault as well as Gabe's older brother, Jacob, being a Ducks prospect. Even if Gabe Perreault is best suited to playing beside a play driver, he can make the most of his usage and remain an impactful forward.
What the scouts are saying
Summary
His high-point production is no accident and he has rightfully earned his place as a potential first-round pick in this upcoming draft. Perreault's high hockey IQ, vision, duel threat, and ability to retrieve pucks should give him the tools needed to be a top-six forward if he reaches his potential.
The knacks on his game are his skating mechanics, size, and concerns about how he will fare at higher levels, which will have to be addressed to ensure he makes the jump a reality. Having said that, there is enough of a good starting point that he is worth taking a flyer on if he remains available late in the first round.
Bringing another Perreault onto the Leafs would certainly be an intriguing choice if that's the direction they head in when it is their turn to pick.