Gavin Brindley is a two-way right winger who the Leafs may select at 28th overall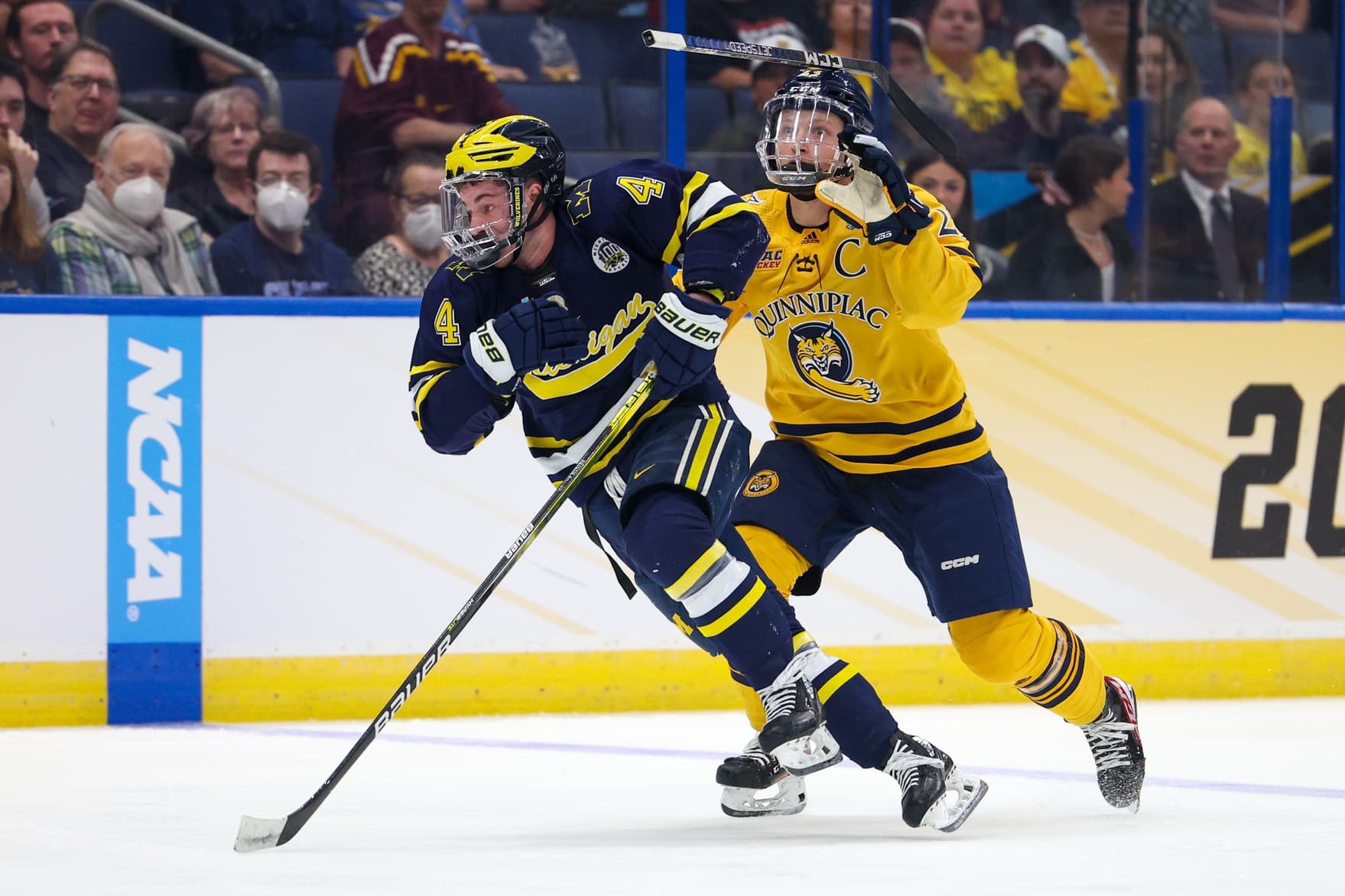 Photo credit:© Nathan Ray Seebeck-USA TODAY Sports
When it comes to drafting a player in the first round, there will always be plenty of intriguing options that are up for grabs even towards the end of the opening round. While they may not be big-name prospects like the ones taken early on, there is a fairly good chance that the player will have a good chance of reaching the NHL.
Today's player certainly falls under that category, as we continue my ongoing series doing deep dives on prospects that could be up for grabs when the Leafs are on the clock at 28th overall later this month.
Scouting Profile
Gavin Brindley is an American right-winger who is currently playing for the University of Michigan's men's hockey team. The two-way forward is also on the smaller side for players available, standing at 5'9″ and weighing 175 pounds. Brindley is coming off a productive freshman year with the Wolverines where he finished second among draft-eligible players on the team (only behind Adam Fantilli) with 38 points in 41 games played.
Fantilli obviously took up the bulk of the attention from scouts when watching Wolverines games, but Brindley was no slouch and showcased a lot of his key attributes. Despite being one of the smaller prospects available, his compete levels are off the charts complemented by his impressive speed. He is a player who is always tenacious on the forecheck at both ends of the ice, tracking down the opposition well, and confidently going anywhere on the ice to retrieve the puck. Once he gains possession, Brindley will impress you with deceptive plays going up the ice and showing a willingness to be both the distributor and finisher, attributed to his growing hockey sense. Being someone who is always moving and applying pressure makes him a player that coaches will want out in any situation.
The most obvious caveat for Brindley is that he is one of the smallest players available, so some scouts are hesitant to rank him higher up the draft. These scouts have concerns about if his skating mechanics will work as an NHL forward or if his skill set is good enough to have top-six potential. His hockey sense is also a work in progress because in the first half of the season, his carries up the ice was limited to a single lane he did not show much creativity during a stretch where he was limited to just one goal.
It is worth noting that he was mostly utilized at centre around this time and his play did improve once he switched to the wing, which is most likely where he will play should he reach the NHL. And after capturing bronze at the 2023 World Juniors, he exploded for 28 points in 21 games, which made Brindley one of college hockey's most dangerous forwards. That version of him will turn more heads around and will make scouts regret having him ranked much lower down the list when looking back on this draft.
What the scouts are saying
"I wouldn't say I am a pass-first guy, but I'm definitely a playmaker. I made reads and decisions on the fly whether to pass or shoot. Just making hockey plays is one of my best attributes. Things happen. You don't always have to pass or always have to shoot. I think I make the right decision most of the time."
"A lot of credit goes to my skating ability. Obviously, I'm an undersized guy. That would mean being quick on your edges and spinning off guys and using your body to protect the puck is really important and behind the net. I think I use that to my advantage."
Summary
Brindley's size may scare off a number of teams, but his forechecking and motor certainly make up for it because he plays a lot bigger than his height would suggest. Leafs fans definitely love players who are hard-working and tenacious on puck carries (ex: Zach Hyman), and he would quickly become a fan favourite if Toronto decided to draft him late in the first round.
His game is far from perfect and some more time at Michigan will be beneficial for his development, so don't expect him to be up in the NHL for another season or two. But this is a player who makes the most of his opportunities, especially this year when he filled in for Frank Nazar who was forced to miss the majority of the season due to a lower-body injury.
A versatile forward who is elite on the forecheck is one that many teams would love to have, and the Leafs would be smart to draft Brindley if he remains available late in the first round.