Getting to know Noel Acciari, the much-needed grinder for the Maple Leafs' bottom six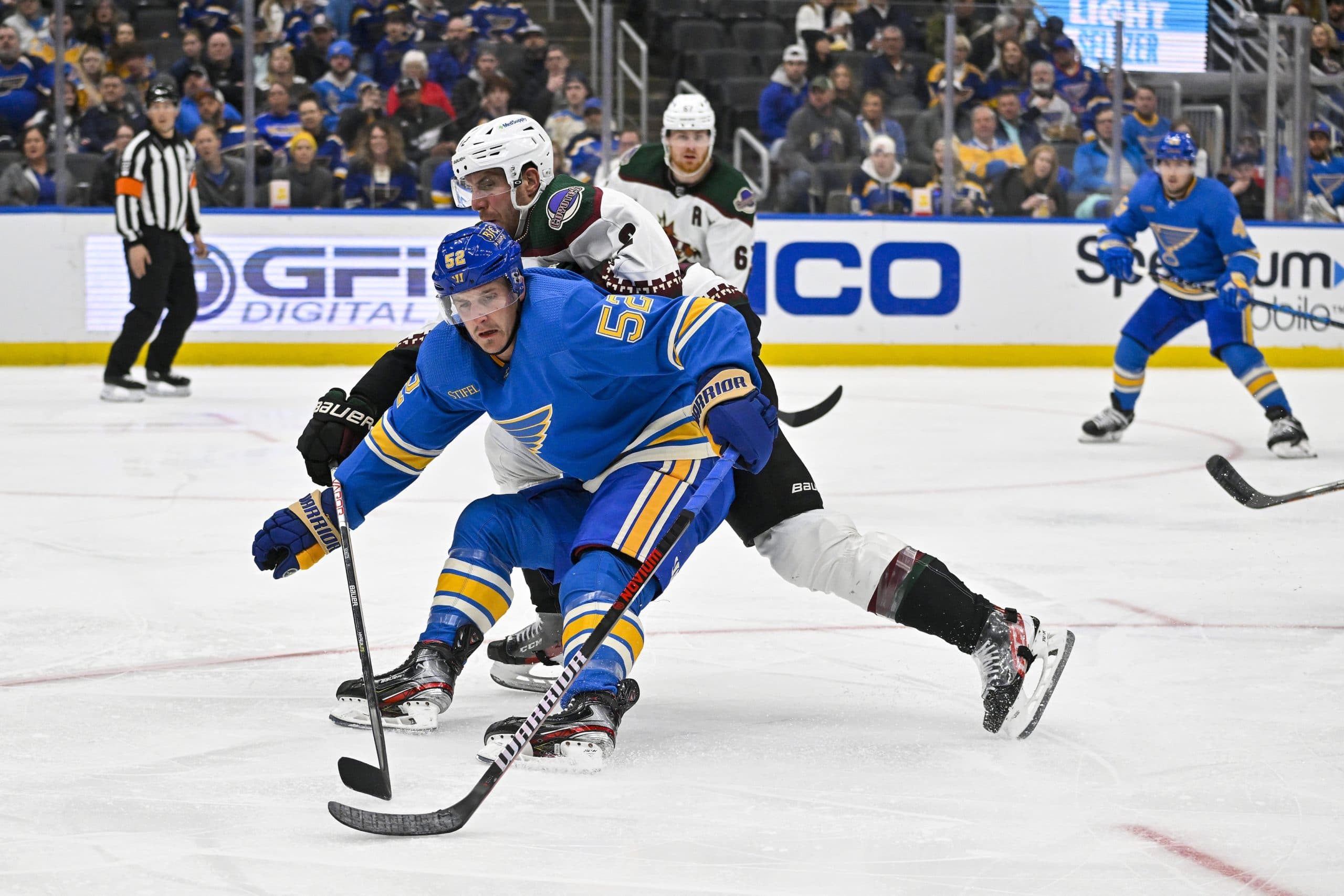 Photo credit:© Jeff Curry-USA TODAY Sports
Kyle Dubas has made his big splash.
Exactly two weeks ahead of the trade deadline for the 2022-23 NHL season, the Toronto Maple Leafs traded prospect Mikhail Abramov, depth forward Adam Gaudette, a first-round pick, and two second-round picks to the St. Louis Blues in exchange for Ryan O'Reilly and Noel Acciari. They also flipped a fourth-round pick to the Minnesota Wild to retain money on O'Reilly to fit him under the salary cap.
O'Reilly, who captained the Blues to their first-ever Stanley Cup in 2019 and won the Conn Smythe Trophy for his efforts, is the headliner of this deal, but Acciari is an interesting addition in his own right. Let's get to know who Acciari is and what he can provide the Leafs down the stretch and into the playoffs.
Getting to know Noel Acciari…
Born in Rhode Island, Acciari came up through the United States High School preparatory system. He captained Kent School in 2010-11 and led the team with 52 points in 27 games but was passed over in the NHL draft.
Acciari then spent four seasons playing for Providence College, a Division I NCAA hockey program. He didn't suit up for any games in his first season with the team but Acciari developed into a key player for Providence College over the next few years. In his senior season in 2014-15, Acciari captained the Friars to their first-ever NCAA National Championship and was named Hockey East's Best Defensive Forward.
The following off-season, the Boston Bruins inked Acciari to a two-year, entry-level contract. He spent the next two seasons split between the NHL and Boston's AHL affiliate and earned another two-year deal in the summer of 2017.
Acciari established himself as a full-time NHLer with the Bruins over the course of that contract. He scored 10 goals and 11 points over 60 games in 2017-18 and six goals and 14 points over 72 games in 2018-19. Acciari also scored two goals and four points over 19 games during Boston's run to the Stanley Cup Final in the spring of 2019.
In the off-season, Accari left the Bruins in free agency to join the Florida Panthers on a three-year contract worth $5 million. The 2019-20 season featured a breakout offensively for Accari, as he scored 20 goals and 27 points in 66 games for the Panthers. Accari battled injuries over the next two years of his contract and he scored seven goals and 19 points over 61 games between the 2021 and 2021-22 seasons.
The Panthers opted to let Acciari walk in the off-season and he inked a one-year, $1.25 million deal with the St. Louis Blues. Acciari has been healthy this season and he's bounced back offensively with 10 goals and 18 points through 54 games.
What Acciari can bring to the Leafs… 
While Accari has had some productive goal-scoring seasons in the past, the big reason that Kyle Dubas traded for him is his play away from the puck. If he can go on a heater and pot a few goals that would be great, but Accari gives the Leafs a versatile bottom-six forward who forechecks and backchecks effectively, wins faceoffs, and kills penalties.
The most impressive season of Accari's career came back in 2019-20 with the Panthers when he popped off for 20 goals, 19 of which were at even strength, despite starting slightly more than two-thirds of his shifts in the defensive zone. Accari was also Florida's most-used penalty killer that season, logging an average of 2:32 per game on the kill, and he led the team in hits by a decent margin with 121.
Again, the scoring was probably an anomaly as Acciari rocked an 18.5 shooting percentage, but the physical play and penalty-killing prowess that he's displayed for his entire career is what the Leafs are looking at here. This season, Accari has been St. Louis' second-most used forward on the penalty kill behind only Ryan O'Reilly and he leads the Blues with 168 hits, 58 more than the guy who's in second on the team.
Another thing worth noting about Acciari is that he plays this tight-checking, physical, aggravating game while also not taking many penalties. He's only been in the box for 10 minutes this season and his career-high in penalty minutes was 47 and that came in 2018-19 with the Bruins when he fought more often. If you're going to have grinders in your bottom-six, you need them not to be in the penalty box so they can be the ones on the ice killing penalties.
This trade is one that was made with specific opponents in mind. If the Leafs are going to finally do something in the playoffs, they'll have to beat the Tampa Bay Lightning in the first round, and, if they can do that, they'll likely have to face the Boston Bruins next. Both of these teams have high top-level skill with lethal power-play units.
The Lightning edged out the Leafs in seven games last spring and a big reason for that was special teams, as Tampa scored seven power-play goals while Toronto scored four. The Leafs came into Game 6 with a 3-2 series lead and they carried a 3-2 lead into the third period but Nikita Kucherov tied the game with a clutch power play goal. Tampa wound up winning the game in overtime and then won Game 7 to take the series.
There's an argument to be made that the Leafs should have added another scoring winger to round out their top-six or added a top-four defenceman, but it's not difficult to see why they ultimately traded for O'Reilly and Acciari.
The Leafs currently boast the NHL's 13th-ranked penalty kill while the Lightning have the league's fourth-best power play. Stopping the Lightning's quick-strike offence and sharp-shooters from up high in their own zone was a struggle for the Leafs in last spring's first-round loss. Toronto now has two battle-tested forwards who should help them lock things down defensively in a tight playoff series with little room for error.