Giving Petr Mrázek more opportunity will only make the Maple Leafs better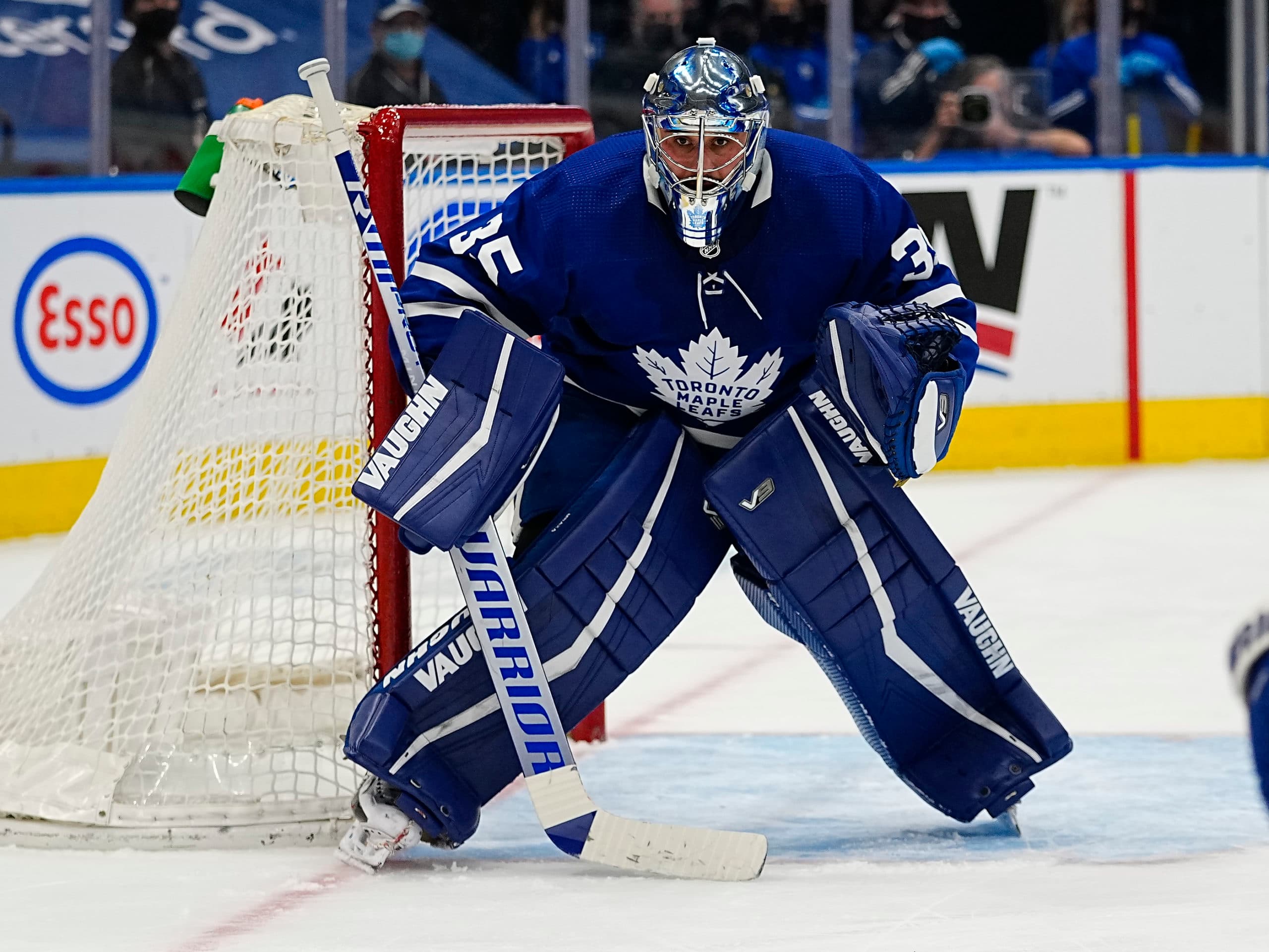 Photo credit:John E. Sokolowski-USA TODAY Sports
It looks like @Petr Mrazek is starting to find his game in the Maple Leafs net and that's a very good sign.
After a groin injury which kept him out of the lineup for two months, the 29-year-old is starting to gain some run way.
Toronto should allow him to keep gaining it.
When you look at the Maple Leafs' goaltending situation, you have two netminders who are good when playing in consecutive games. @Jack Campbell did it for most of the season when Mrázek is out and now he's doing it with Campbell's time off.
It's not the best decision to keep Campbell out of the lineup, but allowing Mrázek to get comfortable makes that decision worth it.
"I'm feeling every game better and better," said Mrázek after Monday's game against Carolina. "The last few weeks, we did a lot of work with Steve Briere. I think the things we are doing are showing in a game, so I'm happy with how the things have progressed."
The 29-year-old has won his last four games, all while putting up a strong .925 save percentage in that span. It'll be interesting to see what Maple Leafs head coach Sheldon Keefe does in Toronto's next game, which is in Calgary on Thursday.
It's either Campbell, who's gotten some rest since the All-Star break or it's giving Mrázek more opportunity, and that will only make the Maple Leafs better.
"You can see it coming," said Keefe on Monday when asked if he believes Mrázek is starting to find his game. "It's a little early to say that, but he's certainly building momentum here and that's really what we're looking for.
"We're getting two goalies. I know, that was, coming into the season, we knew that was going to be the case and it really hasn't been up until the last little bit." Keefe added. "The fact that Petr [Mrázek] is a) healthy and b) gaining positive momentum in his play and our team's comfort playing in front of him is a very healthy thing for our team."
WhenMrázek bounces in and out of the starter role, he begins to struggle. Looking back at his first four games of the season, which were a minimum of 15 days apart, the 29-year-old had a sub-.900 save percentage.
He couldn't find his game, plus he was battling a significant groin injury.
This little leeway, though, could allow Mrázek to gain much more confidence and be more comfortable behind the Maple Leafs.
Even Keefe said it — the team's comfort playing in front of him is showing — which disappeared last year once @Frederik Andersen's struggles began to unfold.
Riding the hot-hand here allows Mrázek to gain the players' trust, while also gaining Keefe's trust in the process too.
When you tie each of those things together, Toronto's goaltending tandem becomes both real and scary for the rest of the NHL.
It would be wise of Keefe to allow Mrázek to get the next game. I believe if he plays well there, you have an option to play him on Saturday night too.
With that, though, Toronto needs to find a balance. Both netminders need games to stay hot. We witnessed it with Campbell when his play started to drop and we're seeing it now with Mrázek.
The balance is key, but getting a goaltender comfortable is just as important.
Toronto's future lies within the decisions made by Keefe.