Goals and expectations for every left-handed defenceman on the Toronto Maple Leafs' depth chart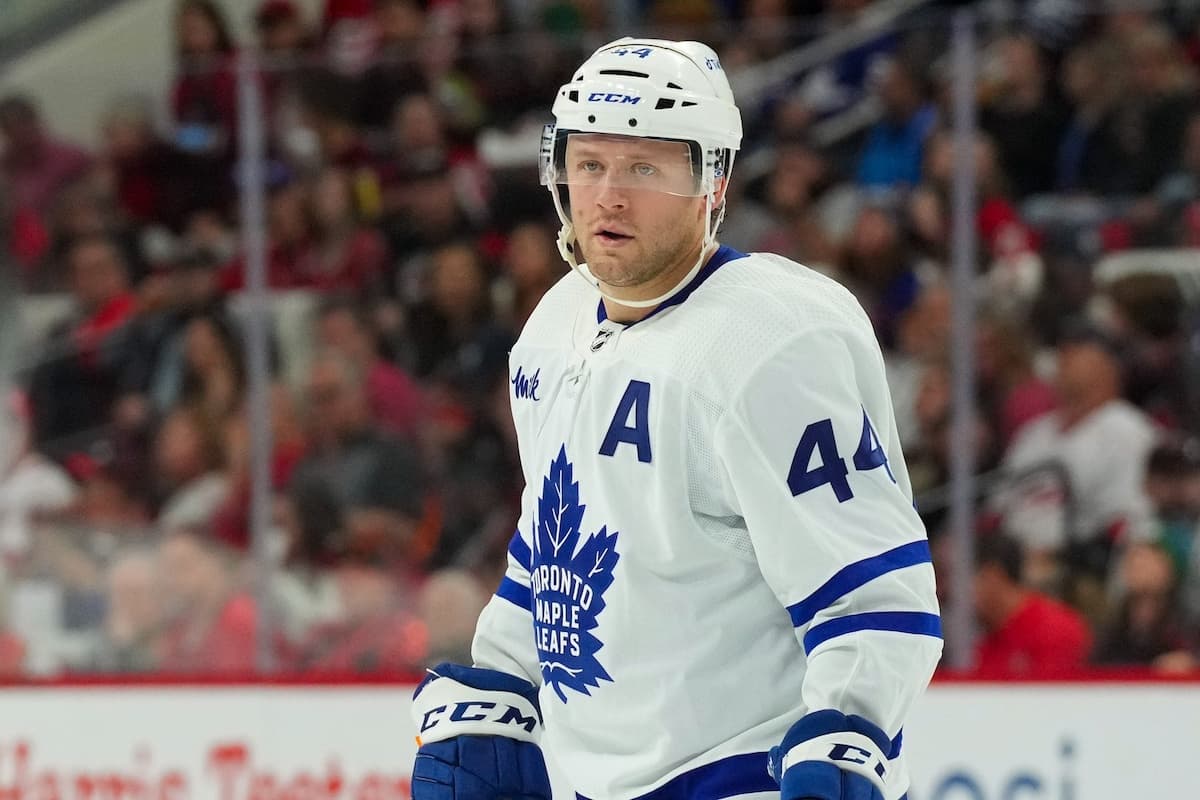 Photo credit:James Guillory-USA TODAY Sports
Welcome back to my "Goals and Expectations" series here at The Leafs Nation. Last week, we took a look at every goaltender and right-handed defencemen on the Toronto Maple Leafs' depth chart and cast a reasonable set of expectations and goals for them to meet. Today, we're going to continue a look up and down the depth chart and evaluate each and every left-handed defenseman in the system.
Morgan Rielly showed up when it mattered last season. After a rough start to the season that saw a revolving door of defensive partners, inconsistency in his own zone, and a stint on the IR with a knee injury, Rielly picked it up at the end of the season and carried it into the playoffs. He added 18 points in the final 30 games of the season, and almost single handedly got the Maple Leafs through the first round for the first time since 2004. 
After a four-point performance in game two, he scored three goals in each of his next three games, including the overtime winner in Game 3 and the game-tying goal in Game 4. He ended up carrying a point streak all the way until Game 4 of the second round and finished the playoffs with four goals and 12 points in 11 games. 
Rielly takes a lot of flak when his offensive game isn't on, and while it's true that the $7.5 million dollar figure he makes seems harder to stomach when his offence isn't making up for his defence, nobody can argue that he doesn't show up when it matters. With the exception of the 2020 bubble and the 2021 collapse to the Montreal Canadiens, He has pretty consistently been one of their best playoff performers, and I don't think anybody was thinking of his contract when he was scoring crucial goals in the playoffs. 
This all being said, it would be nice if Rielly brought this performance with him into the 2023-24 season. If Sheldon Keefe can keep his partners consistent and allow him to freely play his game like he did with Luke Schenn on his right, hitting that 60-point plateau with a healthy season would be a good goal for him to shoot for. 
People rightfully have their gripes with some of the moves former general manager Kyle Dubas made during his tenure with the team, but one deal I have to give him credit for is the Jake McCabe trade. While his teammate Sam Lafferty didn't bring much to the table offensively, McCabe gave the Maple Leafs the presence they were badly missing on their back end without a healthy Jake Muzzin. 
Though he spent time with Justin Holl, T.J. Brodie, and Timothy Liljegren, it was Brodie who he ended up finding a permanent home with. That pairing was frequently used as the team's shutdown pairing, spending more time playing against Nikita Kucherov, Steven Stamkos, and Brayden Point than anybody else on the Lightning. While McCabe was a horse in the playoffs and deserves credit for how the pairing handled Tampa's best players, he probably shouldn't have been eating up that much ice time. 
With Schenn no longer in the picture, I'd imagine Brodie will go back to playing alongside Rielly. With that comes a new project for McCabe, and his name is John Klingberg. 
Obviously, I'm not calling the shots here, but a defensively reliable player like McCabe should be a perfect compliment for someone like Klingberg, a right-handed puck-moving threat who, like Rielly, has his issues defensively. If he can have the Schenn effect on Klingberg and help him have a proper bounceback year while covering for his defensive woes, I don't care about his individual production. 
I don't want to dictate his future for him, but don't be shocked if we're looking at the last season of Mark Giordano's career. And honestly, who isn't happy that he got to play out the end of his career with his hometown Maple Leafs? After being acquired from the Seattle Kraken at the 2022 trade deadline, he signed a two-year extension at just above league minimum with an annual value of $800,000, which was a significant discount for him at the time. 
While Giordano ate up some valuable minutes when the Maple Leafs' defensive corps was riddled with injuries, there were definitely points during the season where it became apparent that his age was catching up with him. He'll be 40 years old by the start of the 2023-24 season, and while he's still poised to be a regular player, the expectations for him shouldn't be high. 
If Gio could stabilize the bottom pairing and give Timothy Liljegren a partner he can rely on, that's all anyone could really ask of him at this point. I'd expect Brad Treliving to make a deal to shore up the back end at some point next season, so he doesn't have to play every day, and while nobody should ever say never, 2023-24 will likely be about ending a storied career on a high note.
Signed to a one-year, two-way contract by the Maple Leafs on day one of free agency, Lagesson is your standard journeyman defenceman who's bounced around the league for the past few years. Originally a draft pick of the Edmonton Oilers in 2014, he remained with the organization until 2022, when he was traded to the Montreal Canadiens in a deal for defenceman Brett Kulak. He then signed a one-year contract with the Carolina Hurricanes for the 2022-23 season.
With only 60 NHL games to his name and the Maple Leafs' defensive corps more or less set in stone, Lagesson will likely be asked to fill a similar role to that of Jordie Benn and Victor Mete last season. He may receive a call-up here and there if injuries happen, and perhaps even to give somebody like Giordano a game off here and there. If he can provide competition for some of the younger Toronto Marlies defencemen and do a decent job filling in when called upon, that would be plenty to expect of him.
Like Lagesson, expect nothing but depth from Max Lajoie this season. The Ottawa Senators draft pick was in their system until the 2020-21 season when he signed with the Carolina Hurricanes. He was a teammate of Lagesson's with the AHL's Chicago Wolves last season, and will fill a similar role to him in 2023-24. 
Lajoie has slightly better offensive instincts than Lagesson does, with 45 points in 63 games last season, and he actually put in a decent chunk of NHL work with the Senators back in 2018-19, tallying 15 points in 56 games. I'd imagine we see Lajoie in the NHL if one of the Maple Leafs' better offensive defencemen goes down with an injury, such as a Rielly type, but in the end, competition for the prospects in the AHL and NHL depth should be a reasonable expectation for him.
If you only follow the Maple Leafs casually, you probably haven't heard of Marshall Rifai. That said, he's a bit of an under-the-radar player to keep an eye on for a potential call-up option in 2023-24. Signed as an undrafted free agent to an AHL contract before last season began, the 25 year-old spent four years playing for Harvard University of the NCAA. He made his debut with the Marlies last season, tallying 16 points in 69 games.
While he's not cracking anyone's top prospect lists, and quickly nearing the point where he'll no longer be considered a prospect, he's worth keeping an eye on as a potential shutdown option for the back end in the future. His career trajectory date sort of reminds me of that of Justin Holl's, who didn't make his debut until he was 26 and didn't play his first full season until he was 28. Overall, a successful season for Rifai would be one where he zeroes in on his development, improving his skillset, and helping the Marlies have a successful season.
Drafted in the third round of the 2019 draft by the Maple Leafs, Kokkonen's claim to fame has always been his sturdiness. He's probably one of the least flashy defencemen you'll ever watch, but every aspect of his game is solid; jack of all trades type. Well, after his offensive game began to falter in his last few seasons over in his native Finland, he was brought to North America in an effort to give him a fresh start. 
Unfortunately for Kokkonen, he had a rocky start to his time in North America. With only six assists through 36 games and some inconsistencies in his game, he was eventually sent to the ECHL's Newfoundland Growlers so he could get some more consistent ice time. That said, he finished the season strong with nine points in 13 playoff games for the Growlers. In 2023-24, his expectation should simply be to stick with the Marlies, find a role with the team, and get his development back on track.
After sort of slipping under the radar in the years following his draft selection (2019), Koster had a really solid rebound year for the University of Minnesota in 2022-23. Playing alongside fellow Maple Leafs prospect Matthew Knies as well as a number of other highly touted NHL prospects including Arizona's Logan Cooley, St Louis' Jimmy Snuggerud, and Washington's Ryan Chesley, Koster found his offensive game and tallied 29 points in 40 games, good for sixth in team scoring.
With a number of defensive prospects for UMinn likely moving onto bigger and better things in 2023-24, including Ducks prospect Jackson LaCombe and Wild prospect Brock Faber, Koster will be in line for an uptick in ice time, and if he improves or even just repeats his performance from last season, the 22 year-old 5-foot-10 defenceman will likely be considered for an entry-level contract with the Maple Leafs. That deal is the next step in his NHL career, so pushing for the opportunity to put pen to paper should be his primary goal this season.
Like I did with Brodie last week, I'm kind of cheating again here. Fusco is right-handed, but mostly plays the left side. A member of the Maple Leafs' draft class from 2020, Fusco reminds me a bit of Koster in terms of his playing style. Both of them are smaller, puck-moving defensemen, and both of them had a bit of a breakout last season. Fusco missed a good chunk of the 2022-23 season with an injury, but impressed otherwise with 11 points in 22 games for Dartmouth College of the NCAA. All things considered, it was a nice bounceback for him after an underwhelming 2021-22 season with Harvard that saw him limited to two points in 26 games.
Like Koster, Fusco's goal should simply be to focus on his development and work towards earning an entry-level deal. A reasonable expectation would be to improve on last season, and as long as he doesn't miss a step this year, he should work his way into the conversation for a contract as soon as next season. 
The first defenseman drafted under new general manager Brad Treliving, Chadwick is another player who could turn out to be a bit of a late bloomer. After spending what could have been his rookie season playing AAA, the 18 year-old became a full time player with the WHL's Lethbridge Hurricanes, recording 20 points in 67 games. Standing at 6-foot-4 and 187 pounds, he's got some pretty good size for his age, and his physicality will take another step forward once he puts on some muscle. 
Despite the low point totals, Chadwick displayed some pretty good offensive instincts in his rookie year with the Hurricanes, and has a very active stick that helps him out on the defensive side of the game. Having just turned 18 in May, the Saskatoon native is one of the youngest prospects in the organization, so no expectations beyond continuing to develop should be cast upon him. A step forward in 2023-24 would be a big help for him, though. 
I'm going to be blunt here – O'Connell will more than likely not be with the organization a week from now. Originally selected in the seventh round of the 2017 draft, he started his career in the unique position of playing Canadian high school hockey, and after one year in the BCHL, he began a five-year tenure in the NCAA. Four of them with Ohio State, and last season with Michigan Tech. 
O'Connell was a bit of a sneaky pick at the time, but his development simply hasn't been there. The 24 year-old hasn't scored a goal since the 2019-20 season and was limited to only three assists in 35 games for Michigan Tech this season. I wanted to include him on the list because he's still technically a prospect, but his organizational rights expire on August 15, and it would take a miracle for the Maple Leafs to use a contract slot on him.