Goaltenders the Maple Leafs could target ahead of the NHL's trade deadline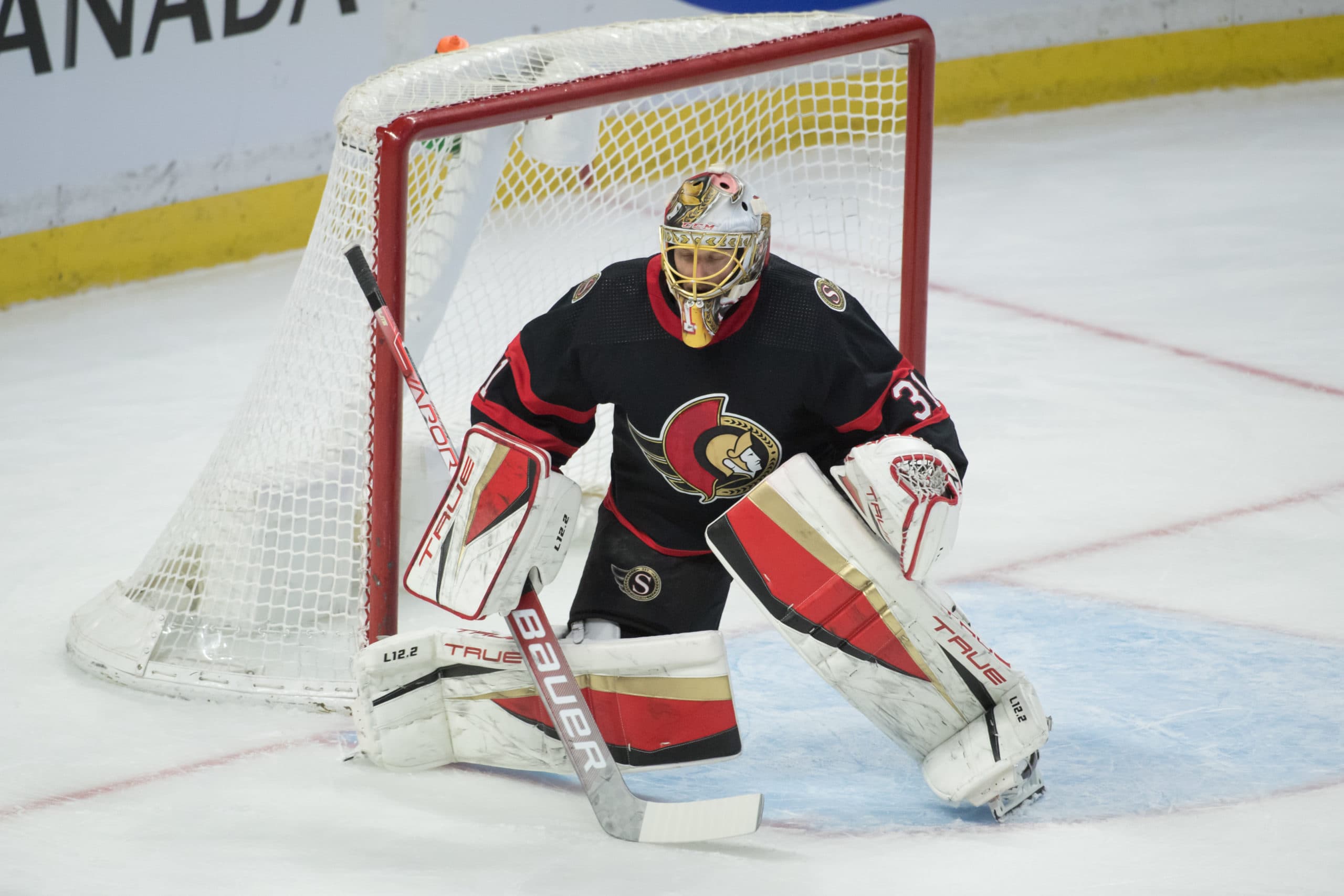 Photo credit:Marc DesRosiers-USA TODAY Sports
The Maple Leafs said they weren't going to trade for a goaltender ahead of the deadline, but if things continue going downhill, will they need to?
After every game, that question becomes larger and larger.
The odds got even bigger on Thursday when the Maple Leafs announced that @Jack Campbell would be out a minimum of two weeks with a rib injury.
Since January 1st, Toronto has a save percentage of .883, which is the fifth-worst in the league. It's gone from one of the best situations, to clearly one of the worst in a matter of months.
This conversation, around trading for a goaltender, is interesting because they'll likely have ship one out to bring one in, unless a team eats some salary (or they target someone cheaper). It's clear that things haven't worked out for @Petr Mrazek, but I'm not too sure the Maple Leafs want to let him go just yet.
Evidence has shown that both Mrazek and Campbell are better goaltenders than what we've seen at times this season. Campbell has averaged a .916 save percentage over the span of his NHL career and he's finally regressed to that number this season. This could be the time where Campbell's game turns around.
As for Mrazek, he has averaged a .910 save percentage during his career in the NHL, and really, he could return to that level at any point. The opportunity to return to that level is right now.
Looking at everything, though, I believe the most telling part of this issue is the goaltending at five-on-five. The Maple Leafs have a league-worst .885 save percentage when playing five-on-five since January 1st.
There are two options at this point. Trade for another goaltender and see if it works or ride Mrazek and Campbell out until the end of this season. Both of these options provide huge risks because what if the two don't return to form? Or what if the goaltender you trade for doesn't work out?
I'm going to look into that now.
Marc-Andre Fleury – 42GP, .908SV% – $7M cap hit for this season only
We start with one of the most unlikely options.
Although Fleury has won multiple Stanley Cups, I just don't see a fit for him to join the Maple Leafs. His cap hit is the main issue, but also his mystery play in the playoffs. This move is as much of a risk as keeping the tandem of Mrazek and Campbell. Fleury has averaged a .912 save percentage throughout his NHL career in the playoffs, but him joining Toronto so late just doesn't make sense to me.
The 37-year-old has moved around a lot in the past year and I don't know if he'd want to come to a market like Toronto where he'd get eaten up if his play wasn't up to par.
This fit, to me, seems unlikely, but I've seen crazier things happen before.
Charlie Lindgren – 5GP, .958SV% – $750K cap hit for this season only
The 28-year-old has averaged a .913 save percentage during the 29 games he's played in the NHL, which has spanned all the way back to the 2015-16 season.
Lindgren's most games in an NHL season was 14 with the Montreal Canadiens in 2017-18, where he averaged a .908 save percentage. He's never been a goaltender who's played a lot of games, but Lindgren could be a solid backup option to Campbell if needed.
I think the downfall of this trade is just not knowing what the 28-year-old has at the NHL level. His cap hit would be perfect for the Maple Leafs, but how would he play in the playoffs (where he's never been before) if called upon?
It's a risk that I don't believe Dubas takes.
Anton Forsberg – 27GP, .921SV% – $900K cap hit for this season only
If there's any goalie that's available ahead of the deadline, Forsberg is the best option for the Maple Leafs.
The 29-year-old has provided incredibly strong goaltending for the Ottawa Senators this year, putting up a .921 save percentage over 27 games. The good thing is, Forsberg's cap hit is only 900k this season, and if he plays good enough, Toronto could lock both him and Campbell up.
That would mean moving on from Mrazek, which could happen in the off-season if he doesn't turn his play around.
If Toronto was to make this move ahead of the deadline, I believe they'd enter the playoffs with a little more confidence knowing they can run three strong goalies, if needed. Or two if they, for some reason, trade Mrazek.
---
Obviously, the most realistic option for the Maple Leafs is to not trade for a goaltender.
Both Campbell and Mrazek have the chance right now to find their game, and the numbers for Campbell seem promising. It's a similar situation for Mrazek, but the numbers just aren't showing it yet.
If the two can find their game and be the goaltenders that we've seen in the past, Toronto will be laughing at this article prior to the trade deadline.
However, if the two netminders can't find strong play, there will be serious decisions ahead of March 21st.
(Statistics via NaturalStatTrick.com & NHL.com)