Goaltending is number one priority for Maple Leafs ahead of free agency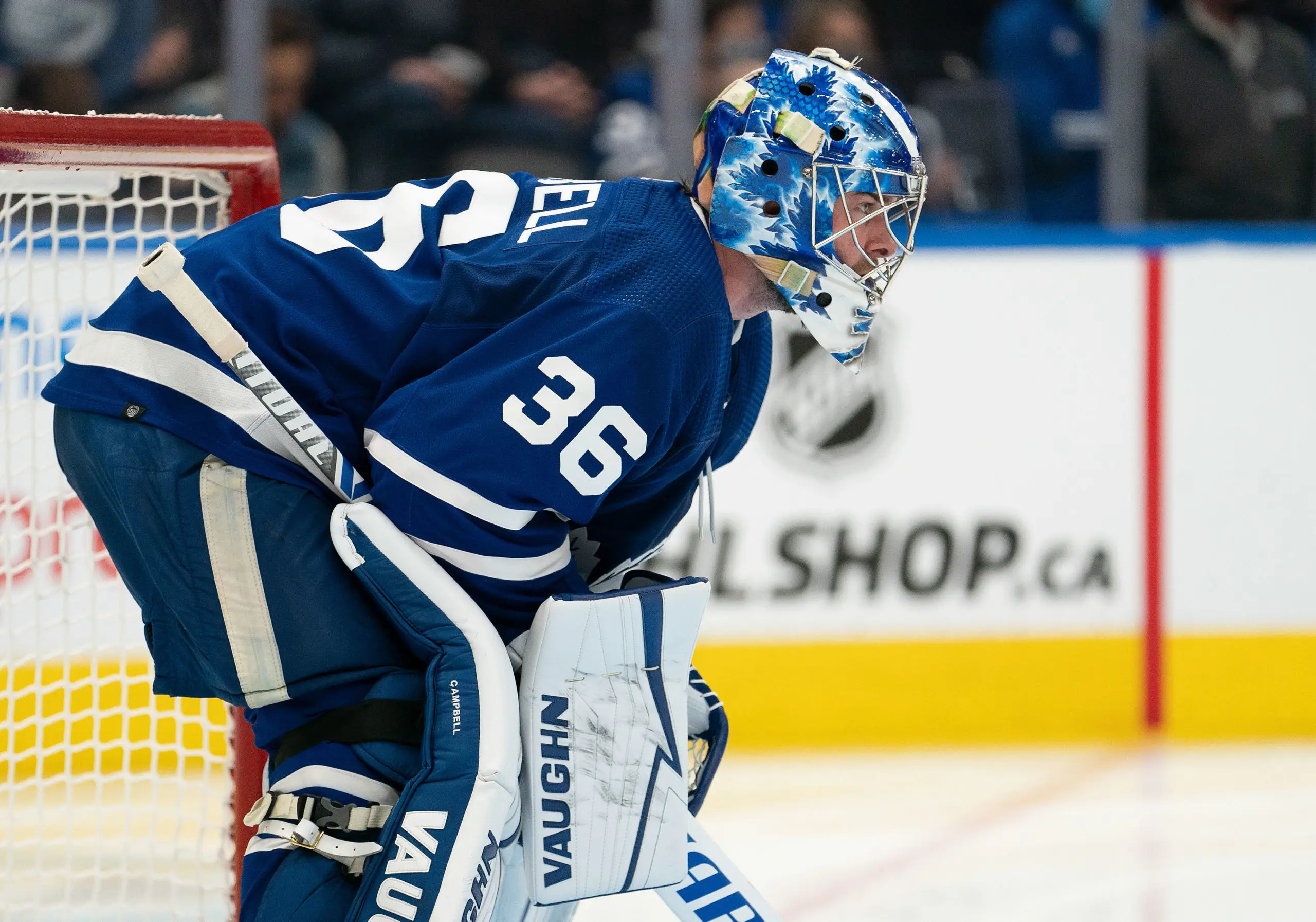 Photo credit:Nick Turchiaro-USA TODAY Sports
The Maple Leafs need to find two goaltenders between now and October 12th.
It was an interesting day one at the NHL Draft on Thursday — mostly because many were interested to see what Toronto was going to do with their first-round pick. And as you already know, Maple Leafs GM Kyle Dubas traded the 25th to Chicago, along with Petr Mrazek, in exchange for the 38th pick.
Toronto was confident that they'd get their guy in the second round and it turns out they likely did,
drafting Fraser Minten with Chicago's pick
. They shed the salary of Mrazek while moving down 13 spots and still got the player they wanted. I guess you could call it
tidy business.
Now, though, with the first in-person draft since 2019 finished, the Maple Leafs have a massive task at hand — finding two NHL goaltenders.
One of the most difficult parts to this situation is whether or not Toronto will retain Jack Campbell. There's plenty of rumours stating his time with the Maple Leafs could likely be over, but with the Mrazek move, it gives them more cap space to see if they can make it work.
Signing Campbell would be one half of the puzzle because Toronto needs another goaltender. However, according to the Maple Leafs GM, the second netminder could come from inside the organization.
"I think I feel good about (Erik) Kallgren and (Joseph) Woll battling there as well," said Dubas on Thursday at the NHL Draft. "That gives me confidence that the focus will be certainly on one (goaltender to sign). And then, we'll see what our cap situation is from there, and then proceed."
Let's look at the field — Woll and Kallgren — both have had decent runs in the NHL, playing a number of games for Toronto last season. The statistics don't jump out at anyone, though.
Woll had an interesting campaign, only playing four NHL games and finishing with a 3-1 record and a .911 save percentage. His AHL numbers with the Marlies aren't as good, but sometimes goaltenders are better suited for the faster game. If injuries rack up in the 2022-23 season, I'd expect him to get an extended look in the NHL.
Kallgren played a lot more with the Maple Leafs, suiting up for 14 regular season games and one partial playoff game against the Lightning. The 25-year-old finished the year with an .888 save percentage throughout the regular season and an 8-4-1 record.
This is the moment where I say Toronto shouldn't feel confident giving either of these two the NHL backup role next season. Don't get me wrong, both are tremendous goaltenders, but they still need more time to grow at the AHL level. If injuries happen, of course bring them up and give them a test, but having one as a part of a tandem in October?
It's just too difficult to imagine that being a legitimate scenario since both have little NHL experience and still haven't proven they can handle the workload.
Toronto could sign Campbell, Darcy Kuemper, or even possibly neither of them on July 13th. If they miss out on either of those two, a trade will likely need to be made for a number one, or at least half of a tandem. Dubas was seen having discussions with Minnesota Wild GM Bill Guerin at the draft, maybe there's something brewing on
the Cam Talbot front
?
The Maple Leafs missed out on Marc-Andre Fleury and Ville Husso. Now, the clock is ticking on the others and if Toronto misses out on them, who knows what might happen this summer.