Goaltending the difference maker as Leafs drop their third in a row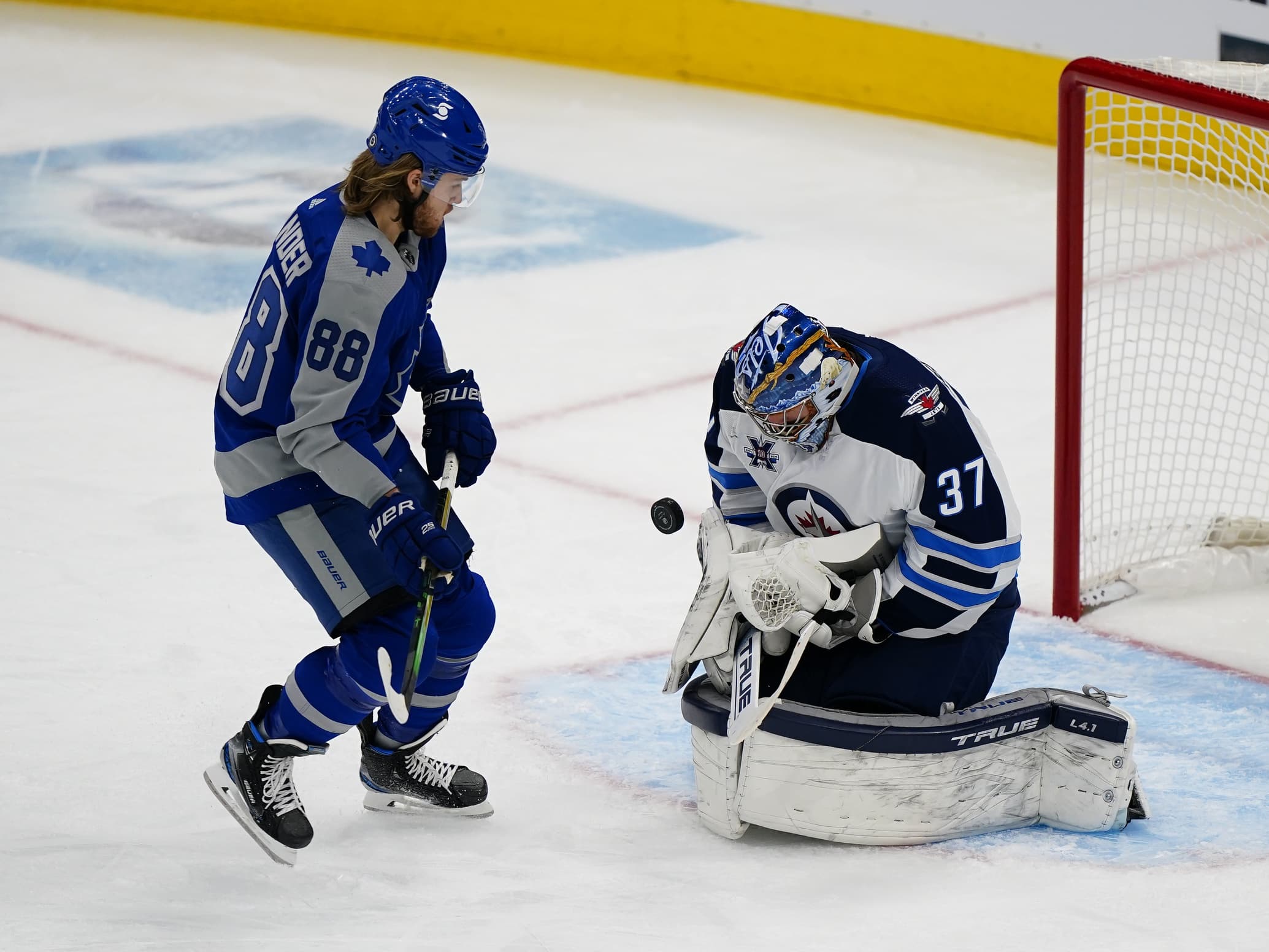 Photo credit:John E. Sokolowski-USA TODAY Sports
The Leafs were looking to put an end to their first regulation losing streak of the season with a win tonight, and very well played like they didn't want to, but unfortunately for them, some opportunistic scoring from the Winnipeg Jets and Connor Hellebuyck played like the reigning Vezina trophy winner saw them lose three straight regulation games for the first time in the Sheldon Keefe era.
The Leafs started out strong, as Zach Hyman opened the scoring with a fantastic goal, skating end to end before burying it on the backhand past Hellebuyck. Seriously, who is this guy?
The Jets would tie it up on the power play shortly after though, as a Neal Pionk slapshot from the point would get deflected by Andrew Copp past Andersen to tie up the game just like that.
The Leafs would get a power play goal of their own later in the period though, as the birthday boy Morgan Rielly would take a wrist shot from the point that Auston Matthews would deflect in front of the net to make it 2-1, scoring his first goal in five games.
That wouldn't be Matthews only deflection goal, as in the second period he would deflect a Josh Morrissey shot off the leg, and past Andersen to tie the game for the Jets. Yes, you read that right, he scored on his own net. Tough bounce, but still kind of incredible considering how he pulled it off.
The Jets wouldn't stop there, as they would capitalize on a brutal line change late in the second to catch the Leafs off guard, and Nikolaj Ehlers would make an excellent pass to Kyle Connor in front of the net to make it 3-2 Jets going into the intermission.
The Leafs would pressure hard out of the gate in the third, desperate for that game tying goal, getting chance after chance while Hellebuyck wouldn't budge, which would make it all the more deflating when Mason Appleton would sneak one around Frederik Andersen to make it 4-2. It wasn't over yet, but it sure felt like it.
The Leafs would give us a sliver of hope with just under two minutes remaining, as John Tavares would make a great feed in front to Matthews, who would score his second of the game and 20th of the season to get the Leafs back within one. It wouldn't be enough, as the Leafs couldn't get another one past Hellebuyck and lose 4-3.
Most Valuable Leaf: Auston Matthews
Matthews seemed to have his most normal game since returning from injury, not only getting the two goals, but also by driving play with his line, and creating a ton of scoring chances. It felt like his line should've had a lot more than two goals, and Auston was a big part of that.
Least Valuable Leaf: Frederik Andersen
On one hand, I don't think I can really blame just Freddie for any of those goals tonight, as they all came off of deflections or ugly plays from the team in front of him. But, a good goalie stops more than just the ones he's supposed to, so it'd be nice if he had literally just stopped one of those, because the Leafs at least get a point then.
Tweet of the Night
Take a deep breath Leafs Nation, it could be much, much worse.
What's Next?
The Leafs look to tie the three game series with another game against the Jets on Thursday night. You can catch the game on TSN4, with a 7:00pm start time.