The good, bad and the ugly from the Maple Leafs' first five games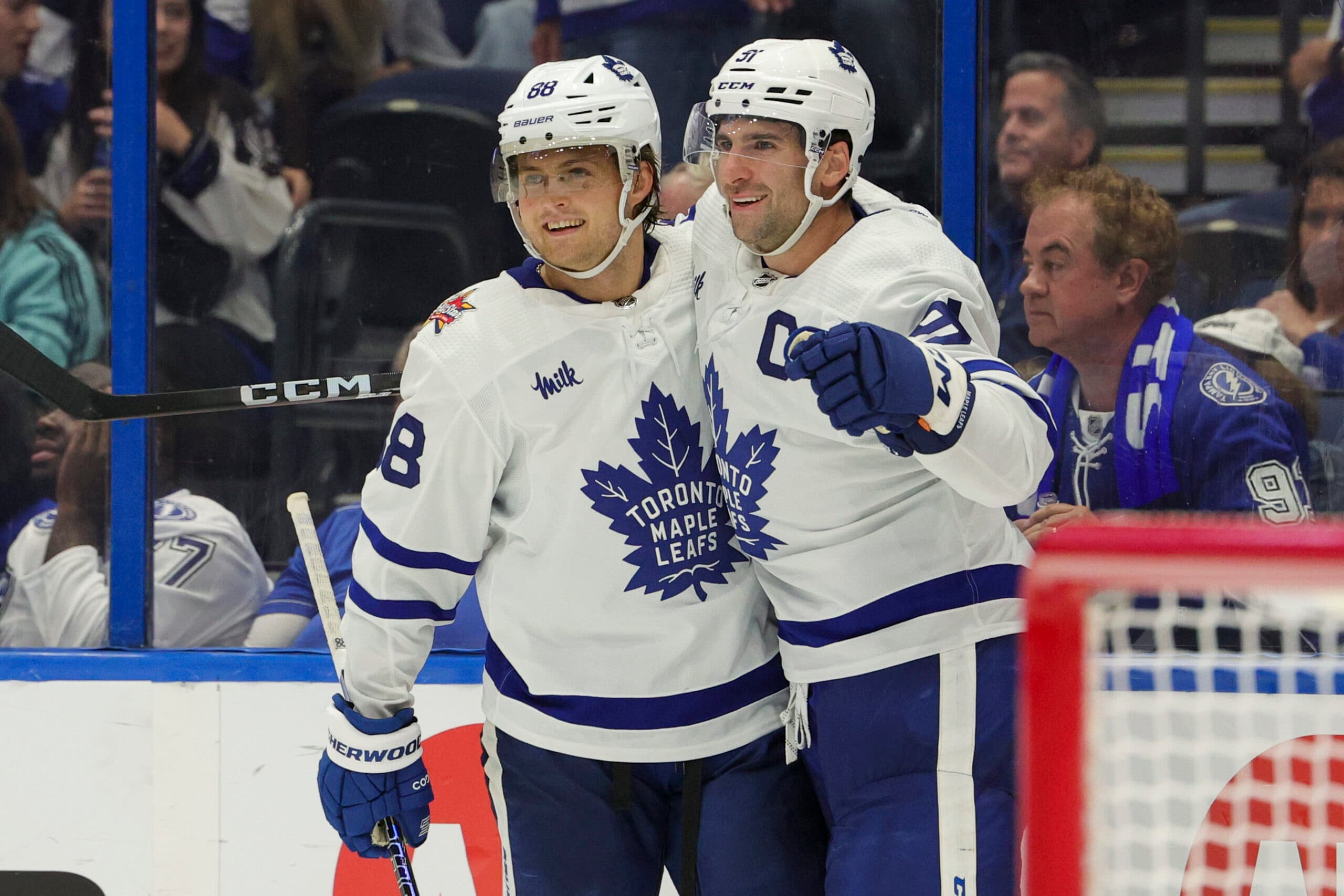 Photo credit:Nathan Ray Seebeck-USA TODAY Sports
The Toronto Maple Leafs are off to a 3-2-0 start to the 2023-24 season. Head coach Sheldon Keefe has had his
hands full early
trying to get everyone settled into their new roles and with new teammates and surely, it's been easier for some than others.
It's been an interesting start in Toronto and there's no doubt if anything, this will be an entertaining year for Leafs Nation. Here's the good, bad and ugly from the Maple Leafs' first five games:
Lots of Good to Go Around
Maple Leafs Dynamic Duo: Through five games William Nylander and John Tavares have combined for 18 points. The two Leafs vets have battled storylines in training camp about moving to centre, or eventually moving to the wing if you're the team's captain, but that's all been thrown out the window. Nylander has looked elite to start the year and is as engaged as we've ever seen him as a Leaf. His ability to protect the puck, retrieve pucks in his own end and be a sense of calm is so impressive. Note to Leafs GM Brad Treliving – you may want to get Brinks on the phone soon.
As for Tavares, he's looked fresh, healthy and continues to produce in blue and white. The Leafs captain puts in the workday in and day out and is the perfect leader for this team. He's become a great mentor to the likes of Fraser Minten and Matthew Knies, and he takes his job as captain very seriously. Toronto continues to be in very good hands with #91 leading the way.
Papi Power: Of course, Auston Matthews also needs to be mentioned here. Back-to-back hat-tricks is so impressive, and he's put all the wrist issues behind him and looks ready for another Hart trophy type of season. The thing is, it could be much more than that for Matthews. Given his penalty killing is now on full display and his defensive awareness which continues to grow 5vs5, Matthews could be in the Selke conversation this season. Add that to the Hart, Rocket and potentially the Art Ross trophy and this has the makings of one of the best seasons in NHL history. Again, it's only been five games and Matthews hasn't scored in his last three, but he's off to a fine start on both sides of the puck. Worth noting, he also leads the team in hits with 12.
Brick Woll: The last of the good would be the strong play of goaltender Joseph Woll. The 25-year-old netminder currently has the crease for the Leafs and is scheduled to start their next game against the Washington Capitals on Tuesday. Woll has posted a 1.69 goals-against average and .949 save percentage through his two appearances and appears set to take the next step as a number one goaltender in the league. At only $766,667 against the cap this season and next, Woll's contract is a great bargain for Treliving and the Leafs.
Certainly Some Bad Through the First Five
Sammy's Start:
While Woll has been lights out early, the same cannot be said for
Ilya Samsonov
. The Russian netminder looked horrible against the Tampa Bay Lightning, letting in three goals on four shots. The game before two goals were scored and he didn't even see the shot. It's been a really tough go early on for a guy who was supposed to be the Leafs number one this season. No, there's no need to panic just yet, but it's also realistic to think Woll is going to push Samsonov all season long and frankly could push him out the door.
Maple Leafs Defence:
The likes of Jake McCabe, Timothy Liljegren and
John Klingberg
are off to very mild starts to say the least. Klingberg's been able to at least chip in on the scoresheet and looks comfortable on the power play, but yes, his puck management has been terrible to start the season.
McCabe and Liljegren haven't been strong either, with or without the puck. McCabe has been the Leafs worst defencemen and will need to get his act in gear if he wants to finish the season in Toronto. There's no denying then fact Treliving will look to upgrade on the blue line before the trade deadline in March and there will be at least one Leafs defender heading out the door.
Liljegren, like McCabe, has yet to record a point, which is worrisome considering he's seeing decent minutes on the Leafs second power-play unit and is playing close to 20 minutes a night. He needs to shoot the puck more and make an effort to join the rush. McCabe on the other hand needs to realize he's supposed to be the pivotal physical defensive defencemen Toronto has longed for. Hopefully the next five are better than the first five for these three.
Once Again an Ugly Night in Florida
During the Stanley Cup Playoffs last season, Matthew Knies was body slammed by Sam Bennett of the Panthers and nobody did a thing for the Leafs. They went out and signed Ryan Reaves, the league's most intimidating enforcer and things were supposed to change. They haven't and it was evident in Florida recently.
William Nylander was crosschecked from behind during the latest matchup versus the Panthers and nobody did a damn thing. Reaves just looked the other way throughout the rest of the game when he should have been the one instigating a fight next chance, he was on the ice with the Panthers defenseman and sent a message to the entire team this stuff wasn't going to fly anymore.
Reaves missed his chance and let's just say if he's not playing security guard, why is he here? And for two more seasons?
Nevertheless, the Leafs are off to a decent start and there's a lot to like about what could go on this season. Everyone continues to get settled in and as the Leafs continue their current road trip, look for things to get tightened up on the ice as they continue to work towards becoming a finished product in time for when the games really matter.