'The best thing about him is he doesn't pretend to know you.': How Greg Moore's persona fits some of the changes needed in hockey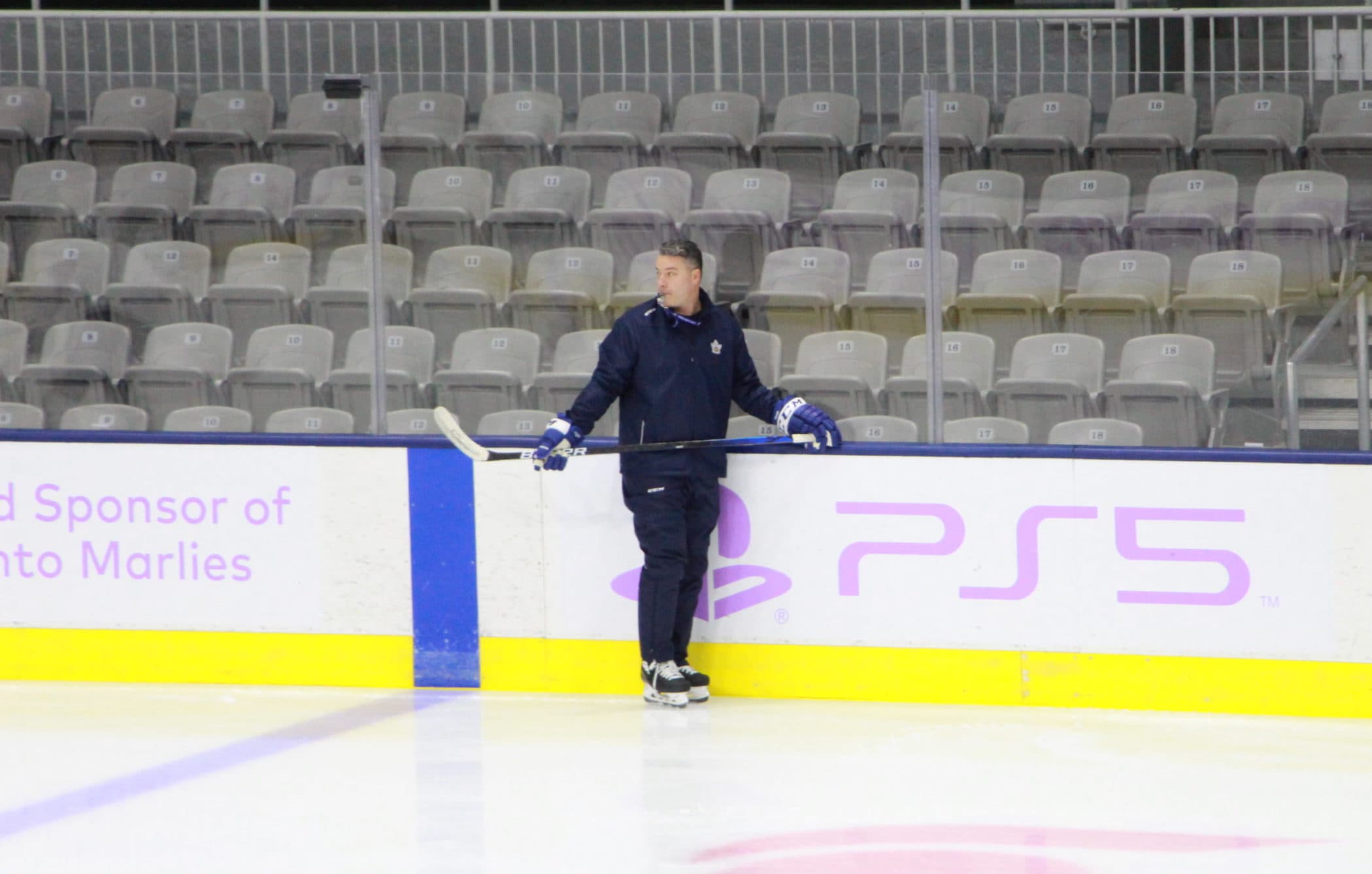 Photo credit:Nick Barden
"A rising tide lifts all ships."
At 17-years-old, Greg Moore knew that coaching was in his future.
He didn't know where or when, but at the time, he knew that after his playing career was over, he wanted to get into coaching.
And that's what he did.
"When I was 17-years-old, I was playing at the US National program which is in Michigan. I was playing for Mike Eaves, and John Hynes at the time was his assistant. It was playing for those two that really motivated me to want to coach when I was done with my playing career." Moore said.

"Just when hockey was over, I thought for a career, I wanted to be a hockey coach based off of just how good those two were at bringing a team together, building a culture, organizing ourselves in the game of hockey, in life, and the mentorship and things that they taught us in and around the game of hockey that prepared us for life. It was very distinct that year that I knew from my experience playing for them that I wanted to coach."
Moore's professional hockey career, though, began long before 2019. Being drafted by the Calgary Flames in 2003, Moore spent his minor hockey years at the University of Maine. He then played five years bouncing between the NHL and AHL as a player before playing in Germany. He finished his playing career in 2015, playing in 10 NHL games and 377 AHL games.
After his playing career, Moore spent three seasons as an assistant coach in USA Hockey's National Team Development Program. It was part of his journey to develop into both the coach and the person he is today.
"We have gotten to know Greg even further past the National program because of the fact that when he was coaching in the National program for a little bit, as an assistant, he lived at our son, Patrick's [Eaves] house in Detroit." Said Moore's former coach, Mike Eaves. "Patrick had played for the Red Wings — I think he was there five years, and Greg kind of lived in the house and took care of it for him. So, when we would come to town, we would have dinner and even get to know more about him."

"So, we go back a ways, but just as a person, I would say, I think he's really honest. I think that's the way he would coach — I think he would tell the truth to his players because that's who he is as a human being. Coming to know him as a human being, I think that's one of the things that stands out is that he wouldn't be afraid to share the truth with you because in the long run, that's gonna be the best way to handle business."
In 2018, Chicago Steel hired him as their head coach. Moore coached there until shortly after the Leafs fired Mike Babcock. Kyle Dubas brought in Sheldon Keefe as the Leafs' head coach.
And then, Moore was hired.
At 35-years-old, he was the head coach of arguably the most prominent hockey team in the world's AHL affiliate.
"I don't know if I'm the personality that shows it a lot, but I was really excited to get started today," said Moore, who dawned a massive smile after his first practice in Toronto. "I kind of like the environment that's been built here with the music and the ping pong, and the meetings and stuff. It's been a really good start, and something different for me, but I'm welcoming it and it's been really positive."
A few months in, and the pandemic happened. Hockey was at a standstill. Yet still, Moore knew he had a job to do, and although it was amid a pandemic, he was excited.
"We got to talk last year during the COVID year in Toronto and we talked out in the hallway between the two locker rooms. You know, he was so excited, but knew it was going to be a big challenge," said Eaves, who now is the head coach of the AHL's Cleveland Monsters, "they say, 'If you can make it in New York, you can make it anywhere.' In the hockey world, you make it in Toronto, you can make it anywhere. He knew he had a big task at hand, but he had done the homework, he had done the work previous in the USHL and felt he was ready for this, and was really looking forward to it."
And after a year and a half, Moore is finally getting his first full year behind the bench of the Toronto Marlies.
"For me, personally, it's more fulfilling and more rewarding when you can help guys get to the next level or help guys improve in what they love to do." Moore explained of what coaching in the AHL feels like.
Spending time around the Marlies, you can see how passionate he is. Moore can have a fiery side to him but also has a kindhearted side too. The 37-year-old also relates to the players because he, too, played professional hockey. Moore wants to treat the players as what they are — human beings.
"Being a player myself, whenever people would ask me who my favourite coaches were, the names that would come to mind are always the people I genuinely felt cared about me as a person while they were coaching me." Moore said. "Not just using me as another pawn inside the game of chess in the game of hockey."

"So just reflecting on that, and knowing that as a coach, I want to build the relationships and make sure that we're trying to get the best out of these guys, and for them to buy into what we're doing, there's gotta be a level of trust on a human level. So, knowing that if our jobs are to motivate and help improve these guys in the game of hockey, and we need buy-in to get them to do that, connecting with them as people outside of the game of hockey is just as important."
One of the elements that caught Eaves' eye while he was coaching him was his work ethic. It's something Moore had at 17-years-old, and he's still got it right now.
"I know that if he needs to be there at 6 and get home at midnight, to get the job done — which we all kind of do as young coaches — he will do that." Eaves said. "He will do whatever is necessary in terms of time, but I think that more importantly, who he is as a person will serve him well because I think his players will see that. And in the long run, I think that an important factor for Greg, is that he wants best for the players because in the end, what's best for the players is gonna help the team be successful."
Spending that much time at the arena shows how committed he is to making the best version of a team. At times, though, you get burnt out, and it's always good to take a break. But if Moore gets the time to himself, what does he do?
"In the summer, it's golf. I love being outside. I love the challenge of the sport itself. But a big piece of it is enjoying the outdoors." Said Moore. "Nine months of the season, maybe more than that, we're in cold ice rinks with walls, very little windows, so for me personally, it's nice to just reconnect with the earth, feel my feet in the grass, hit the ball around."
Moore has spoken about how important it is to converse with people. Whether that be with family, friends, or even coworkers — communicating is crucial. It helps strengthen their bond, and in return, your relationships are stronger because of it. When everything is more robust, your work becomes better, and you can achieve your goals.
I asked the Marlies head coach to define himself — tell us who he is. It's a loaded question, but it allows someone to think about it and give their full thoughts of who they are.
Moore paused and thought about it for over a minute before giving his answer.
"A competitive person who enjoys the process of connecting with people and finding a way to get better each day." He said.
Moore wants to connect with everyone. He discovered that about himself more recently.
"I think everybody goes through their life experiencing different events and different things. It was probably these last seven years of my thirties, as you get older you're always just self-reflecting about your life, and what true happiness means and what it is." Moore said.

"I don't think anybody stops doing that until the very end, but the more you live life, the more perspective you have. You start to grow your own opinions of what really brings you value, and just the last seven years, based on my life events and my personal life, I've just strongly come to the conclusion of how enriched my life feels when I have stronger relationships, whether it's family, friends, or coworkers. That's something I focus on a lot, it brings me a lot of joy."
It's incredible to see how much it's helped Moore as a coach, too. As a head coach, you want to win, but you also want the best out of your players. Building those relationships can go a long way in getting a player to play well.
Moore isn't focusing on himself — he's focusing on everyone around him.
"As a player, I felt as though a lot of your — and this isn't everybody, I think it's more what I've reflected about myself is — it's all about when my workout is, 'When's my pre-game nap? When's my pre-game meal? I gotta make sure I get my sleep tonight.' It was so self-centred in my career what I'm doing — not that I didn't care about people around me, I did. But a lot of your internal dialogue or thought in your head was more inward, where now as a coach, there's not a moment I think when lunch is or when I'm doing x, y, or z for myself."

"It's 'What does this player need? I wanna talk to this player, I wanna ask this player this question. What does our staff need? What does our staff need to work on?' Like everything I'm doing in this role is to help other people be better at what they're doing and it's such a fulfilling thing to help others, and it's something I've learnt through my coaching process that I feel just feel is rewarding compared to maybe what my mindset was when I played." Moore said.
Building those relationships go a long way, and the players see that.
"The best thing about him is he doesn't pretend to know you." Said Marlies goaltender, Michael Hutchinson. "He's still learning, he's wanting to learn, he's the same as all the guys coming here to the rink every day. He's not afraid to ask guys questions about what they see, what they feel, and trying to improve himself."
Improving himself every day is the most valuable thing to Moore. It's not about where he'll be in five years or even getting to the NHL. Getting better today is everything for him.
"It's a good question that a lot of people have asked along the last seven years." Moore said. "Since I got into coaching, I have never had a predetermined thought as to where I need to be or what level I need to coach at, or want to coach at. I'm naturally a competitive person, and I demand a lot of myself. So, I'm looking to get better every day, I'm enjoying where I'm at in the moments. The opportunities that have come my way to date is a product of me just wanting to get better each day. I knew when I was at USA after a couple of years that I wanted to get into pro hockey versus college hockey, but that has been, really, the only determined thought that I've had, or opinion I've had in terms of direction of my career."

"Even at this point, I love being here with the Marlies, I love our organization, I love coaching this level — I have no aspiration or thought right now as to where I need to be in five years as I'm getting better today."