'He's got everybody pulling the rope together': How Greg Moore's coaching experience turned him into an AHL All-Star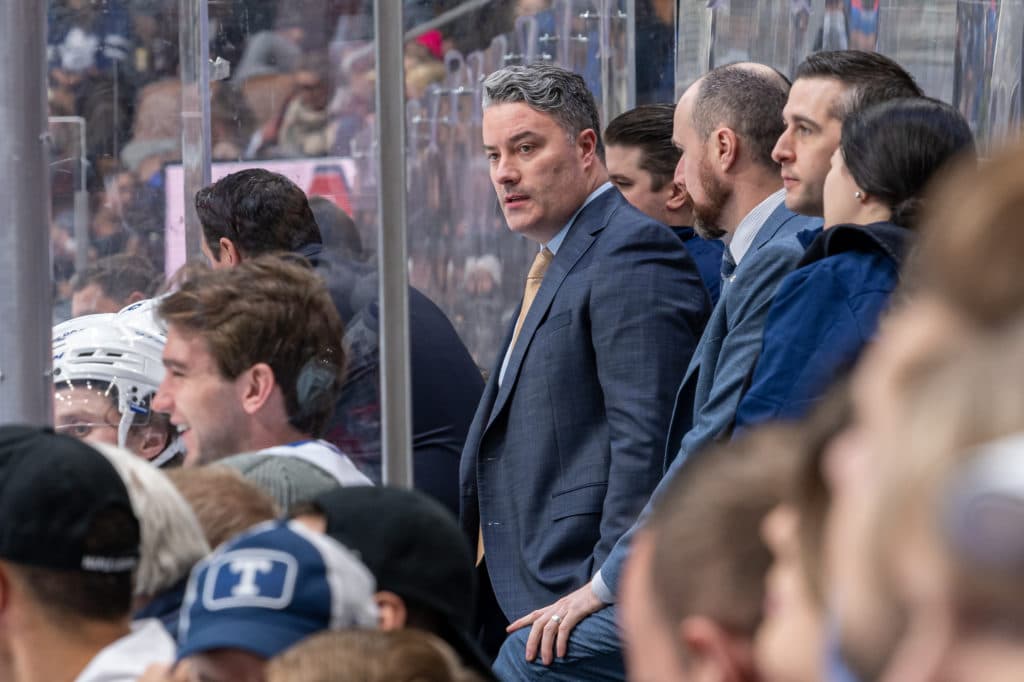 Photo credit:Marlies.ca
Expectations couldn't have been higher for Toronto Marlies head coach Greg Moore entering this season.
A pandemic and a shortened season were the beginning of his professional coaching career. A clear bout of adversity that didn't stop there.
Moore finally got his first taste of a full AHL season behind the bench last last year. It was filled with ups and downs, but the worst came at the end of the year when the Marlies just missed out on the Calder Cup playoffs, placing sixth out of seven teams in the AHL's North Division.
Experience can lead to a lot of good in some and a lot of bad in others. To work in hockey and be talented in what you do, you need to come out of an experience with a better mindset and more tools to understand what to do if in that experience again.
Since that quote, Moore has led the Marlies to a 30-12-1-1 record, good enough for first in the North Division and third in the entire league.
"I think the big thing I've noticed is his emotions, and how he handles things have definitely taken a big improvement." Alex Steeves told me about Moore last week. "And I think that just comes with experience.
"By now, he's experienced pretty much anything that can happen in a game, so he's been there before whenever something happens.
"There's been a couple times this year, like in the third period, where maybe things aren't going our way and he's telling the bench to stay calm and stuff like that and have that belief that we're a good team. And we've ended up winning those games.
"So, I think a lot of the coach's role is managing people and I think he's just done a better job of being able to manage the emotions in a game and maybe the emotions of a player and I think in terms of team success, I think we've definitely had a lot more success this year than last year because of that."
We arrive back at that word again: Experience. It's your biggest teacher. But it can also be a major enemy when you're going through a bout of adversity.
Moore related it back to playing professional hockey saying it's "much like being a pro."
"There's highs and lows in your career, or in a season, and there's always going to be moments where you might question things or not feel as confident, it's certain in coaching that it's the same." Moore said in a one-on-one interview in January.
"There's times where you're confident in what's going on and how things are going, and there's times where you're questioning or trying to find solutions to doing things differently or finding a different way when things aren't working."
A lot of being a coach is problem solving. When things aren't going right, how can you fix them? It's about weaving your way through difficulty and finding solutions to come out on the better side of a situation.
"That's what's so fun about our jobs is, like, it's not like we come in and just cookie cut the same thing every day." Moore said. "Every day there's something new and different to problem solve and that's what makes it different and exciting, whether it's individual players or our own team play or strategy against an opponent.
"There's always adjustments to make and I've always looked at it more about not lacking confidence or questioning anything as it's what's the next opportunity to improve and get better."
Joseph Blandisi has played for a lot of coaches throughout his career in the NHL and AHL. He was here last season when the Marlies just missed out on the playoffs, and he's with the team now when they're having success.
Even he's seen improvement from Moore after the disappointment of last season.
"I think he's definitely got a good wrap on us this year," Blandisi said. "He's shown a lot of growth in himself, I think coming into this year. He's got everybody pulling the rope together. Our structure is strong and I think he's made this environment a happy place to be and I think everybody's enjoying themselves."
Adam Gaudette agrees.
"He's an easy guy to play for," he said. "He gets along great with all the guys. It's a tight-knit group, even with the coaches and the players.
"So it's always easy to play for a guy like that. It's tough when you got a coach on your neck and on your back the whole time yelling at you and he's not like that. He helps us players, he coaches them and guides them, and as a player that's what you want in a coach."
One player that's known Moore for a long time is current Marlie Nick Abruzzese, who first experienced his coaching back in 2018 with the USHL's Chicago Steel.
What has stood out to Abruzzese about Moore's coaching at the professional level?
"I feel like he's doing a really good job of communicating the message of trying to build the culture here." Said the 23-year-old.
"One of the things that I've always enjoyed playing for him is he's a really good teacher. It's really good for someone like me who's trying to come in and just continue to get better."
As I learned more about Moore throughout last season, whether it be through his coaching or just speaking to him, one thing was abundantly clear: he cares about the person off the ice just as much as the player on the ice.
That's a tool, to me, that can bring out the most success in individuals. If you're reading this, I'm sure there's been a moment in your life where you've worked for someone you don't like. There's likely also been a boss you have liked working for.
When people are being led by someone who cares about the person as much as the work, results come.
And we're beginning to see that with Moore now.
"I think anytime you can have a relationship with your coach outside of hockey in some capacity is healthy." Steeves said. "This is our job and we are paid to perform, both coaches and players, but at the same time, it's always nice to remember that we're people with real feelings and we do regular things, too.
"I think if you know more about a person outside of the rink, it prepares you better to be a colleague of theirs at the rink, and you know more about them in how they might react to certain things – maybe what their interests are so you don't have to constantly be talking about hockey. So, I definitely think it goes a long way."
The results have led Moore to his second-career AHL All-Star experience, his first as a coach, though.
It's recognition that the 38-year-old is headed in the right direction in terms of his coaching career. And although he might say it has a lot to do with the players (which it does), it has just as much to do with him too.
"It means a great deal," Moore said. "You'd hope over the course of time, coming from this level, that you improve in what you're doing and get better at everything that comes with the job.
"We're all a piece of everything good that's going on here right now, but I am excited and honoured for the recognition."