Hildeby snags first AHL shutout, Cowan keeps scoring, Steeves wants a job: Leafs Prospect Roundup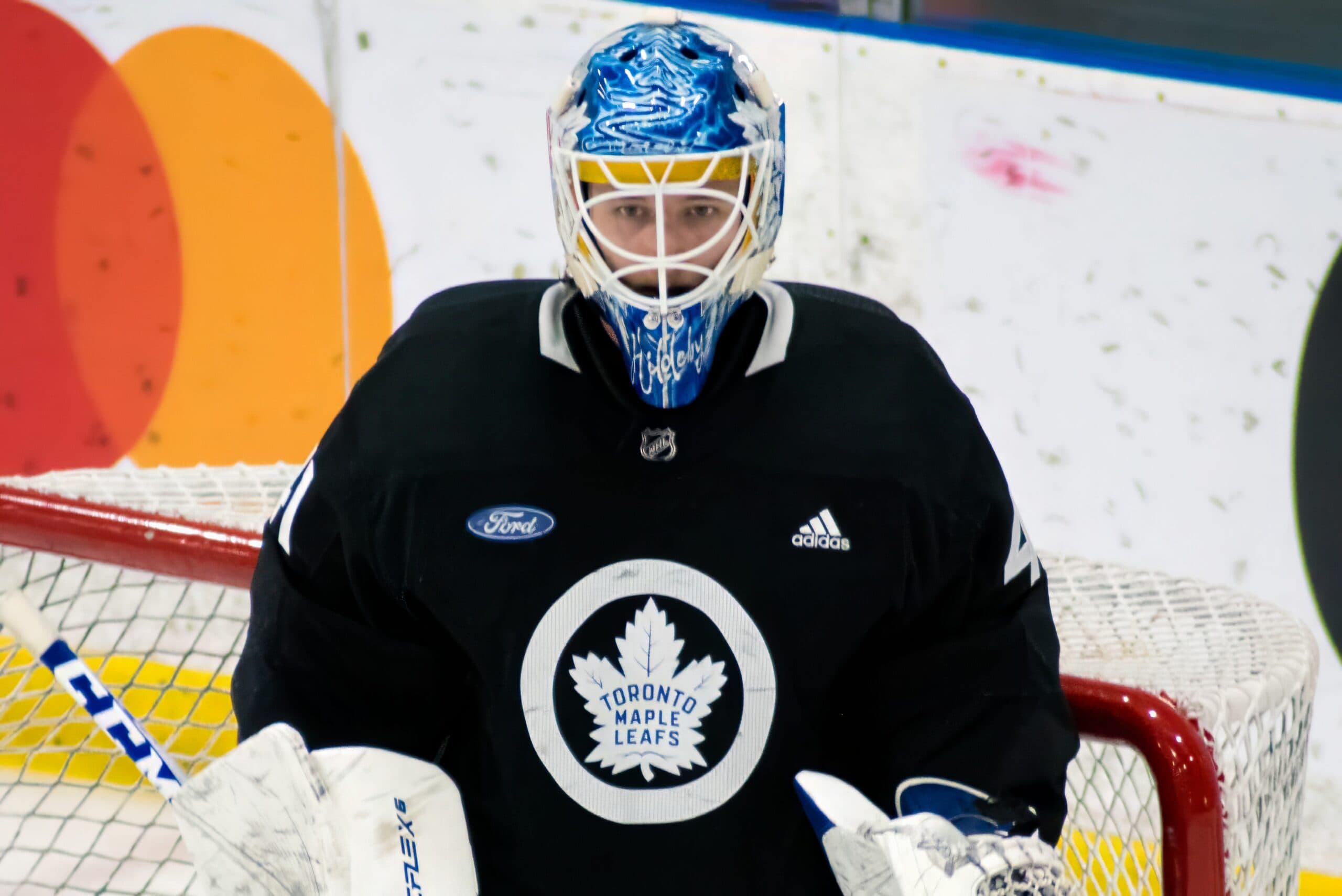 Photo credit:(Photo from Steven Ellis/Daily Faceoff)
In recent years, the Toronto Maple Leafs have upped their efforts to pad the prospect pool with homegrown goalie talents. Before Joseph Woll, the last homegrown Leafs goaltender to regularly start games for the team was James Reimer, who hasn't been with the team since 2016. 
They selected a pair of long-term projects out of Russia in Artur Akhtyamov (4th round, 106th overall in 2020) and Vyacheslav Peksa (6th round, 185th overall in 2021), but it was one of their 2022 draft picks who could be seeing NHL action sooner rather than later. 
Sandwiched in between two drafts with only three picks apiece, the Maple Leafs selected five players in the 2022 NHL Draft. One of those players was goaltender Dennis Hildeby. While he was an overager at the time, he had posted very impressive numbers in both Sweden's junior league as well as the SHL. Not to mention he stood at 6-foot-7, which will always get you a couple extra looks from scouts if you're a goaltender. 
While Hildeby's ceiling in comparison to Akhtyamov and Peksa remains to be seen, he was selected and promptly brought over to North America because he's got the most experience playing against pros and is closer to being NHL ready than the other two. He almost immediately signed an entry-level contract and then proved that his draft year wasn't a fluke, finishing the 2022-23 season with a record of 11-9-0 to go with a goals against average (GAA) of 2.26 and a save percentage (SV%) of .918 for Farjestad BK of the SHL. 
Hildeby came to Canada for the 2023-24 season with the intention of splitting starts with Keith Petruzzelli, and with Martin Jones now under contract with the team, there's been some real competition for the Marlies' crease. While three games is far too little of a sample size to take any real judgments from, it's worth mentioning that Hildeby grabbed his first AHL shutout this past Saturday night. 
After allowing three and two goals in his first two starts, respectively, Hildeby stopped 26 of 26 shots on the road against the Laval Rocket, AHL affiliate of the Montreal Canadiens. It was also his first AHL win in addition to his first shutout, and brought the Marlies' record to 5-2-2 on the season, good for third in the North Division behind the Cleveland Monsters (Columbus) and Rochester Americans (Buffalo). The win gives Hildeby a record of 1-1-1 with a .935 SV% and a 1.68 GAA. 
He also earned the praise of Marlies head coach John Gruden, citing a well-rounded team response after the team's 5-0 win against Laval.
"We really liked the response. I mean, our young defenceman, and the leadership we got from our guys, and then the stops from Hildy, it was a well-rounded effort and I liked a lot about our effort, so it was good to see"
. 
Anybody who analyzes hockey players, prospects or NHLers alike, knows that three games isn't enough of a sample size to take anything meaningful from. That said, when you look at Hildeby's season-by-season stats and consistently see save percentages in the realm of .920-.935, and goals-against-averages in the 2s and 1s, at some point you have to ask when it stops being a coincidence. He's consistently put up great numbers over the course of his career, and his combination of mobility and calmness in the crease is something that will come into consideration if the Leafs end up having their own issues with keeping their netminders healthy. 
With the Marlies carrying Hildeby, Jones, and Petruzzelli on the roster, he's been getting one start every three games to begin the season. I'd imagine this will stay the same, with the ones who perform the best getting the edge down the stretch as you would expect. Either way, a promising start for the young Swede and something everyone hopes will continue. 
News from the rest of the prospect pool:
One player who hasn't been getting the recognition he probably should be is defenceman Noah Chadwick, who was drafted by the Maple Leafs in the sixth round of the most recent draft. The 6-foot-4 blueliner was said to have some sneaky offensive potential despite limited contributions on the scoresheet last season, with only 20 points in 67 games for the WHL's Lethbridge Hurricanes last season. We're only a little over a month into the 2023-24 campaign and Chadwick is already only six points off of his career high, with four goals and 14 points in 16 games so far. He could be a steal, or he could be another Andrew Nielsen. Time will tell, but a pleasant surprise to start the year.
Fraser Minten was the most surprising story of the preseason by far. Although he had a strong development camp, rookie tournament, and had stood out in preseason, I don't think there was anybody who expected him to line up for his NHL debut in 2023-24. While they only kept him around for four games, the good vibes have stuck with him in his return to the WHL's Kamloops Blazers. Minten was recently named captain of the team, and scored his first goal of the season in a 3-2 shootout loss to the Vancouver Giants. Having him return to the WHL to dominate for a year was always the best long-term plan for Minten, and it's good to see him take advantage of the opportunity.
Braden Kressler was signed to an entry-level contract in the summer of 2021 after a strong development camp despite going undrafted a month before. The 20-year-old is back with the OHL's Flint Firebirds for his overage season and has been on fire to start the season. He just registered his fifth-straight multi-point game on Saturday night, with one goal, three assists, and a phenomenal celly bringing him to 17 points in 12 games to start the season. Kressler sometimes gets lost in the discussion among Leafs prospects, but he's a hardworking prospect who's had to grind his way into an NHL organization. Sometimes those players make the best NHLers down the road.
Easton Cowan is still steadfast on his mission to prove any skeptics wrong after he was drafted 28th overall by the Maple Leafs despite being ranked between the second and third round. He already made a strong effort with his preseason performance, but he hasn't missed a beat since rejoining the OHL's London Knights. He registered two goals in two assists in two games this weekend, bringing his season total to seven goals and 18 points in ten games. He's now second on his team in scoring despite having played five less games than his teammates. 
Brandon Lisowsky added another three points in three games for the WHL's Saskatoon Blades this week, bringing him to nine goals and 18 points in 16 games on the season so far. He's coming off of back-to-back 30-plus-goal seasons for the Blades, and while there are areas of his game that prevent him from being higher on the Leafs' prospect rankings, he's proven to be one of the best pure goal scoring talents in the system. The Blades are off to a solid start to the year, with a record of 11-5-0 putting them second in the Eastern Conference.
Hudson Malinoski and Providence College took on New Hampshire for a back-to-back this past weekend, with the Leafs' fifth round pick in 2023 up to six points in nine games so far. Not a lot of people knew the 6-foot-tall centre's name when the Leafs selected him, mostly due to a terrifying off-ice injury that halted his development when he was 14. Keep an eye on this kid as somebody who could skyrocket through the system over the next couple of years. 
Nick Robertson is once again front and centre at the discussion about call-up candidates on the Marlies, leading the team in points with five goals in 11 points in nine games so far. That said, you have to imagine that Alex Steeves is wondering what he has to do to get a proper look with the big club. He's off to a blazing start in 2023-24, scoring two goals and adding an assist in the back-to-back against Laval this past weekend, bringing him to six goals and ten points in nine games. With 51 points in 65 games last season and 48 in 56 the year before, he's clearly outgrown his AHL role and likely deserved a spot on the team last season; they just haven't had the space.