How Bobby McMann is earning the trust of the Maple Leafs' coaching staff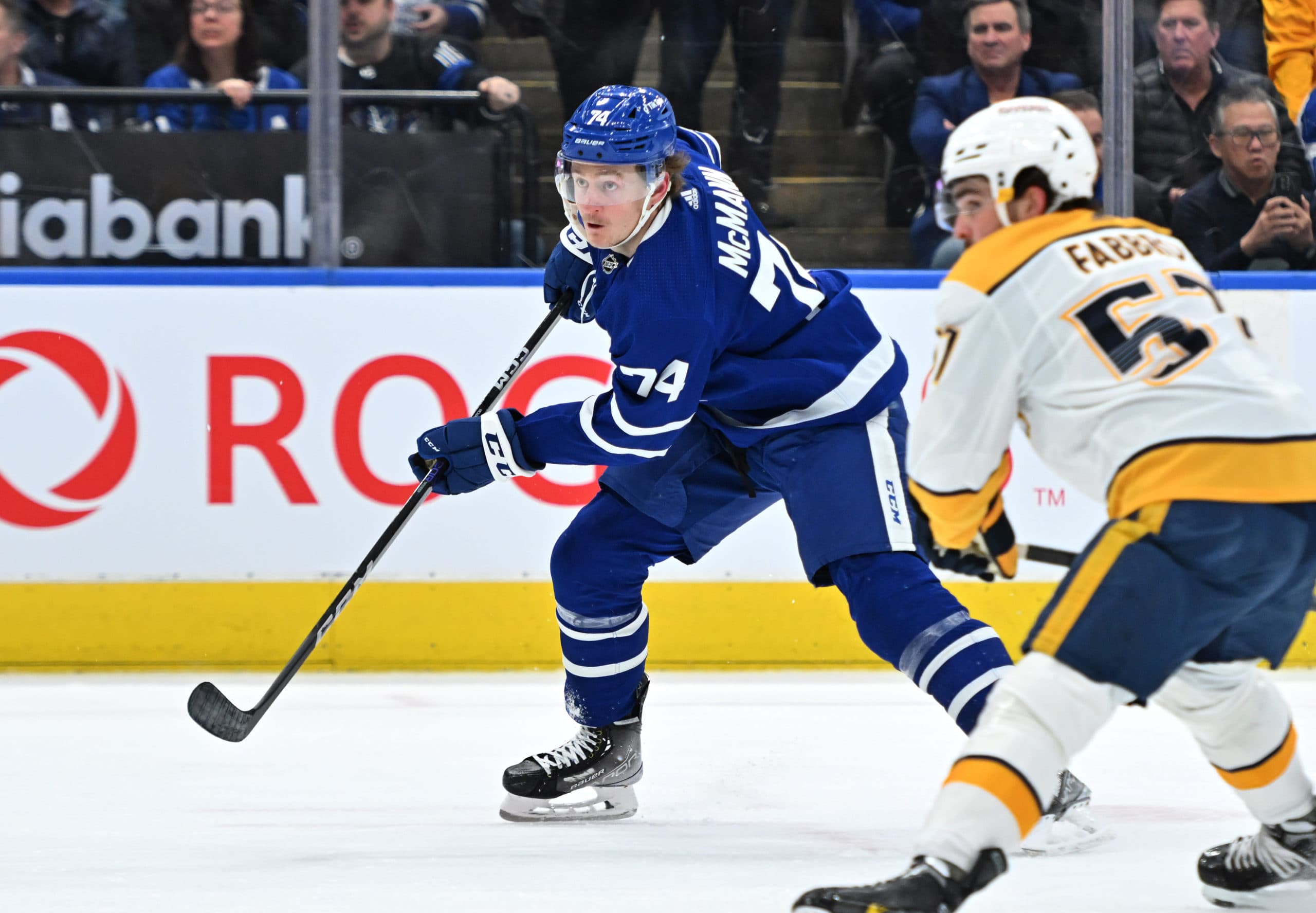 Photo credit:Dan Hamilton-USA TODAY Sports
To say Bobby McMann's first week up with the Maple Leafs was a whirlwind would likely be an understatement.
First, he gets the call. Then, he takes in his first NHL morning skate. After that, McMann is told that his father will be coming on the Maple Leafs' dads trip. The 26-year-old then steps into his first two NHL games and pots his first-career NHL goal against Detroit.
Or so he thought.
McMann has brought a tremendous amount of wealth to this Maple Leafs team in the early going. Speed, skill, sheer strength on and off the puck — the 26-year-old has been valued for all of those reasons with the Marlies and he's finally getting the runway in the NHL to show it.
In both games, McMann has played on Toronto's third line alongside Pierre Engvall and David Kampf. Three players with very indistinguishable styles of play. And it's worked out well for the trio in the two games they've spent together.
"I think there's a similar skillset and there was a couple times in practice between 47 (Engvall) and 74 (McMann) that was throwing me off a little bit — tall left-handers," Keefe laughed. "So, it's nice to have another guy like that, and we've liked what we've seen from him."
The 26-year-old has done just about everything right since coming up from the Marlies for his first NHL stint. Standing at six-foot-two and weighing in at 208 pounds, McMann's height and strength is really something that allows him to succeed in this league.
Look at the clip above for an example. McMann makes a subtle one-handed play to get the puck to Alex Kerfoot before receiving it back after speeding up the ice. The 26-year-old then dives and makes an incredible swiping play to set up a scoring chance.
The play won't ever die on McMann's stick, it'll just keep going.
A perfect definition of this, and I unfortunately have to show it, comes on the 26-year-old's first NHL goal that was eventually called back.
First, see how McMann staves off a check from Dominik Kubalik and then circles his body back for the puck. After that, he wins multiple puck battles with one hand on his stick before throwing it to the net.
We obviously remember the rest — he kicks it to his stick but it goes off another player and in — eventually having the goal called back. But these two clips showcase why he belongs in this league, and not the American Hockey League.
And like Marlies captain Logan Shaw said: "I think he has everything that it takes to be a National Hockey League player."
Diving a bit deeper, the Wainwright, Alberta native has had some fascinating advanced stats through his first two NHL games. At five-on-five, McMann has a 60.53 CF% and a 65.74 xGF%, though he still hasn't been on for any goals for or against after nearly 21 minutes of ice time,
according to NaturalStatTrick
.
All of this will likely change with more games played, but the good thing for him is that is he's gaining more confidence for himself, and he's also securing the trust of the Maple Leafs' coaching staff.
"The size, the competitiveness, the strength on the puck — you can do a lot with that — and that's a guy you can rely on,"
Keefe said to reporters on Thursday in Detroit
. "That's why I felt comfortable putting him over the boards in the two games we've had him.
"He'll continue to go."