How Nick Robertson refined his confidence with the Marlies this season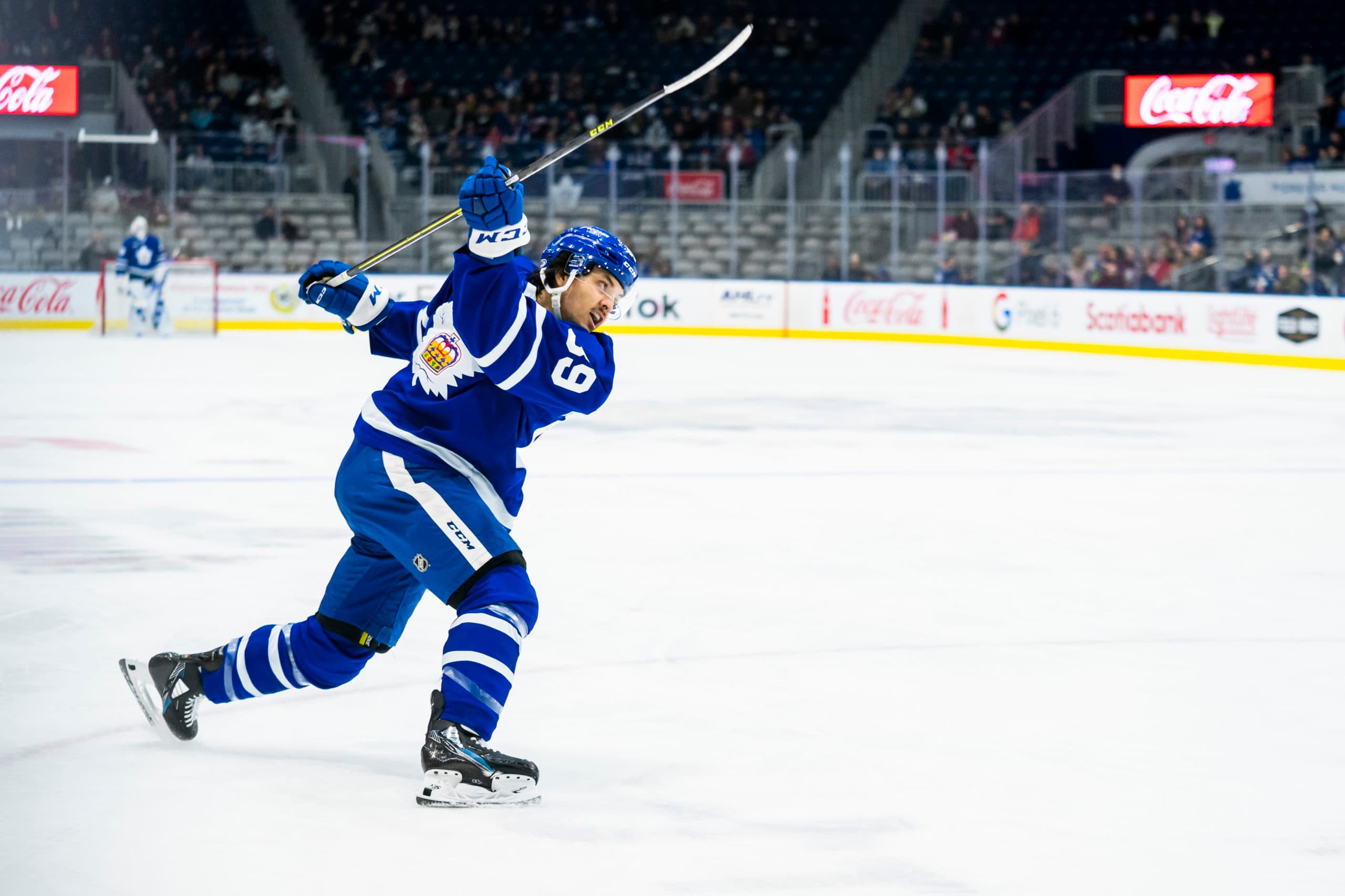 Photo credit:Thomas Skrlj / Toronto Marlies
It feels like Nick Robertson is outgrowing the AHL, yet he's only played 48 games in the past year.
When the 2021-22 season began, the 20-year-old was focused on getting a full-time role in the NHL. But after two games with the Marlies, his season was put to a halt.
A broken leg put him out for almost four months and once he returned, there wasn't a way to tell where his game would end up.
"I'm just more of an optimistic person," said Robertson back in January when he was returning from his broken leg. "The whole year of 2021 was pretty much downward then upward and now that the new year, 2022, is here, I'm trying to make this my year."
Once the 20-year-old returned to the Marlies lineup, he started to show glimpses of the player he was in the OHL. After nine games of being back in Toronto's lineup, Robertson had 11 points, five being goals.
His confidence was growing, but there was still a ways to go. For most of his season, the 20-year-old played in the Marlies top-six, but was never on Toronto's top power play unit.
With Brett Seney, Joey Anderson, Bobby McMann, Alex Steeves, and Joseph Duszak on the first unit, it left many wondering why one of the Maple Leafs' top prospects in Robertson wasn't there.
It could be that the Marlies had two strong power play units, or that Marlies head coach Greg Moore wanted to see the 20-year-old captain his own unit. With Robertson on the second power play unit, it allowed him to be the number one target to get the puck to.
And 18% of the time he got the puck and put it on goal, it would find the back of the net.
Robertson has gone up and down between units with injuries throughout the lineup, but his best play hasn't come on the power play. Only three of his 15 goals this season came during 5-on-4 opportunities.
The 20-year-old is starting to learn that he can use his small frame and speed to his advantage. Combine all of that with his hockey IQ and you have a player who's not afraid to do anything.
Robertson is starting to make all of the things he does look easy, which will evidently lead to an NHL gig down the road.
"It's high," said Robertson of his confidence a few weeks ago. "It's a lot higher than it was last year."
Since returning from his injury, the 20-year-old is averaging a point-per-game. Robertson has the confidence level to do whatever he wants with the puck because he knows he'll be able to pull it off.
"It kind of goes back to junior," he said of how it feels to have confidence. "I remember in my first year of junior, I was a little tentative. It's just reps and more repetition, the more comfortability with the staff and the team, and just age too. "
Looking back at last season, Robertson's game at the AHL level was very raw. Although he had played in an NHL game before, there needed to be more of a feeling out process.
Last season was just that.
He now puts himself in the right positions, has the ability to slow the game down instead of rushing plays, and is much more confident in his strength. Plus, he's gotten more reps with his highly-touted shot.
The clip below highlights all of that.
With the Marlies needing one more win to secure a playoff spot, Robertson is among the most important players to help them with that task. If they don't make the post-season, the 20-year-old will likely return to the Maple Leafs where he could be used in the first round.
Robertson is never satisfied with his play, though. Even with his strong play right now with the Marlies, he still wants to see more from himself.
"Hopefully I continue this confidence and even gain even more confidence."
If he can "gain even more confidence" and take his development to another level, Robertson will be a scary player to come up against once he's a full-time NHLer.
POINTSBET IS LIVE IN ONTARIO
PointsBet Canada has officially launched in Ontario! Get a $25 free bet just for 
signing up right here!