How Rich Clune cemented his legacy in the Maple Leafs organization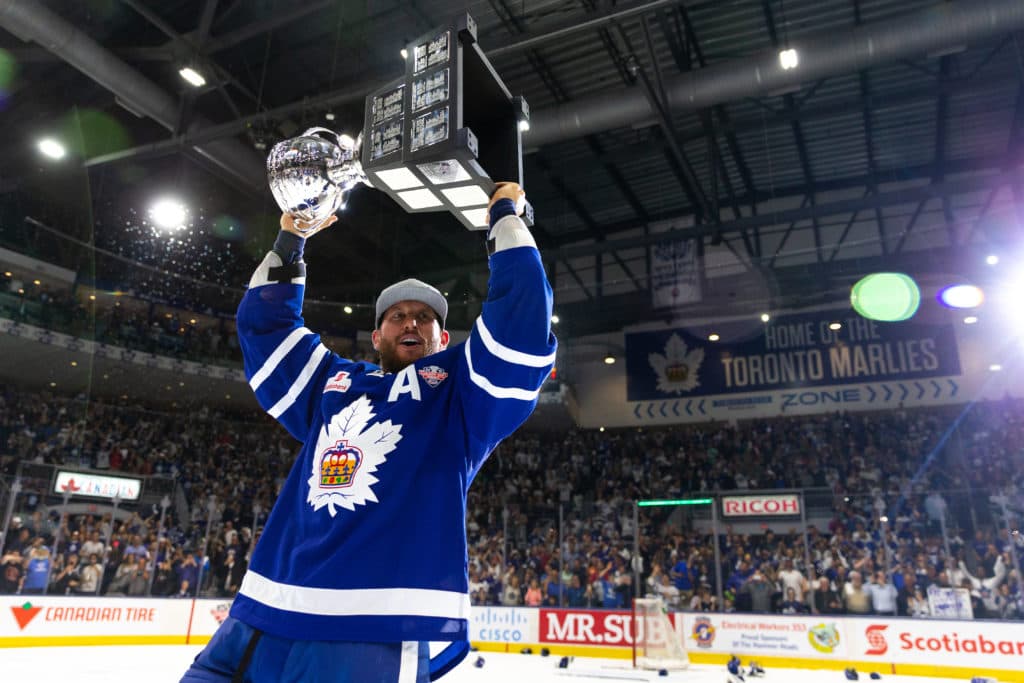 Photo credit:Marlies.ca
When Rich Clune returned home to join the Maple Leafs organization, I'm not sure he'd understand the footprint he'd leave behind seven years later.
15 seasons, eight professional teams, 624 AHL games, 143 in the NHL — the 35-year-old is entering retirement with a legacy that's going to be remembered forever.
We could say it began in 2015 when Clune returned to play for his hometown team in Toronto, but really, it started long before that. From the ages of 15-24, he faced the toughest battle of his life against alcohol and substance use disorder.
He openly told his story — something that's incredibly hard to do — to help others. Clune called it "The Battle".
"As a hockey player, you're constantly worried about what the boys think. What coach thinks. We have been taught to view words like "disease" as a weakness. I am an alcoholic. I have a disease. But I am stronger than I have ever been." Clune wrote. "I blame nobody but myself for my past, and I realize that every day I wake up to a choice: How do I want to live? I still go out with my teammates. I go to weddings. I go to the beach. I dance and laugh and party my ass off. I just don't drink anymore.
"I also do all the things that I ignored for so long. I study cinema and art and am currently shooting a short film in Los Angeles. For the first time since I went away to play professional hockey, I feel alive and happy."
A couple of days after the article was released, Clune signed an AHL contract with the Toronto Marlies, which later turned into an NHL deal with the Maple Leafs. And a few years later, he released a documentary called "
Hi, My Name is Dicky
", which highlighted his battle with alcohol and substance use disorder, similar to his article.
Year after year, Clune battled to become the best player possible. For every season spent in the AHL with the Marlies, he was a part of the leadership group. Clune was born a leader and that's incredibly clear when you witness what he does on and off the ice.
Back in 2016, he said his goal was to win a Calder Cup, and that the Marlies "were going to win a Calder Cup." He wasn't wrong.
Likely one of the biggest moments in Clune's 15-year career came that year. The Marlies and Albany Devils were battling in a Game 7 which saw the winner advance to the AHL's Eastern Conference Finals. With less than three minutes left in a tied 3-3 game, Clune did the unimaginable.
He scored the game-winning goal to send Toronto to the next round.
The Marlies would fall in the next round to the Hershey Bears, who won the series 4-1. Again, though, that didn't stop Clune from his goal of one day becoming a Calder Cup Champion. In 2016-17, Toronto was able to clinch second in the North Division, but only made it to the second round, where they were defeated by the Syracuse Crunch.
But little did the team know that in the next year, they'd make history.
In the 2017-18 season, the Marlies clinched first place in the North Division — there was high hopes. After a 3-2 series-win against Utica, Toronto pushed hard, sweeping both Syracuse and Lehigh Valley to advance to the Calder Cup Final against the Texas Stars.
Both teams battled incredibly hard pushing this series to seven games. And in their final matchup, Toronto came out on the better side of history. What Clune said back in 2016 became a reality.
After the win, it was Toronto forever for the now 35-year-old.
"I'm not leaving," said Clune during the Marlies Calder Cup celebration. "They're going to have to get a wrecking ball to get me outta here. They're going to have to get the National Guard to get me out, because I ain't going nowhere."
Over the course of the next four years, Clune's leadership touched a lot of people. In 2021, after almost a year of the world's battle with COVID-19, there was plenty of happiness to go around when Clune became the captain of the Toronto Marlies.
Clune's legacy in Toronto will forever live on. Although he didn't spend much time up with the Maple Leafs, his presence was still felt throughout the organization.
Especially with rookies who were coming into their first year of professional hockey.
"When you're talking about mentorship from guys, he definitely would be one of the top ones. I think almost every single person on the team would say the same." Said Curtis Douglas earlier this year. "He's an amazing player, an amazing person. I mean, he brings a lot of experience in his own life experiences and teaches a lot of the guys, and I mean, he's been nothing but amazing to me and to a lot of the younger guys, and kind of taking us under his wing."
"The number one thing I appreciate about Dicky is how he lets younger guys be themselves." Alex Steeves said during his first pro season. "I think Dickey really loves to get to know guys and let them be comfortable, even if it's your first year, which you really don't see anywhere. I think that helps younger guys be more comfortable and play as high to their potential as they can. I'd say also that he's so well respected. Anytime you have a leader where they don't have to try to lead, they don't have to act any different than who they are and they're just a natural leader who guys look up to, I think that's the best way to get a locker room together, and I think Dicky's a great example of that."
Clune is incredibly well respected — by his teammates and even by his peers who battled against him from time to time.
"I've known Rich for a long time. That guy, he leaves everything on the ice. I remember playing against him in the minors, in the NHL, and you knew what you were getting out of him every single shift. And he still does it today." Former Marlie Alex Biega said while with the team this past season. "I mean, he's 34-years-old, he's the captain of this group, and he certainly could be comfortable, but he's not. He plays uncomfortable and he plays like his job is on the line every single night. I think guys look up to him, and he's obviously done an incredible job for himself, the Toronto Marlies, and the organization through the past couple of years. I can't say enough good things about that guy."
After two seasons of covering the Marlies, I don't think there's anyone better in hockey than Clune. What stood out to me most about him was his patience with myself. Whether it was asking a question or walking off the ice after practice, Clune always made an effort to make me feel comfortable.
During many of the Marlies' warmups throughout the season, I'd bring my camera to ice level and take photos of the players. Some I'd use for articles, others I'd post to Instagram because I thought they looked very cool. Photography is something I love and being able to take photos of professional hockey players was crazy to me.
I can remember one day when Clune came off the ice after practice before speaking with us media folk, and told me how much he liked my photography. While some of the pictures were of him, he still didn't have to say that, but that was just the type of person he is.
A genuine person who cares and wants to make everyone around him feel great — even me, someone who has to write about the team whether they're doing good or bad.
I'm not sure there'll ever be someone I'll cross paths with throughout the hockey world that will be as incredible as Clune is. I assume the people who are around him most would certainly say the same too. He's a fighter, a battler, but most importantly a great human being.
He will provide immense value to the Maple Leafs in his new role in Player Development and it's the perfect fit for everyone involved.