How the Maple Leafs can avoid getting goalie'd in the playoffs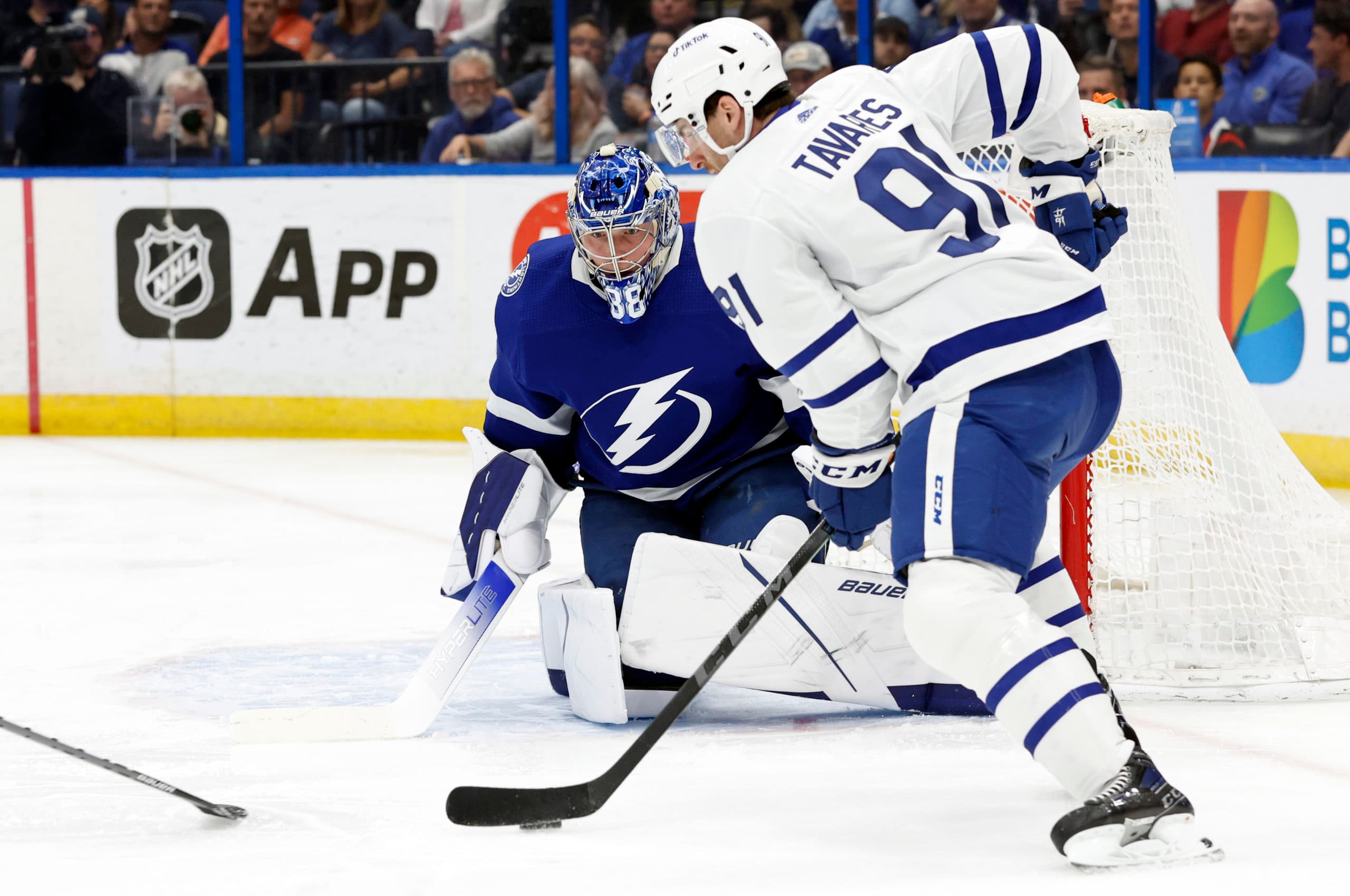 Photo credit:Kim Klement-USA TODAY Sports
It's going to be the Maple Leafs vs. Tampa, isn't it? It just is.
There are five games remaining between the Lightning and Boston Bruins to decide who gets Toronto in the first round. With
a win on Thursday night
, Tampa is ahead by three points. But, anything can happen at this point in the season and Boston could easily go on a heater to sneak by.
I'm not sure I see that happening though.
Before we dive into the statistics of goaltending, I just want to throw a few stats at you quickly. The Maple Leafs are on the cusp of scoring 300 goals in a season — a feat they haven't gotten to since the 1989-90 season. Toronto is also in line to finish with their 10th-best goals-per-game in a single season with 3.83/game.
In the entirety of the NHL this year, the Maple Leafs rank second in both goals-for (299) and goals-per-game, sitting only behind the Florida Panthers who are also in the midst of a historical goal-scoring season.
I'm giving you these statistics because if Toronto can manage to score at the rate they did in the regular season, anything is possible for this team.
The most difficult part isn't going to be the team against them, but the goalie at the other end of the ice — Andrei Vasilevskiy. (I begin with him because, well, it's more likely the Maple Leafs face him in the first round at this current moment in time.)
There are a lot of numbers out there right now that state Vasilevskiy is struggling and I go to his .904 save percentage in the last ten games as the main point. That number to me though is too good to be true and I wouldn't be surprised if he shows incredible form in the final five games of the Lightning's season.
He'll also be incredibly hard to beat in the playoffs.
A goalie like that — who's won a Stanley Cup two years in a row, a Vezina, and a Conn Smythe — doesn't forget how to play goal or lose his stride, especially at 27-years-old. Vasilevskiy is going to come prepared for game one, which means it's up to the Maple Leafs to come ready to score goals.
You can argue that whether Toronto gets the Lightning, or if they get Boston with Linus Ullmark and Jeremy Swayman, their message is going to be the same; put the puck in the back of the net.
The most intriguing part of this post-season is the fact that we may able to finally see Auston Matthews and Mitch Marner have success. Both have combined for 18 goals in the 32 playoff games they've played in their career.
I believe Toronto is going to have it tough with whatever goalie they're put up against, but if Matthews, Marner, and William Nylander can get going at the same time, this year's outcome is going to look a hell of a lot different than past playoff appearances.
You always run the possibility of getting goalie'd because every NHL goaltender is voodoo and just that good. However, with everything on the line for Toronto, I just don't see them allowing that to happen this time around.
POINTSBET IS LIVE IN ONTARIO
PointsBet Canada has officially launched in Ontario! Get a $25 free bet just for 
signing up right here!