'I think it's easy to work hard' Growlers' Nick Pastorious brings energy to the ice and the stands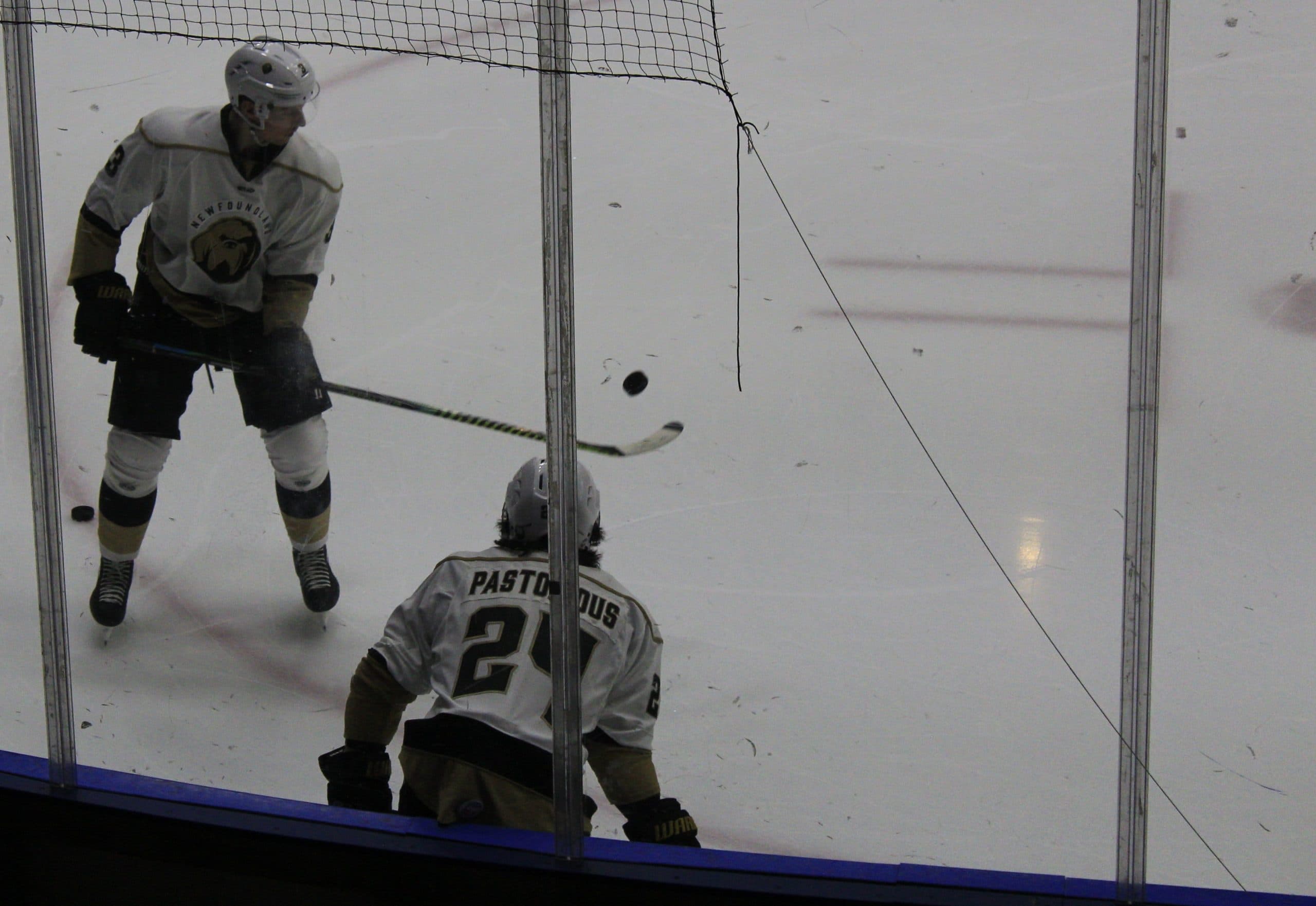 Photo credit:Dylan Murphy
In the aftermath of a 5-0 win over the Maine Mariners on February 9th, the Newfoundland Growlers first win in seven games, the mood in the room was understandably jubilant. The team was nearly back to full strength after several players tested positive for COVID-19, the rookie starting goaltender Keith Petruzzelli had posted his third shutout of the season, and a truly beloved teammate scored his first-ever professional goal.
25-year-old Nick Pastorious, signed by the Growlers on January 22, (for the second time this season after a one-game stint with the team on New Year's Eve,) describes himself as a vocal guy in the room. Head coach Eric Wellwood calls him a "glue guy," someone who brings the team together. To the rest of the players and all of the fans in the stands, (as well as team broadcaster Chris Ballard,) Pastorious has become "one of the b'ys."
"I thought only good players get interviewed?" he said with a laugh and a wide grin under his medical mask as he took his place in front of the logo-plastered tarp outside the locker room for a quick availability following his first professional goal.
"I'm ecstatic right now. I didn't think it was gonna happen," said Pastorious on the goal "I was beginning to think I couldn't buy one and I'd have to take one off the butt or shins just to get that monkey off the back."
Pastorious is actually in the middle of his first professional season after a five-year hiatus from hockey. Before this year, his last appearance on record was four games with the OHL's Niagara IceDogs in the 2016-17 season.
As a member of the Growlers, Pastorious has appeared in seven games so far and with his rough and tumble style of play, has quickly become a fan favourite around the Mary Brown's Centre. At least one fan was overheard on the concourse declaring him her new favourite player after a period in which he laid a bone-rattling hit. He also got involved in more than a few scrums to keep the Maine Mariners accountable. Pastorious says that the team welcoming him with open arms really helped with his adjustment to becoming a professional player.
"Starting from the top down, from the staff to everyone on the team, they've just accepted me for who I am right away," he said "I'm a pretty vocal guy in the dressing room, I like to talk and get the boys going, and from day one they made it real easy to be myself. Our team's appreciation and respect for each other and how well everyone understands their role and each other's just makes it way easier for me to go out and do what I do."
Team captain James Melindy spoke very highly of Pastorious and with great pride for his teammate on the night of his first goal.
"Everybody was super excited, he's just such a great guy," Melindy said "he brings a lot of energy to our room and on the ice. To see someone who puts in a lot of hard work and brings a different aspect to our team get rewarded like that… we all loved it."
Pastorious himself, meanwhile, was much more humble when describing the goal, showing a good mind for the game and a drive and work ethic that powers him to become a better player with every opportunity he gets.
"I was just trying to be a solid F3 there and I've been trying to make a conscientious effort to get more pucks on net," he said "I was there tracking through the middle, the puck just happened to come my way. I saw (Johnstone) down low and wanted to get a puck on net and it ended up in the back of the net and it surprised me as much as everyone else."
Head coach Eric Wellwood heaped praise onto the player as well, clearly pleased with the choice to bring him back to the team last month when the team was in the early days of the COVID-19 outbreak.
"It's awesome when somebody like him scores because he's a guy who does everything away from the puck," said Wellwood "he does so many good things that don't get enough recognition. I call them 'glue guys' because he brings the team together."
Pastorious describes his work ethic as his greatest strength and describes every aspect of his game as being the result of that.
"Every game I go into, I just try to work my hardest," Pastorious said. "I think it's easy to work hard and I think every guy out there should think it's easy to work hard. If you're having a hard time working hard then you might have other issues to look into. For me, I just want to bring my best effort every single game. I try my best to be a respectful player out there, I play hard, play with power, not lose my battles and try not to take any liberties on any other players."
That's not to say he shies away from the physical aspect of the game, far from it. In seven games with the Iowa Heartlanders at the beginning of this season, he had two fighting major penalties. Since coming to the Growlers, he has tripled that total, bringing his fight card total up to six bouts, which leads the Growlers in fights this season and places him third amongst the team in penalty minutes.
"At the end of the day, do I want to go through guys and battle? Yes, absolutely, it makes me happy, I think that's fun," Pastorious said "do I wanna take bread off anybody's plate? No, I don't play like that and I think you can see it in the games that when other teams start taking liberties on our guys, that's when I really get going and I really step up but other than that, I just try to pay attention to my team and what we're doing. If anything does happen, it's for the boys and I'm right there. And having some other guys like Meller (James Melindy) there who have my back too makes me feel even more comfortable."
Roster limits are fairly tight in the ECHL. Every team is permitted to carry a total of 22 players, not including their injured reserve. The Growlers are currently carrying 25 players, so roster decisions and cuts will be coming soon. Despite that, it's safe to say that Pastorious has left an extremely good impression with his coach and will likely be kept on as one of the team's extras.
"He works so hard every single day, he wants to be here," Wellwood said "he loves being part of the team and the organization and we love having him. When he gets rewarded for all his hard work, I think that's where the excitement comes from the boys because he's just working so hard and he got one he deserved and I'm really happy with him and really happy for him as well."
"In order for me to play my role, I don't need to score every game," Pastorious said in conclusion "so I was saying to the guys that if I didn't score a goal all season but we got on a winning train and we keep going, I'd be the happiest guy ever. I don't need to score, but I loved it, it was awesome and I hope it happens again."