If you're not cheering for the Maple Leafs this postseason, you're being difficult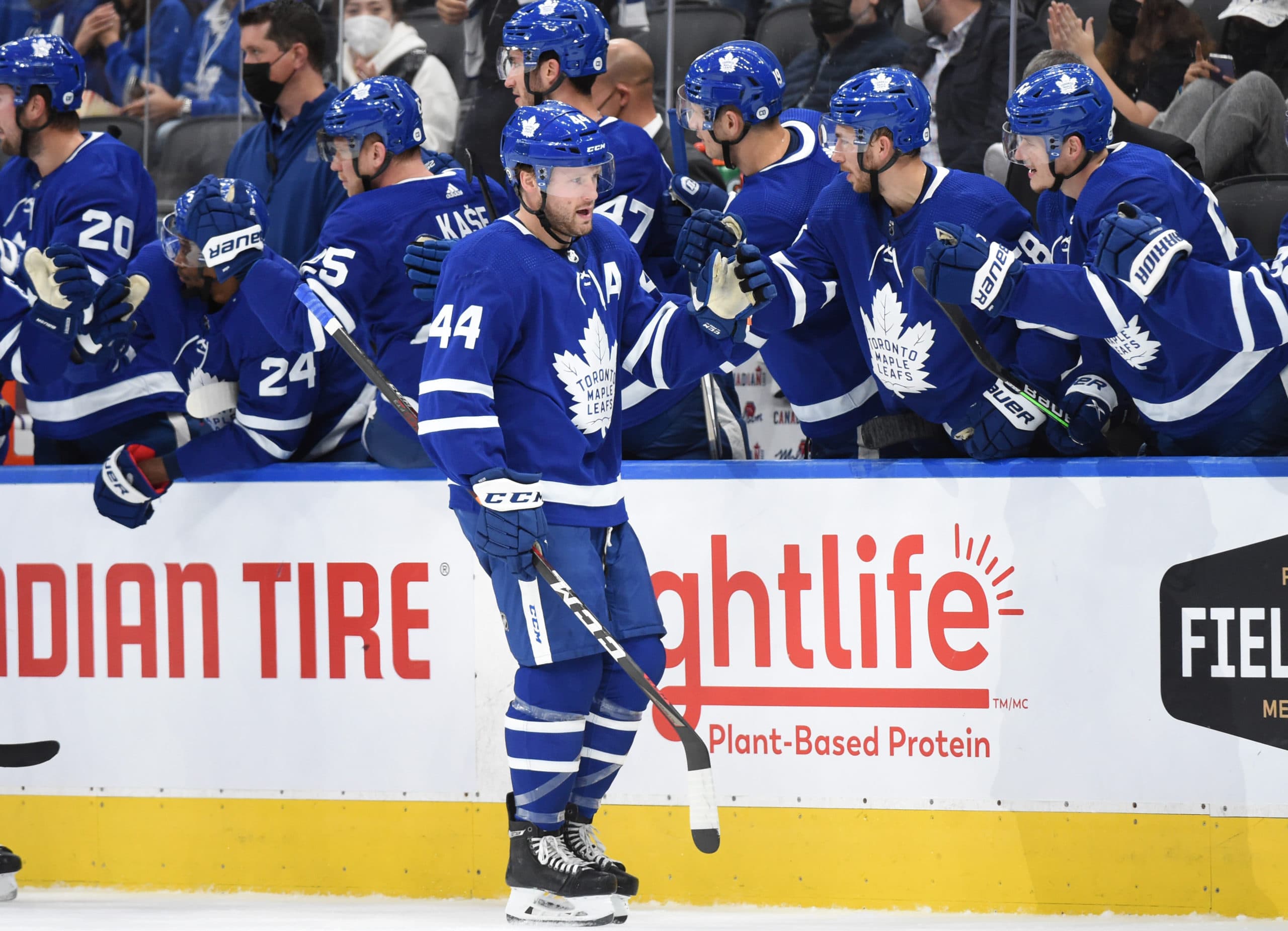 Photo credit:Dan Hamilton-USA TODAY Sports
Generally, the Toronto Maple Leafs are an easy team to hate. This is no secret, and fans of opposing teams make sure to embrace that opportunity with every chance they get. Toronto is the league's richest franchise and has the largest fanbase which means not only the most media attention but also the most social media users behaving belligerently on their behalf. Combine all that with a history of disappointment alongside catastrophic failure and it's easy to sit back and cheer for further demise.
However, despite all that, this year's roster might be one of the most easy to support NHL squads in recent memory, and it's getting increasingly more difficult for any hockey fan to not at least sort of be cheering them on in secret when no one's looking.
Take a moment to think about what sort of team fans are most likely to hop on the bandwagon for and support once their favourites have been eliminated. Underdogs, teams that play an exciting game, supporting a particular superstar, or cheering for a beloved veteran seeking their first ever championship. The Toronto Maple Leafs check all these boxes in some way.
Having not won a playoff series since 2004, or a Stanley Cup since 1967, Toronto has suffered a fate of regular season accomplishments hardly mattering until the team proves it can convert that momentum into postseason success. So much bad faith has been built up over the years, that even an 82-0 undefeated regular season record would likely be met with questions over whether they could get it done when it matters most.
As a result, despite currently sitting near the top of the NHL standings, many would still consider Toronto to be underdogs in the playoffs due to this recent history of first round exits and the fact that their initial opponent will either be the back-to-back defending Stanley Cup Champion Tampa Bay Lightning, or the playoff-built Boston Bruins, a team that the Maple Leafs haven't won a postseason series against since 1959.
The major factor that gives hope to those who believe in this year's Maple Leafs to finally find playoff success is the exciting type of game the team does play. With a rare combination of superstar talent at the top, and depth all the way through the lineup, Toronto currently sits second in the NHL in goals scored, led by Auston Matthews and Mitch Marner who for the second year in a row both find themselves within the top 10 of the league-wide scoring race. Not to be outdone, both John Tavares and William Nylander have continued to play at nearly a point-per-game pace with Morgan Rielly, TJ Brodie and deadline pickup Mark Giordano providing perhaps the best 1-2-3 punch on defense since the days of Kaberle, McCabe and 2004's deadline pickup, Brian Leetch.
As deep as the roster may be, Auston Matthews alone has become one of the most exciting pro athletes across all of sports. The kind of player that alone is reason enough for a neutral observer to tune into a game, just so that they could witness the kind of dominance he can put on display. By achieving the feat of scoring 51 goals across 50 games this season, Matthews has put aside any doubt that he is anything but a generational superstar, the sort of player that future greats will be compared to and measured up against.
But if having arguably the most exciting player in the league, on one of the most high-powered offences that somehow still find themselves on the outside looking in wasn't enough, this Maple Leafs roster is full of everyone's favourite breed of players to cheer for; veterans chasing their first ever Stanley Cup.
Whether it's Jason Spezza, Mark Giordano, or Wayne Simmonds, Toronto has assembled themselves a buffet of beloved players that are running out of chances to finally win hockey's greatest prize. Every single year, when the Stanley Cup is raised, neutral fans bask in the moment of seeing the cup handed to the beloved veteran who has finally earned their ring.
With all of this on the table, one has to ask. What reason is there left to be cheering against the Toronto Maple Leafs?
Of course, no one is expecting a long time Canadiens or Bruins supporter to suddenly begin cheering for a rival, but for most of the remaining teams, there's little excuse left to dislike this assembled roster outside of pure stubbornness and an deep seeded hatred for anything Toronto does that goes far beyond what happens on the ice.
Whether the average hockey fan is willing to admit it or not. This Toronto Maple Leafs roster that Kyle Dubas and co. have assembled is not only talented on paper, they're damn well likeable and easy to cheer for. When the playoffs roll around in two weeks, it won't be a surprise that as usual, most hockey fans will be publicly cheering against the Maple Leafs, regardless of who their opponent is.
However, this year, some of those jeers may not be as loud as usual. Even the most bitter haters out there, throats sore from shouting about 1967, zamboni drivers, and first round exits may need to take a second, pause, and realise that perhaps for the first time ever, there may be a reason to be jealous of Leafs fans. They've been given one hell of a fun team to cheer for.
POINTSBET IS LIVE IN ONTARIO
PointsBet Canada has officially launched in Ontario! Get a $25 free bet just for 
signing up right here!