Ilya Lyubushkin has earned a shot at an extension with the Leafs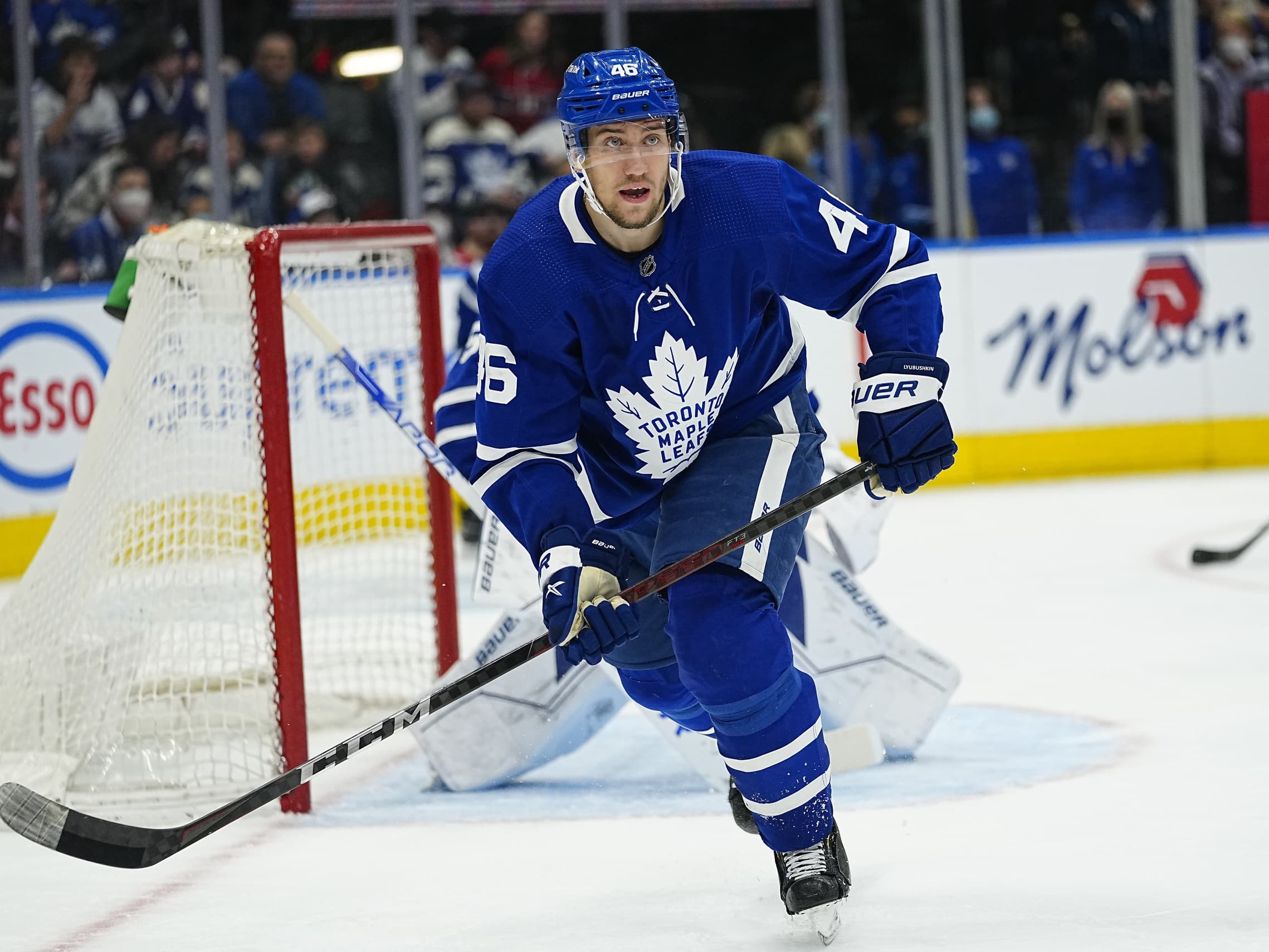 Photo credit:© John E. Sokolowski-USA TODAY Sports
When the Leafs first signed @Nick Ritchie to a two-year deal last offseason, it seemed like a surefire hit that would give the team some much-needed sandpaper in their top-six. It was supposed to be a move that would give them more of an edge on offence in the postseason that could have helped turn the tides.
Instead, Ritchie struggled mightily to adjust despite being given every opportunity to succeed (including a stint on the top line of @Auston Matthews and @Mitch Marner). It resulted in a statline of just nine points in 33 games played (two goals and seven assists) and
a brief demotion to the Marlies
. The resulting regression and heft AAV of $2.5 million a year forced Kyle Dubas into moving out of the contract to get something of value back.
He was able to do just that and then some when he the trade that brought in @Ilya Lyubushkin.
Lyubushkin had spent the last three seasons quietly developing into a depending defensive defenceman with good foot speed and being willing to throw some hits. His strong ability to read plays and get in the lane of passes and shots made him an ideal target for Dubas to acquire, especially with how much the leafs missed @Zach Bogosian to begin the year. Not only was able to find his footing upon arriving in Toronto, but he also saw his production increase significantly.
After recording nine assists through the first 46 games of the season, he recorded six points (two goals and four assists) in the final 31 games played with the Leafs. He would go on to add an assist in the playoffs, which can be seen in the above tweet. Given that he isn't known for his offensive prowess, it was an impressive uptick in offensive production.
Lyubushkin also showcased his versatility in playing up and down the lineup as he had stints with @Morgan Rielly and @Rasmus Sandin down the stretch. While he did have his moments where he missed an assignment and left a lane open or was not quick enough to react to the play, he got the trust of Sheldon Keefe and played the entire series vs Tampa Bay.
| | | | | | | | | | |
| --- | --- | --- | --- | --- | --- | --- | --- | --- | --- |
| LYUBUSHKIN WITH THE… | CF% | FF% | SF% | GF% | XGF% | SCF% | HDCF% | HDGF% | PDO |
| COYOTES | 45.93 | 45.91 | 43.43 | 43.64 | 45.53 | 45.55 | 45.71 | 43.33 | 1.001 |
| LEAFS | 51.69 | 58.70 | 50.10 | 48.78 | 51.80 | 53.45 | 55.80 | 47.37 | 0.996 |
All stats are at 5v5.
The sample size may be small, but it's clear that Lyubushkin saw an uptick with his underlying metrics after making the move to Toronto. When he was on the ice, the Leafs had better possession, more shots and scoring chances, and a higher probability of scoring. Those numbers
did take a dip in the playoffs
, but that was because he was primarily given defensive assignments. (
61% to be exact
in all situations)
It is clear that Lyubushkin has been a valuable asset to the Leafs and it would be in their best interest to try and get him to stick around because it probably won't be a heft one.
DobberHockey
currently has his next contract at $1.479 million AAV, which is a slight increase from the $1.35 AAV he made off his last deal that's set to expire. Given how tight the Leafs' cap space currently is, getting quality players at a lower cap hit is imperative for their continued success. Lyubushkin certainly fits that bill, so it makes sense for the two parties to work out an extension.
The Leafs could search the market for a similar type of player, but they also run the risk of having to enter a bidding war for a defensive defenceman like @Ben Chiarot and Josh Manson (both of whom are already over 30) or trade for one. Why search for a replacement and hope it works out when they already have one who is 28-years old, entering the prime of his career, has familiarity with the organization, and likely won't cost much against the cap.
Lyubushkin is not the flashiest defender and that's because he is not supposed to be. He is a dependable shutdown defenceman who demonstrated his strong hockey IQ and speed to read plays and neutralize scoring chances. The fact he was also able to see a slight uptick in production certainly helps the case that he should remain a Leaf going forward.
He is far from perfect, but he is close to that in the role that he is given by the coaching staff. Not bad for a guy that was acquired after Ritchie failed to live up to expectations.
POINTSBET IS LIVE IN ONTARIO
PointsBet Canada has officially launched in Ontario! Get a $25 free bet just for 
signing up right here!
This series has the potential to go down as one of the greatest ever – and it begins on Tuesday night at the Pepsi Center.
menu