Ilya Samsonov comes up big for the Leafs in the battle of Ontario: Game Highlights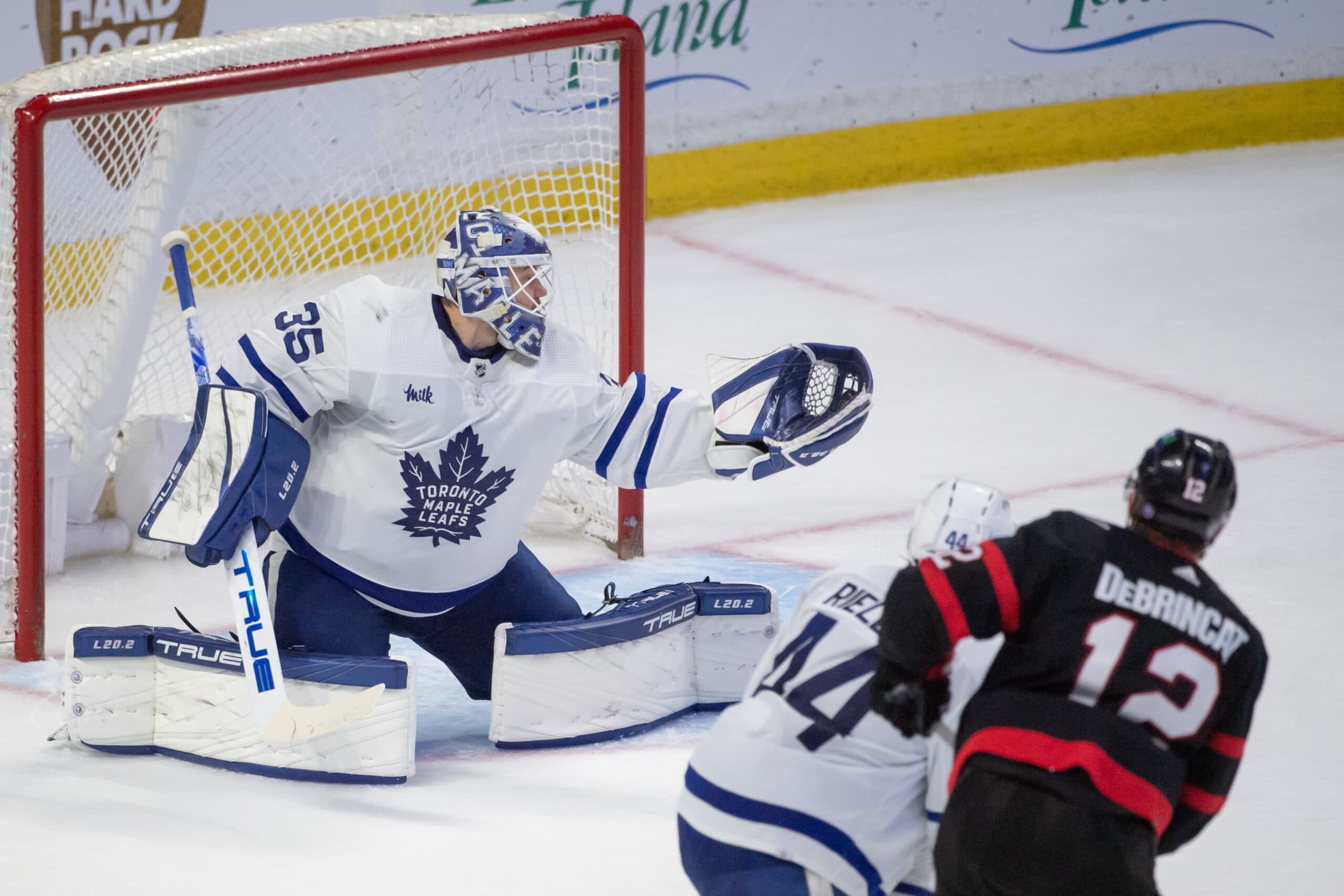 Photo credit:Marc DesRosiers-USA TODAY Sports
On Saturday night, the Toronto Maple Leafs and Ottawa Senators met for the final time this season. Ilya Samsonov stopped all 31 shots he faced to squash Ottawa's fleeting playoff hopes. Below are the highlights from the game.
The first Toronto scoring chance came off the stick of William Nylander. Jake McCabe hit Alex Kerfoot with a stretch pass. Then Kerfoot dropped it off for Nylander:
It was an uneventful first period for the Leafs' offence. The Senators outshot them 10-5 over the first 20 minutes. Defensive plays like this one from Justin Holl kept the game tied 0-0:
Things changed quickly in the second. Michael Bunting got the boys going with a spinning shot from the slot just over a minute into the frame. He beat Mads Sogaard to put the Leafs up 1-0:
Samsonov had one of his best games of the season. He made this shoulder save on Mathieu Joseph shortly after the Bunting goal:
Nylander doubled the lead later in the period. Kerfoot set him up again, this time he finished it. Nylander's quick release beat Sogaard under the arm. 2-0 Leafs:
Samsonov one-upped himself before the second period ended. He stretched out and absolutely robbed Jake Sanderson with the pad:
A minute later the newest Leaf made his presence felt. Radim Zohorna gets his first goal as a Leaf in his first game with the club:
The Samsonov show continued in the third. Dylan Gambrell tried to get the Sens' comeback started but Samsonov said no:
Samsonov saved his best for last. He preserved his fourth shutout of the season with this glove save on Alex Debrincat. Ottawa pulled Sogaard for the last few minutes. Neither team could find the back of the net. 3-0 Leafs final.