Ilya Samsonov held off the Jets long enough for Maple Leafs' scorers to show up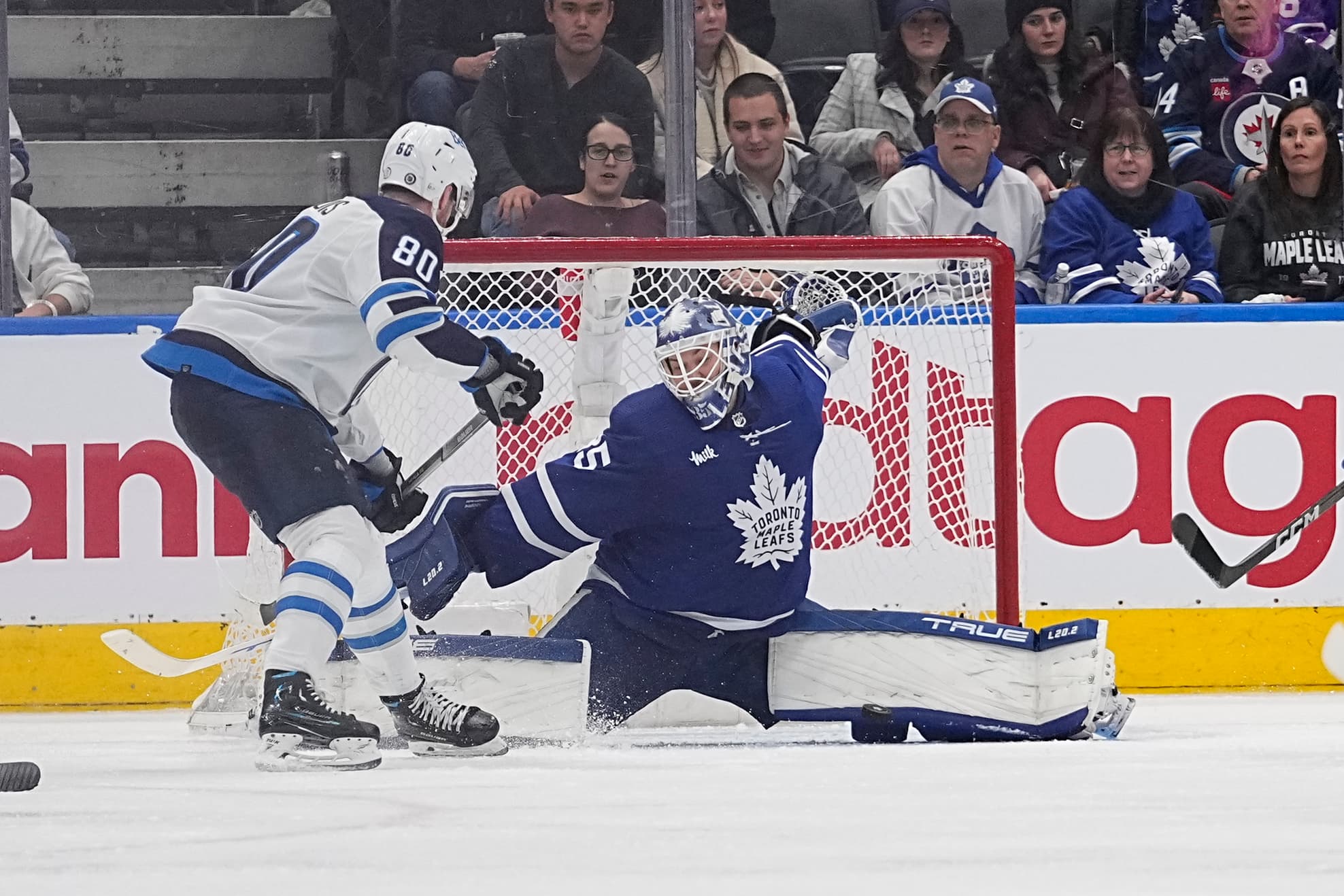 Photo credit:John E. Sokolowski-USA TODAY Sports
Some would call Thursday night's matchup a measuring stick game for the Maple Leafs, others would say the same for the Winnipeg Jets.
It seemed as if there was more discussion about the goaltending heading into this game more than anything else. Ilya Samsonov started for Toronto, after coming in for relief on Tuesday, while the Jets went with none other than Connor Hellebuyck.
The first period was all Winnipeg with shots at the end of the opening frame being 16-6, not in favour of Toronto.
The Maple Leafs were the team to strike first, although they weren't the ones driving play for most of the game. Auston Matthews, who we'll discuss more of later, scored two quick goals in the second. His earliest being eight seconds into the period.
That seemed to give Toronto some life which allowed Mitch Marner to contribute on the score sheet, too. It was his franchise-leading 19th-straight game with a point at home.
But that was the only goal the Jets could score because Ilya Samsonov was incredible on Thursday.
Toronto generated the only two goals at five-on-five while Winnipeg dominated in the shots department. By the end of the game, shots were 38-27 for the Jets — a far margin. Though at five-on-five, shots were even closer, at 29-23, still for Winnipeg.
This was, though, a game to remember for Samsonov. The 25-year-old stopped the most shots he's faced — especially at home — since signing with the Maple Leafs back in the summer.
Has Matthews returned to his goal-scoring ways?
The 25-year-old, as we know already, notched two goals for Toronto in the second period. Shockingly enough, that was only Matthews' second two-goal game of the season. He hasn't had one since November 5th against Boston.
Matthews is currently on pace for 43 goals this season, but if history has taught us anything, it's that the 25-year-old could go on a scoring tangent after this game.
After all, he is now on a four-game scoring streak, and has seven goals in his last eight games. So maybe his scoring tangent has already begun.
Samsonov is shutting the door
It's safe to say Samsonov has played his way into getting into more games throughout the next few weeks. Maybe playing even more than Matt Murray.
The 25-year-old had an expected goals against of 3.117, while only allowing one goal to get by him. He also had a Goals Above Expected of 2.12, according to
MoneyPuck.com
. Just a very solid outing for Samsonov.
He's now improved to 13-4-1 on the season while sporting a .920 save percentage. The 25-year-old's record at home is even more impressive at 12-0-1 with a .938 save percentage.
Morgan Rielly's odd start since injury
It's really difficult to figure out whether Rielly is having a good or bad start since returning from injury. The eye-test says one thing, but the numbers say another.
Every player on Toronto got caved in on Thursday when looking at the advanced stats. Rielly played 20:10 and had a 40.48 CF%, good enough for seventh-best on the Maple Leafs. He also had the eighth-best xGF% for Toronto, sitting at 45.77 vs. the Jets.
Just by watching his play, though, Rielly seems to be making better decisions on and off the puck throughout each game. Hopefully, for his and the Maple Leafs' sake, Rielly can return to the player he was in past seasons.
If he gets there, Toronto will be in good hands as they approach the NHL trade deadline.