Ilya Samsonov's NHL Edge page tells us what we already know: He's been bad for the Leafs this year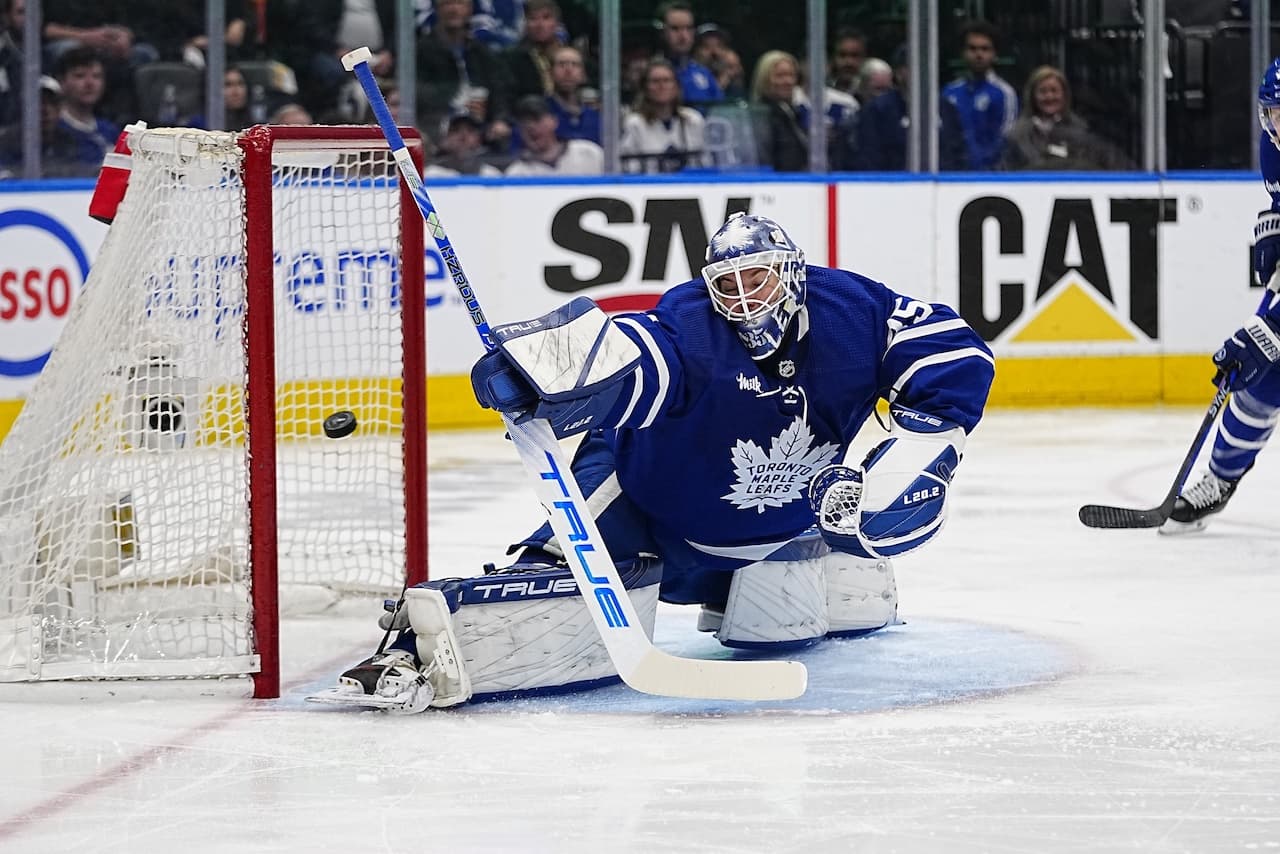 Photo credit:John E. Sokolowski-USA TODAY Sports
Ilya Samsonov hasn't been good for the Maple Leafs so far this season. That shouldn't be something overly controversial to say. The Leafs have spent the first five games utilizing Samsonov like he is their starter and Woll is the backup rather than being a tandem, and Samsonov has certainly given the Leafs plenty of reasons to question that arrangement.
The new NHL Edge Data shows some of the issues around Samsonov early on this year:
It's hilarious that the NHL doesn't give percentiles below 50th, but comparatively to the league average you can see that Samsonov hasn't been getting it done even if the Leafs have been able to stay afloat during his games.
The biggest difference we are seeing this year and is almost entirely what needs to be addressed to get things going right with Samsonov is coming from what is happening in the high danger areas of the ice.
There are definitely some questionable goals going in from other strange parts of the ice, but a .546 save percentage at home plate means that it is almost a 50/50 chance that the puck is going to go in down low against the Leafs. That is absolutely insane and while it won't likely remain that bad for Samsonov, there is a long way to go to improve to even get close to the .789 league average in the high danger scoring save percentage. Samsonov can get there as his HDSV% last season was .882, which was far and away the best in the NHL last season with goaltenders who played over 30 games. The next closest goaltenders to Samsonov were Jeremy Swayman (.862) and Linus Ullmark (.858)
The question needs to be asked, what has changed for Ilya Samsonov and why is his biggest area of strength now his biggest weakness? He still has a lot of the same group in front of him, Rielly, Brodie, Giordano, Liljegren are all still in front of him and at this point let's call Jake McCabe and Justin Holl interchangeable. It comes down to whether John Klingberg is a difference maker compared to Rasmus Sandin. While he has impacted the Leafs negatively defensively, it is not a huge difference from having Rasmus Sandin in the lineup.
The team at large sees the Leafs less defensive as Kerfoot, Engvall, and Aston-Reese were more defensively capable than Bertuzzi, Domi, and Reaves. Still, I'm not sure if that is going to make a huge difference.
What does make a difference is what the Leafs seem to be tripping over every game and that is the adjustment from Dean Chynoweth's zone defence to Mike Van Ryn's man to man approach. I don't think it can be overstated how important it is to have a goaltender who matches the defence and last year Samsonov matched the defence. This year, he's still very much figuring it out.
Looking at the Leafs in the playoffs last year there might be a case for why changing the defensive approach was necessary and the Leafs have certainly gone in a new direction. It is easier to change the coach and the system than switch the players, at least in the eyes of a GM, so here we are. And now Samsonov is dealing with the repercussions of that change.
There is also the fact that last year could have been the anomaly. In 2021-22 Samsonov was a sub-50th percentile HDSV% goaltender during his last year with the Capitals as well. He saw a ton of High Danger shots and the volume didn't improve his numbers and that's how the Leafs got him as cheaply as they did last season. The Leafs to their credit this year have actually kept their high danger below the league average this season. That is something that makes it seem a bit more like a Samsonov problem than a defence thing but it doesn't have to be completely one or the other.
As for the short term, the decision to go back to Woll on Tuesday night, despite being Samsonov's former club makes all the sense in the world. Sheldon Keefe had mentioned that this was a scheduled start for Woll anyway and we've seen the Leafs be reluctant to play goaltenders against former clubs previously, so there isn't much of a surprise here. What happens after Tuesday night is where it gets interesting. If Woll has another successful outing it seems that giving Woll a bit of a run would be in the best interest of the Leafs and possibly Samsonov as well. Woll has shown a lot of promise but hasn't been subjected to large volumes of work and that needs to be part of what he is tested on. Samsonov getting the opportunity to put in work behind the scenes gets him a reprieve from criticism (like this post) which has called him bad.
While Woll is a rookie, Samsonov is on the younger side of the goaltending profession too and needs to make his case for holding his spot. Competing with Murray was when Ilya was at his best last season and hopefully Woll can bring out the best in him this year too. Curtis Sanford got him on track last season and it seems perfectly reasonable the two of them can figure out what works again.