Ilya Samsonov was a bright spot, now he's broken: The November Leafs Power Rankin's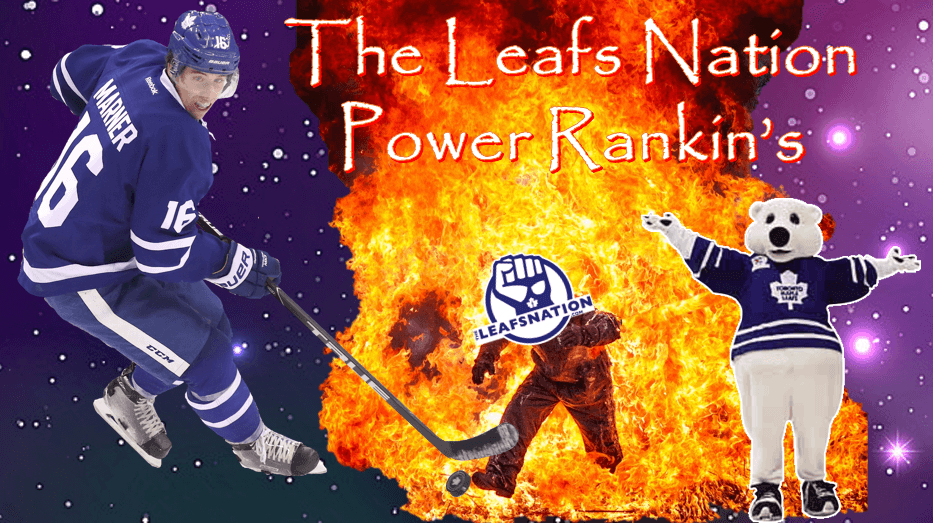 Last month I dusted off a TLN staple of yesteryear, the TLN Player Power Rankin's. The initial roster was ranked and now three of the players are hurt, and another has been claimed off of waivers. Good times.
Now we're back for round two now that we're into the second month of the season. Hot takes are incoming…
1. John Tavares (up from 6th)
Coming into the season thanks to his preseason injury the expectations for Johnny Toronto were significantly tempered. What ended up happening in October and early November was Tavares playing some of his best hockey since his first season in Toronto. The captain has been doing captain things like helping the Leafs snap out of a skid by scoring a hat trick against the Flyers and being the consistent power player they need him to be. So much for the final years of his contract narrative, now the Leafs will need to worry about how much he'll cost to re-sign.
2. Auston Matthews (down from 1st)
A slow start for Auston was unfortunate but seemed to be a lot more puck luck driven and his actual performance was still decent enough. Matthews has continued to use his size to create his own space on the ice and with five goals in his last five games, whatever busted takes were out there about his demise have been put on hold until the next time he dares go more than three periods without a goal.
3. Ilya Samsonov (up from 15th)
With Samsonov at 15th, I can certainly say I was undervaluing his impact on the Leafs when I did this last month. That said I knew to have him higher than Matt Murray, so I'm still putting myself in the win column on this.
Of course whenever there are unexpected breakout performances in Leafs land the monkey's paw finger curls back down to reveal the curse and now Samsonov who was performing like a top ten goaltender in the league is out with a knee injury. We were foolish to expect it to play out any other way.
4. William Nylander (steady at 4th)
Ah, sweet Willy, good times or bad, William Nylander always delivers at a high level and he's been a big part of Tavares' success this season. He's been a big part of the powerplay's success, and his "take it as it comes" attitude remains the perfect disposition for a franchise and fan base that is constantly overreacting.
5. TJ Brodie (steady at 5th)
Quite simply TJ Brodie is the duct tape holding the Leafs blueline together. Rielly trapped in the defensive zone, Brodie will make it better. Holl needs to look like a passable NHLer, leave it to Brodie to fix it. Muzzin, Liljegren, and Benn out of the lineup, guess who can do all the heavy lifting? TJ Brodie, that's who.
6. Mitch Marner (down from 2nd)
Mitch Marner is a supremely talented player who does not seem like he's having a good time out there this season. His shots per 60 are down to career low levels, he's been benched for a couple of shifts, and is falling back into his habit of trying to do too much when things aren't going well. That's a lot of criticism for a player who has 13 points in 12 games, good enough for 2nd on the team in scoring and has him in the top 30 in the league as well. I wish on my best day I was doing as well as a struggling Mitch Marner.
7. David Kampf (up from 9th)
Another Leaf who struggled at first but is showing signs of coming on of late.
There was a lesson to be learned with Kampf and that was don't put him out with checkers. He needs suppressors and with Sheldon Keefe and the Leafs realizing that Pierre Engvall and Calle Jarnkrok are Kampf's path to salvation, Kampf has not only been stronger defensively, he's already at 3 goals on the year and 7th on the Leafs in scoring. Just like we all predicted.
8. Morgan Rielly (down from 3rd)
Similar to Marner, we should all do as well as Morgan Rielly when he struggles. And it's not that he's really struggled either, it's just that every year comes with the strong reminder that Rielly isn't going to do well in his own end or on odd man rushes, but he's an important catalyst for driving offense in even strength situations. Rielly is tied for 4th amongst NHL defensemen in assists and trails only Marner on the Leafs in that category. He's doing what he is supposed to do and brings an important skill set to the team. The defensive struggles of the Leafs shouldn't fall on him because he's defensive struggles by design. The rest of the blueline around him needs to pick up the slack instead.
9. Mark Giordano (up from 10th)
I don't know what more you can ask of a strong veteran player who is playing at a deep discount. He spent October trying to salvage defensive pairings with partners like Victor Mete and Filip Kral, and now is taking on the mentorship role with Rasmus Sandin, giving him a viable partner instead of continuing to make the sophomore struggle next to Justin Holl.
Also this tackle will be one of the highlights of the Leafs season:
10. Nick Robertson (not ranked previously)
Most Leafs fans were disappointed when Robertson didn't make the team out of camp but thanks to injuries it didn't take long for him to be recalled.
Robertson is still finding his place in the lineup, but his two goal game facing his brother and the Dallas Stars was a special night, and with four points in his six games he's making a case for becoming an NHL regular this year.
The snag is that Sheldon Keefe was slowly sliding him down the roster before ultimately scratching him for the past two games. That's less than ideal for a player who looks like he could be the answer to the lack of secondary scoring in the lineup.
Some patience will be required with Robertson, but I think Leafs fans will also need to be tolerant of how he's utilized this year. At 21 years old he's far from a roster lock and while top six roles are best suited for Robertson, he's going to prove that he can be reliable for the workload that comes with that.
11. Rasmus Sandin (steady at 11th)
Getting into the back half of the list I feel like I'm starting to talk about the underwhelming players, and that's really not the case for Sandin. Rasmus just really didn't have much of a chance to put his best foot forward when he was playing with Holl.
Sandin is very much still trying to make his case that he belongs in the top four and doing it alongside a partner who was fighting to show he belongs in an injury depleted lineup was an uphill battle.
It seems like in a perfect world Sandin would be a great 3rd pairing option this season who can step up as needed. The reality is they are going to need him to step up more than should be required thanks to the Muzzin injury.
12. Denis Malgin (up from 18th)
Malgin has been in and out of the lineup but given that he has over delivered on the expectations of many, I'm putting him a bit higher up this month. Malgin has been a strong puck moving/carrying option for the bottom six which was somewhat littered with puck chuckers to start the year. He's brought a bit of offense and is a displaying "do what it takes to stay in the lineup" attitude that should be the hallmark of all bottom six players.
13. Alex Kerfoot (up from 14th)
I'm not particularly excited to see Kerfoot on the Tavares line again, especially at the cost of Nick Robertson not getting that opportunity, but it's safe to say that Kerfoot as the third line center wasn't working. In fact Kerfoot at center is very much a last resort type option even if it seems viable during the preseason.
Kerfoot has been solid as a penalty killer, as a puck carrier, and generally been good at being an unexciting but safe option for the Leafs this season and while I can appreciate the desire to move on from him based off of his cap hit, the Leafs would have been even worse without him in the opening month.
14. Michael Bunting (down from 8th)
It feels weird calling what Bunting is having a sophomore slump given that he's played in a number of seasons and according to hilarious internet people he's 1000 years old.
Still, Bunting hasn't been as effective with Matthews and Marner as he was last season and I can appreciate that brief moment that Sheldon Keefe took to experiment with Bunting in different spots in the lineup.
I think Bunting will still be a solid performer for the Leafs this year, but it seems like the NHL officials did a little bit of homework and it won't be a surprise if Bunting struggles to get the calls he was getting last season and that cuts into what he brings to the Leafs.
15. Calle Jarnkrok (down from 7th)
As you tell by my ranking of Jarnkrok 7th in October, I was all-in on Jarnkrok being a standout bottom six player. It seems like we are inching towards that, but again acknowledging he might not be a viable center option.
Jarnkrok looks capable of being the Mikheyev or Kase replacement to go with the Engvall/Kampf pairing and that would be a very solid third line for the Leafs. And given that what the Leafs are asking Jarnkrok to do is fit his game into a system much more than they are asking his line to play around the style of Jarnkrok's game, it makes sense that there will be an adjustment period, and soon we'll be able to enjoy years of boring Calle Jarnkrok hockey.
16. Timothy Liljegren (not ranked previously)
Liljegren has played in exactly one game so far and the Leafs allowed just one goal in it, so it's safe to say that Timothy has stabilized the blueline. No?
Okay, fine. Liljegren brings a lot of hope to the lineup as he is a promising top four solution on the right side and it now feels like even with Muzzin out the Leafs are running something resembling an NHL blueline again.
Given my feelings about Liljegren I fully expect him to be in the top 10 next month.
17. Zach Aston-Reese (down from 12th)
I really want to see the Leafs find a way to make Aston-Reese work for them as having checking options will certainly benefit them as the Leafs get deeper and deeper into the season and certainly he's the type of player they will want to utilize come playoff time.
Aston-Reese has done all that should be asked of him so far, it's just a matter of finding a fit for him and that fit might be not so much a regular line, but being an energy player that Sheldon Keefe can insert as needed to grind their opponents down when protecting a lead or wake up the Leafs when they seem disinterested.
18. Pierre Engvall (down from 17th)
Not being overly impressed with Pierre Engvall so far is something I think holds true of most Leafs fans. I will say that reuniting him with David Kampf seems like the path to at least tolerating him for stretches.
19. Erik Kallgren (not ranked previously)
I wish I could say that it is a surprise that Kallgren is already seeing time with the Leafs. I fully expected him to be backing up Samsonov by now, but admittedly I didn't see him as the starter by default by November 6th. That's less than a month for Toronto to burn through their NHL goaltenders, and it's kinda wild that by November 15th Kallgren could be tied for the team lead in games played by a goaltender. (Maybe I'm being too optimistic in assuming he won't get hurt).
Kallgren has a .884 save percentage and if that doesn't scare the shit out of you, I don't know what will. The fact that he had a .888 save percentage last season also points to there not being a lot of room for improvement.
20. Justin Holl (steady at 20th)
With Jordie Benn's conditioning stint coming to an end we might have seen the end of Justin Holl being gifted a spot in the lineup.
That being said, Holl getting an opportunity to play as a bottom pairing or 7th defenseman might be putting him in a place where he can meet expectations. Using Holl in tougher situations hasn't gone particularly well and having him better rested and more confident for his penalty killing shifts might help him as well.
It's safe to say the preferred course of action might still be to trade him, and the cap space and contract space might be more valuable than Justin at this point.