Ilya Samsonov: Year in review and looking forward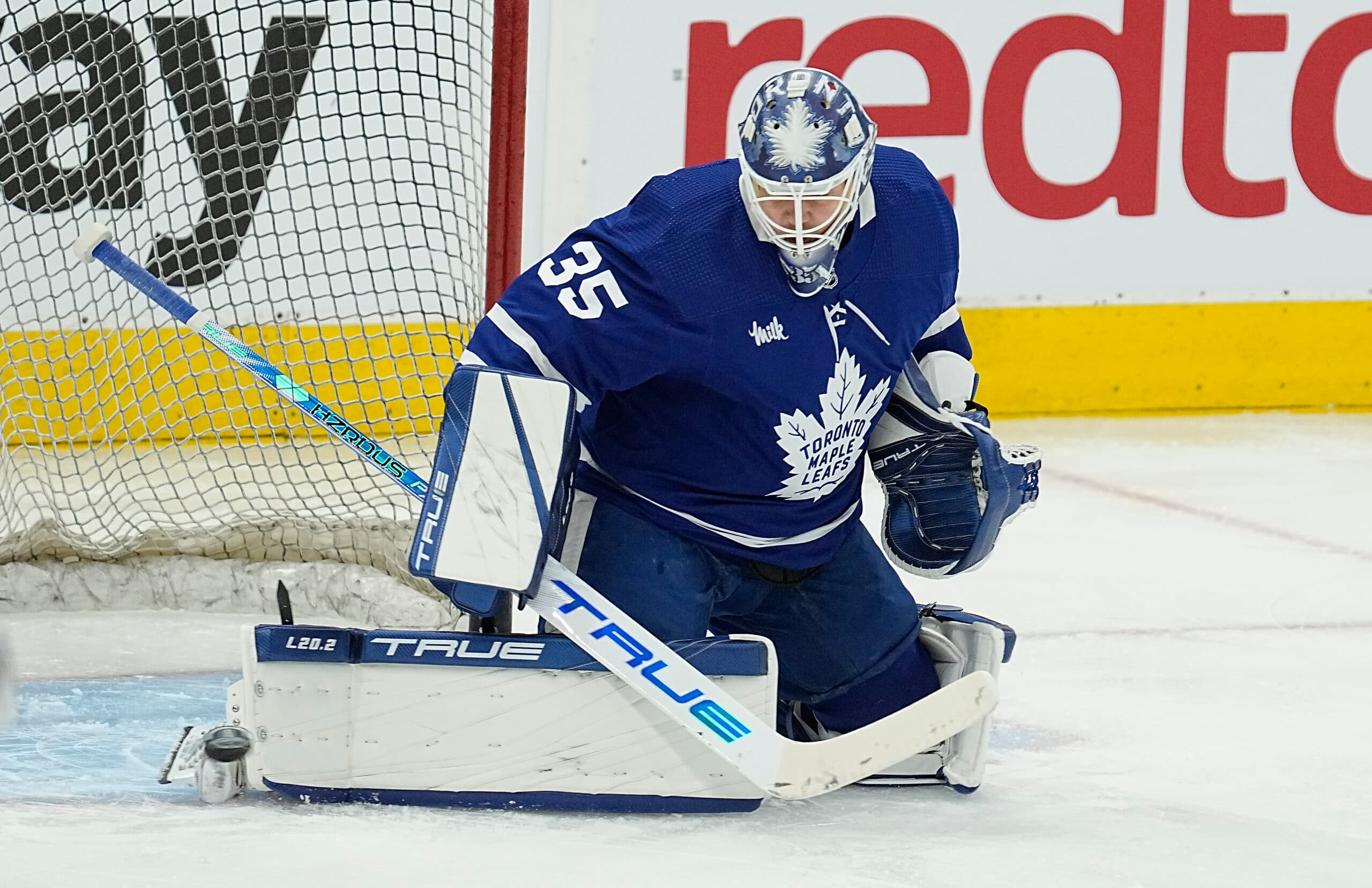 Photo credit:John E. Sokolowski-USA TODAY Sports
In the 2022 offseason, the Toronto Maple Leafs decided to make a pair of huge gambles on their goalie situation, bringing in the struggling Matt Murray and Ilya Samsonov to be their tandem netminders for the upcoming year. While Matt Murray had moments of excellence, his inability to stay healthy has left the future of his career in question. Ilya Samsonov however, had a year that is likely to make the Washington Capitals regret allowing him to walk in free agency.
After not being qualified by the Capitals, Samsonov decided to bet on himself, signing only a one-year contract with the Maple Leafs. The bet paid off in spades, with the Russian netminder finishing in the top 10 of every significant goalie category including save percentage, goals against average, shutouts, and goals saved above average. His play contributed to Toronto finishing with the league's fourth best record, and their first playoff series win in 19 years. Now he approaches free agency, looking for a significant pay raise on the $1.8 million he made last season.
Despite his success, don't expect the Maple Leafs to write a blank cheque for the netminder. Between the emergence of Joseph Woll, a playoff injury to Samsonov that some have suggested could be more concerning than initially thought, and a deep free agent class at the position, Toronto has all the leverage on their side entering negotiations.
For new General Manager Brad Treliving, negotiating Samsonov's extension, or possible trade, is among the most pressing tasks at hand and will likely define his first offseason in Toronto. As a restricted free agent, the Maple Leafs still hold Samsonov's rights for at least one more year and with the netminder being arbitration eligible, any contract disputes can be settled by a third party arbitrator before training camp starts.
However, it's unlikely that Samsonov's representation will want to pursue arbitration as it would mean only a one year contract. While that one year would walk Samsonov towards the open market of unrestricted free agency, the risk of another prove it deal is too great, especially after a career season that ended with an injury and a hot young goalie threatening to steal the starter's net at the first opportunity.
Currently, it's estimated that Samsonov would command somewhere between 3-5 million on his next contract, with a shorter deal likely leaning towards the higher end of that range. A number of other young goalies are also entering restricted free agency including Jeremy Swayman, Filip Gustavsson, and Connor Ingram. Expect the Maple Leafs to wait for Swayman or Gustavsson to sign their extensions first and set a ceiling for the market, as it would be difficult for Samsonov to command a larger contract than either netminder.
If talks fall apart, the Maple Leafs will have to decide whether a tandem of Joseph Woll and Matt Murray is enough to carry them through the next season. Should they decide it's not, the unrestricted free agent goalie class contains a wealth of serviceable names including Laurent Brossoit, Adin Hill, Joonas Korpisalo, Semyon Varlamov, Tristan Jarry, Alex Lyon, and old friend Frederik Andersen. 
Ilya Samsonov's greatest bargaining chip is his ability to take on a larger workload. Many of the available UFA goalies are on the wrong side of 30, and already have significant injury concerns. Matt Murray's own inability to stay healthy is well documented, and Joseph Woll has never started more than 37 games in a single season – that tally occurring in 2018/2019 when he was still with Boston College.
Extending Samsonov gives the Maple Leafs the greatest piece of reliability currently available to them at the position. While it's entirely possible that Joseph Woll takes over as the starter in the next year or two, the most recent NHL season has shown us that most teams will need to rely on two or three capable NHL goalies for extended periods over the course of the season, barring some superhuman health and luck from their starter.
With a new GM coming in, and an extension necessary for their franchise player, the Toronto Maple Leafs have a lot of uncertainty surrounding them entering this offseason. As a result, the status of Ilya Samsonov has flown under the radar. A career year that ended in an injury, a young goalie looking to take his job, and a number of other highly talented RFA netminders also seeking new contracts makes it impossible to predict what kind of deal the smile-happy backstop will be offered by the Maple Leafs.
While risking it all on Woll or once again rolling the dice with another team's discards may seem tempting for the gambling addicts among us, it's far more likely than not that Ilya Samsonov will once again be the Toronto's starting netminder to begin the 2023/2024 season. What his contract looks like, and whether he's still the starter at year's end will be two of the more intriguing storylines following the Maple Leafs moving forward.
Whether it's one year or six years, two million or five million, expect Samsonov to return. If he can repeat and grow off of last year's success, then Toronto could find themselves with two of the league's best young goalies, each one on absolute bargain contracts. It's not outside the realm of possibility that Samsonov and Woll combine next season to make less than former Leafs starter Jack Campbell, while each putting up better numbers.
With so many variables at play, it's no wonder that NHL goaltending remains arguably the most volatile and inconsistent position in all of sports. One year's all-stars are next year's rejects and vice versa. The Toronto Maple Leafs will be hoping that what they saw from Ilya Samsonov last season was more than just a flash in the pan, and they instead found a real gem that will continue to shine for years to come.