Injuries add up ahead of the Leafs and Flames Monday matchup
Photo credit:© Sergei Belski-USA TODAY Sports
Well. The Toronto Maple Leafs take on the Calgary Flames tonight, but they do so down three key players from their squad. The news out of Toronto this morning is that all three of @Joe Thornton, @Zach Hyman, and @Jake Muzzin are out for tonight's game. While Jumbo and Hyman are listed as day-to-day, Muzzin apparently has a broken bone in his face and his timeline for return is uncertain.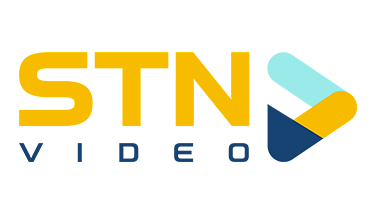 If you take a look at this image that shows wear and tear on the Leafs roster (from TLN's brilliant Mark Norman's stats pack) you can understand why someone like Hyman might need a breather. You might also wonder how Jake Muzzin has lasted this long without a serious injury: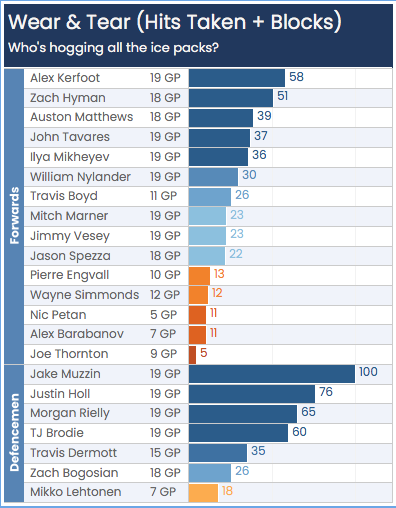 While today should feel like a pretty good day for Leafs Nation, coming off a third consecutive win and riding a four game point streak, the injury news from morning skate certainly puts a damper on things. If there's a silver lining, it's that it appears @Jack Campbell is trending closer to a return to the lineup:
Despite the unfortunate injury announcements, the Leafs are sitting fairly comfortably at the top of the division – the league, in fact – and tonight's game allows the opportunity for some players who typically see less ice time to shine.
Meanwhile, the Flames are coming in on a three game losing streak, having scored just one goal in each of their last three games. They are absolutely hungry to turn that around, and they will no doubt capitalize on the Leafs shrunken roster to try to make that happen. Though Muzzin won't be on the ice tonight to rekindle his drama with @Matthew Tkachuk, look for Tkachuk to make himself a nuisance anyways, as his temper tantrum after the last Leafs/Flames matchup will surely be highlighted by the media before and during the game.
Lineups
Toronto Maple Leafs
Calgary Flames
Leafs player to watch: Travis Dermott
With Muzzin out, @Travis Dermott will be slotting in next to Justin Holl. Dermott has been fairly sheltered so far this season, and he's been waiting for the chance to showcase his abilities in a higher-intensity role. Some were disappointed with Dermott last season, and there are those who believe he doesn't have what it takes to be a first or second pairing player for the Leafs. Tonight's game gives him the opportunity to prove the naysayers wrong, and earn some credit with Sheldon Keefe, too.
Flames player to watch: Matthew Tkachuk
The Tkachuk brothers love to aggravate the Leafs. Matthew in particular has had some run-ins with Leafs already this season in the teams' previous two meetings. He's playing decently so far, with five goals and 6 assists in eighteen games, but more than that he's making his presence known constantly. He's already scuffled with Jack Campbell, @Zach Bogosian, and Jake Muzzin. Who will it be tonight? He will undoubtedly be throwing some hits around, and it will be fun to see how the Leafs respond to his pestering.
Leafs starting goalie: Frederik Andersen
After struggling in a 6-5 OT loss to the Senators a week ago, @Frederik Andersen bounced back with a solid showing in the next Sens matchup, had a night of full rest, and then beat Montreal in a 5-3 win on Saturday. While the Leafs beat the Flames last time they played with Freddie in net, it wasn't his best night, as he posted only an .885 save percentage. All eyes will be on Freddie tonight to see how he shows up, and if he can stay solid enough in net to help his team pull off a win.
Flames starting goalie: Jacob Markstrom
@Jacob Markstrom is having an interesting season. While his overall save percentage is a respectable .909, his performance has been inconsistent and he has struggled to pull out wins. Of course, it doesn't help when his team isn't generating any offense. Markstrom has the ability to really stand on his head, and if his team picks up the scoring it can be a dangerous combination. The Flames as a whole are looking to shake off an embarrassing losing streak, so you can expect everyone, including Markstrom, to be at the top of their game.
Tonight's game will be on TSN at 7:00pm EST.