Is it time for the Maple Leafs to change their goal song?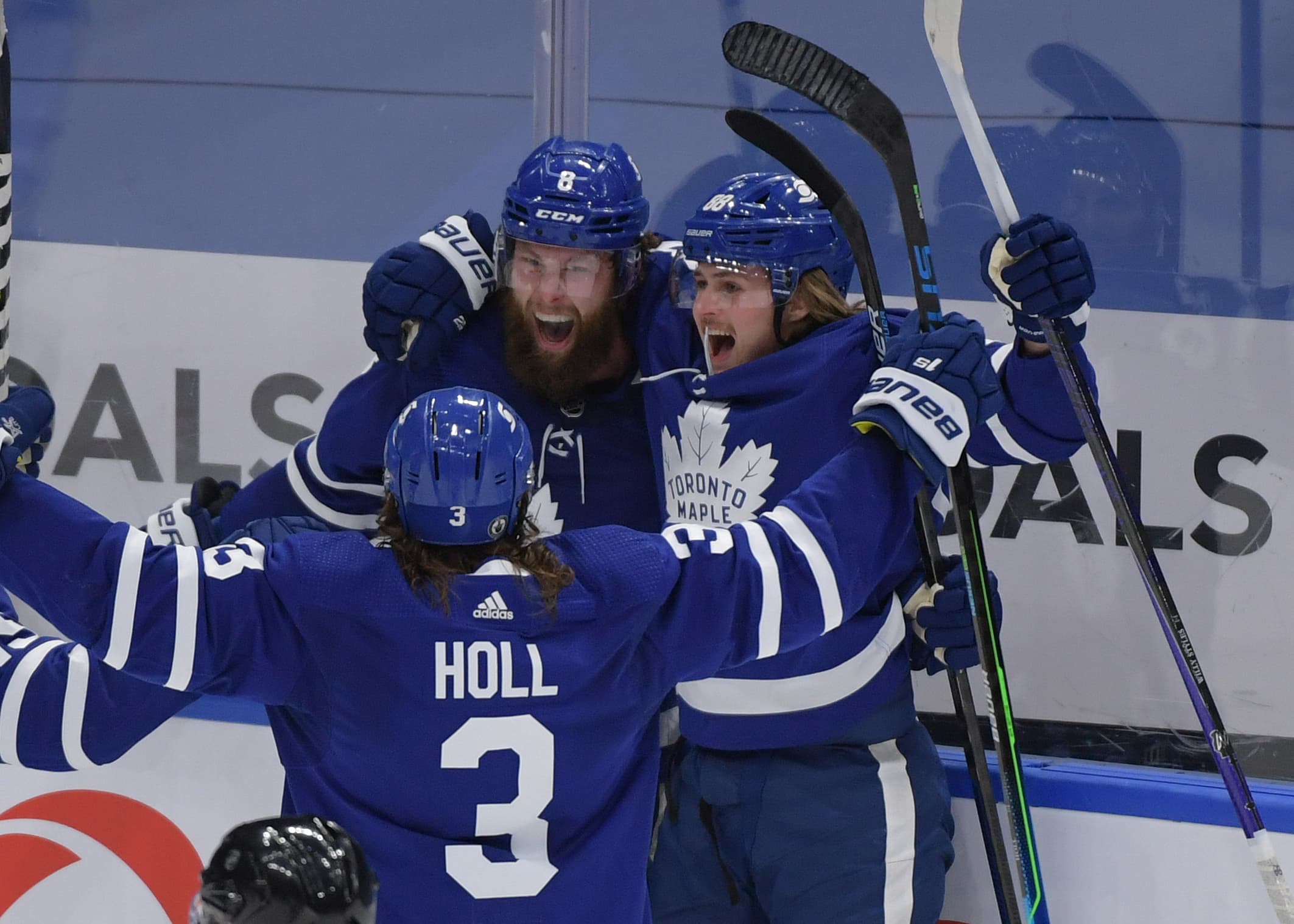 Photo credit:Dan Hamilton-USA TODAY Sports
There's been a lot of debate around the Maple Leafs' goal song recently. Since the start of the 2018 season, Toronto has used 'You Make My Dreams' by Hall and Oates when the team scores. It's a classic song that has been used in movies such as Step Brothers, and even Despicable Me 2.
Part of me agrees with the crowd who wants the song changed — it would be nice to hear something new. The other part of me disagrees and thinks with this being such a staple in hockey arenas, you can't take it away.
It's such an interesting debate because we have such a diverse fanbase, and everyone has their own opinions.
Some might want old-school rock, some might pick rap, and others may want to support the local musicians like Arkells, Shawn Mendes, Drake, or Justin Bieber. When picking a song for when the Leafs score, you cannot miss. It has to reach everyone in some sort of way or it just won't work.
I thought Hall and Oates achieved that with this song, but after three years, people want something new.
Songs get old after a while and that's okay. Again though, it's just going to be difficult to find the next song because it has to relate to most of the fans.
For myself, I believe the next goal song should come from a Canadian musician, preferably from Toronto. It's always nice to be in a teams home building with a goal song created by someone from that city. Although Hall and Oates don't originate from Toronto, I still think their song works for the Leafs.
A new goal song?
What if MLSE had decided that it was time to go a different direction and have a new goal song for the Maple Leafs? It very well could be a conversation that they're having right now, or one that they've already had. Again, though, picking a new song is a difficult task.
If they did choose one, what could it be?
Drake – Papi's Home
There's a few reasons why I like this song.
First, it literally says "Papi's Home", which would refer to @Auston Matthews and him coming back to Toronto. Obviously, it doesn't mean that, but we could think it does. The song also has a good flow for when the Leafs score a goal, which I believe is the most important aspect for this exercise.
However, though, I don't know if it beats the next two.
Arkells – Knocking At The Door
Before I listened to this (for the first time in a while), I believed there were a few other Arkells songs that were better. There are not.
If I had to pick a song right now that could be the next goal song for the Leafs, this would be it.
The flow, the lyrics, the band — everything from this song screams goal from the Toronto Maple Leafs. It also helps that the band, or their singer, Max Kerman, is close friends with Kyle Dubas. This song should be strongly considered if they wanted a change in the future.
Justin Bieber – Hold On
Another song that is related to the Maple Leafs — 'Hold On' was a song that had a music video featuring the team. Along with Bieber's familiarity with players like Matthews, @Mitch Marner and a few others, this piece of music brings flow to another level.
This is an additional song that I would strongly consider if Toronto decided to switch things up. It's a record that would get people hyped up when the Leafs score, especially since it's by one of the biggest musicians in the world. By choosing this song, it could strengthen ties between the team and Bieber, meaning we could see something similar to the Toronto Raptors and Drake.
Final Thoughts
There are four ways I could go with this.
The first would be choosing the best song, which is 'Knocking At The Door' by Arkells. It makes sense in terms of the sound, the vision and the people behind the record. However, if I wanted to go down the marketing route, which I believe would help the Maple Leafs a lot, I'd choose 'Hold On' by Justin Bieber.
Both are incredible songs and I think either one would fit the role of a goal song for the Toronto Maple Leafs. The two are Canadian artists, and it makes me happy that this country has people who can create music like this.
Another path that they could even go down is having a goal song for each player when they score. That would be amazing.
Their last option could be to just keep Hall and Oates' 'You Make My Dreams' as the track. It works, and again, it's a classic. But if they do ever decide to go in a different direction, I think it'll be interesting to see what they choose.