It makes sense to move on from Jake Muzzin, but should the Maple Leafs do it?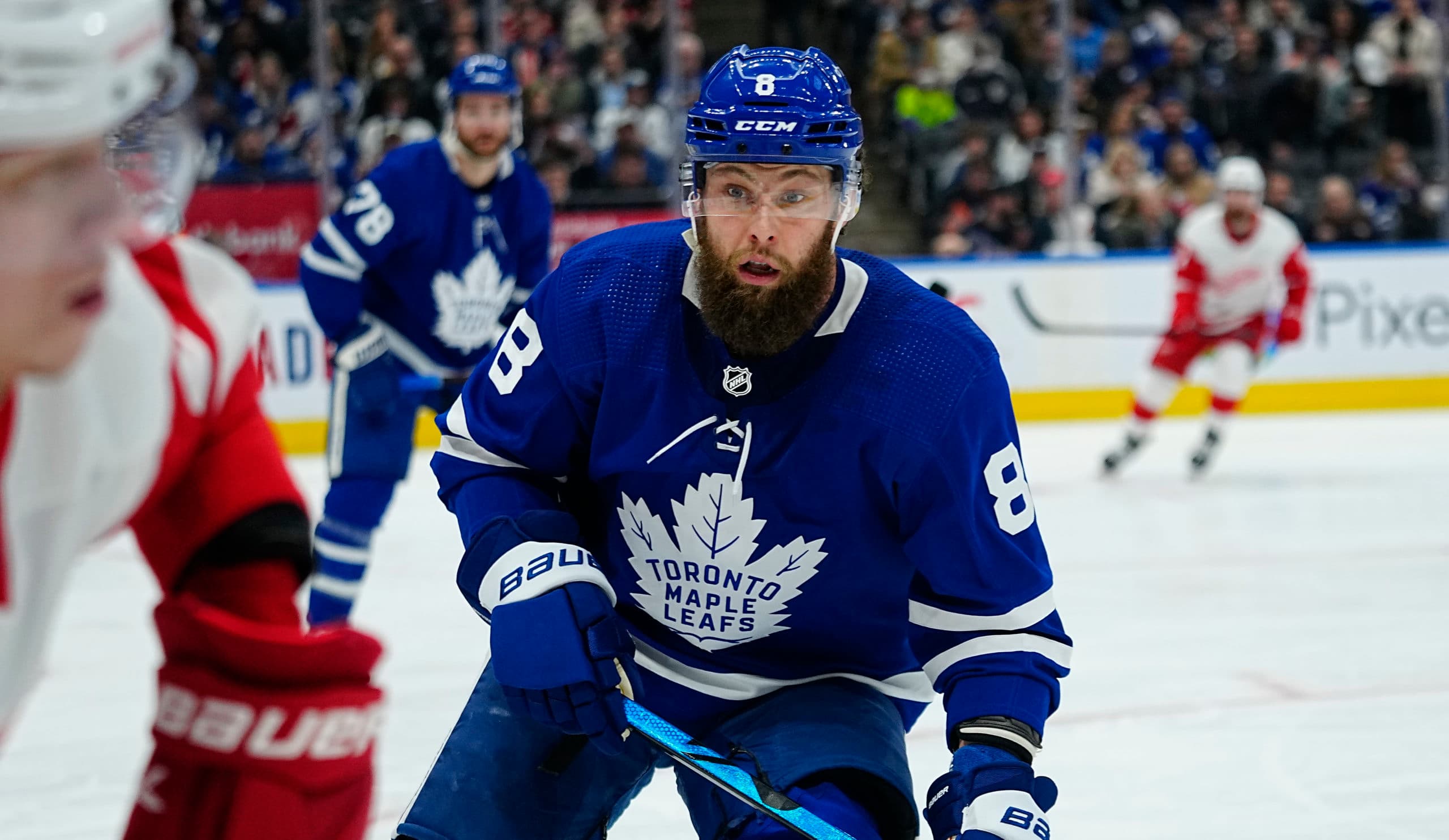 Photo credit:John E. Sokolowski-USA TODAY Sports
$5.625 million — that's the price the Maple Leafs will need to pay to keep Jake Muzzin around for the next two seasons.
Since Toronto was ousted out of the first round by the Lightning, there's been a lot to break down. The feeling is usually different at this time of year — a lot of fans broken from yet another series loss. Not this season, though.
There's not a lot to dissect from the playoffs. The Maple Leafs got beat by the better team, and yes, some would say Toronto was defeated by the referees too. But that's neither here nor there.
This off-season brings a lot of decisions to the forefront. Maple Leafs GM Kyle Dubas has to decide on the
players he'd like to re-sign
and maybe a few that he'd like to ship out for some much-needed cap space.
One of the first players that comes to mind is Petr Mrazek, who suffered an injury at three different points this season. The 30-year-old has a $3.8 million cap hit for the next two seasons and questions remain about his play and whether he can be good enough on a consistent basis.
Going down the list a bit longer and you'll find yourself at Alex Kerfoot. He's on the Maple Leafs' books for the next two seasons at $3.5 million, but I wouldn't be too worried about that contract. The 27-year-old had a good season but struggled to produce in the playoffs.
I'd expect that to change heading into next year, but his contract might entice some other teams throughout the league.
And finally, we arrive at Muzzin's contract (two years at $5.625 million, if you forgot) which may look good to some and not so good to others. It depends on how you look at the contract and his play, really.
There's a lot of pros and cons to keeping Muzzin on the Maple Leafs heading into next season.
The 33-year-old is one of Toronto's most important leaders in the room and makes up part of their leadership group. Losing him to a trade to create cap space just doesn't make sense at a personnel level with how well-liked he is in that dressing room.
If you look at his play in the post-season, too, Muzzin wasn't all that bad. He and TJ Brodie logged the most five-on-five minutes for the Maple Leafs during their series against the Lightning and were often put up against some of the tougher matchups.
Muzzin had the eighth-best five-on-five CF% at 52.13 in Toronto's lineup, but struggled in the high-danger zone giving up the second-most chances at 25 and only creating 20 chances-for. At 44.44%, the 33-year-old had the worst five-on-five HDCF% throughout the Maple Leafs defence core.
With a salary cap not going up much throughout the next season or two, Toronto needs to find a way to have good players at a lower cap hit. Moving on from Muzzin allows you that extra cap space, while maybe even getting a good player in return as well.
If you clear Muzzin's contract, it allows you the opportunity to give Rasmus Sandin a full-time role on the left-side. After Dubas re-signed Mark Giordano to a two-year deal, it seems like the only path forward for Sandin is either getting a role on the right or having Muzzin moved out.
The problem with putting Sandin on the right is that you already have Timothy Liljegren who seems primed for a full-time role in the Maple Leafs' lineup too. These two players are at the age now where it's time to keep them in the lineup and if you don't want to do that, give them an opportunity elsewhere.
A lot of that opportunity lies on the shoulders of whether Muzzin returns or not.
I, personally, believe the Maple Leafs are a good hockey team with or without him. In hindsight, he provides a lot of value in the dressing room and can still have a physical presence on the ice. However, you also can't deny that he has gotten slower and isn't at the level he used to be.
It's going to be a busy off-season for Dubas and it'll be interesting to see whether Muzzin gets moved or not.
(Stats via NaturalStatTrick.com)
POINTSBET IS LIVE IN ONTARIO
PointsBet Canada has officially launched in Ontario! Get a $25 free bet just for 
signing up right here!