It was 3-1. Toronto Maple Leafs complete late comeback over Edmonton Oilers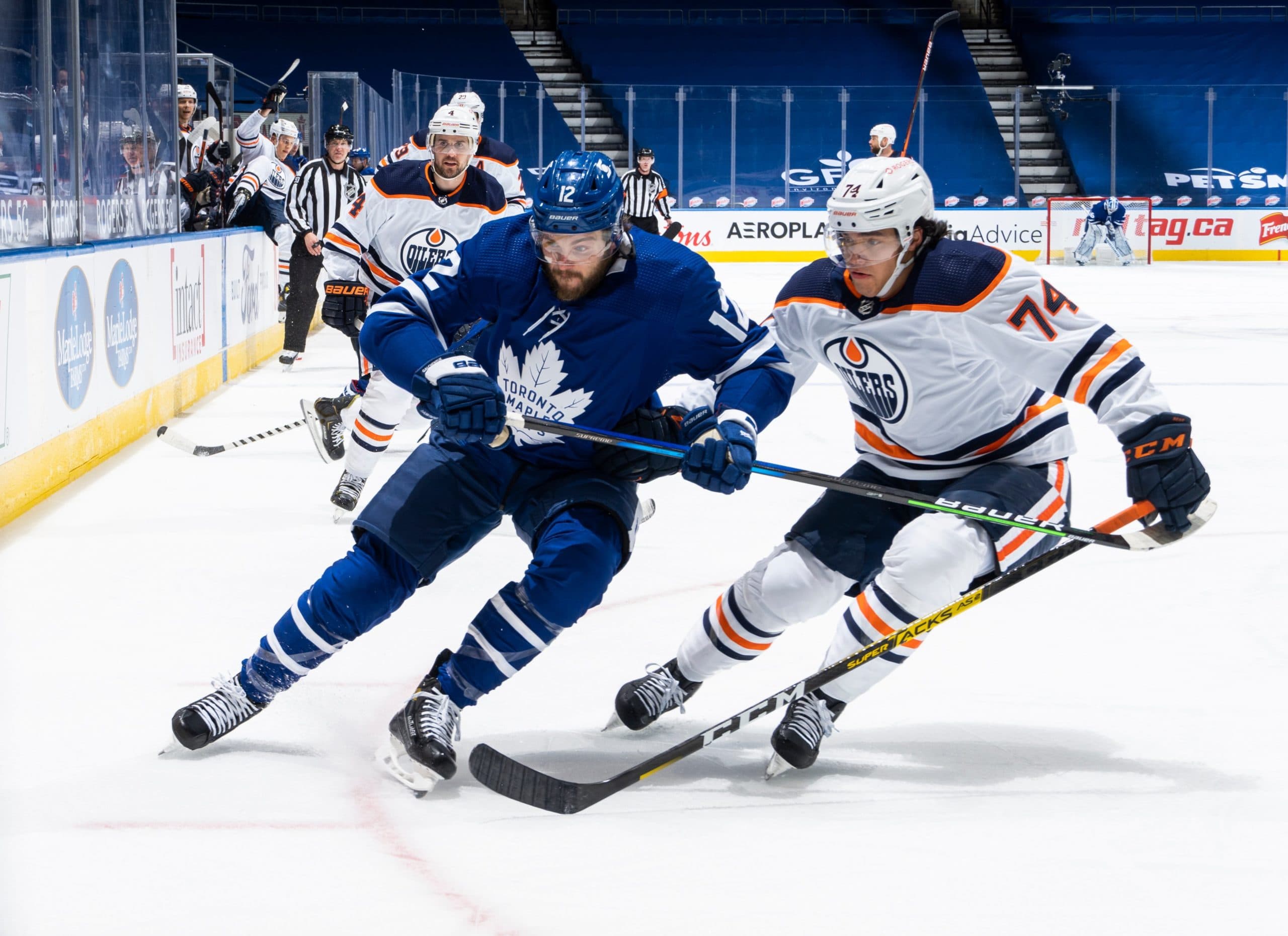 Photo credit:Toronto Maple Leafs
So this is what it's like being on the other side of a late game collapse against a divisional rival.
After a night spent out-chancing the Edmonton Oilers, and ringing more posts than an Amazon driver rings doorbells, the Toronto Maple Leafs erased a 3-1 deficit with under eight minutes remaining in the game to win 4-3 in overtime.
After a quiet first period that saw no goals or penalties, Pierre Engvall opened the scoring in the second period by not punching in a goal. Initially it was ruled no goal due to a hand pass, but the replay showed that despite reaching out, Engvall's glove never made contact with the puck.
The next period and a half was spent watching McDavid and Draisaitl do things that only McDavid and Draisaitl can do (which may or may not include putting up multiple points in a loss). With ex-Leaf Tyson Barrie extending the Oilers lead to two, it seemed like Toronto's grasp on the North Division lead was about to further slip.
Instead, John Tavares decided to show why he's the Captain and scored a momentum-changing goal off a beautiful no look pass from Alex Galchenyuk.
Not even five minutes later, Galchenyuk did it again setting up William Nylander with a perfect pass that went through half of Edmonton's team to tie the game.
While some people may be upset the Leafs drafted Egor Korshkov over Carter Hart or Alex DeBrincat in the 2016 second round, knowing that selection eventually led to Alex Galchenyuk who has exceeded all expectations so far absolutely makes the sting hurt a little less.
Going into overtime, every Leaf fan was hoping for two points almost as much as they were hoping to not have to sit through the team's first shootout of the season. Luckily, Auston Matthews decided to put his new Toronto-themed stick to use and scored a trick shot less than a minute into the extra period to end the game and give the Leafs the two points they needed to defend that North Division lead.
With the win, Toronto is now 6-1-1 over Edmonton on the season.
Most Valuable Leaf: John Tavares
Toronto's captain looked like he had something to prove tonight. With many pointing to Tavares' lack of even-strength production as the cause for the Leafs slump, JT went out of his way to silence those critics. While Galchenyuk had the two flashy assists and absolutely deserved to be in the MVL conversation, Tavares' play on both ends of the ice for the entirety of the 61 minute contest was pure captain material.
Least Valuable Leaf: The Scotiabank Arena Goalposts
Isn't home ice advantage supposed to be a thing? The goalposts on both ends of the ice may have had more saves than Oilers starter Mike Smith who had an excellent game in his own right. Someone tell them that if they want to keep their job, they better start redirecting pucks into the opponents net instead of out.
Tweet of the Night
The greatest thing Pierre Dorion has built is our collection of gifs
What's next?
A rematch against the Oilers takes place Monday at 7pm where Toronto will look to win its fourth straight and fifth in a row against Edmonton.